Emerging Visionaries Hosts its First National Summit & Ceremony After an Upgrade
Release Time:2023-07-12
Author:
Source:
Pageviews:
On 11 July 2023, Emerging Visionaries National Summit & Ceremony was held in Shanghai Jiulong Model Middle School. Under the guidance of Shanghai People's Association for Friendship with Foreign Countries (SPAFFC), the event was hosted by Prudential Financial, Inc., Fosun Foundation, Pramerica Fosun Life Insurance and Fosun Trade, and organized by Shanghai Jiulong Model Middle School. Jiang Changjian, Consultant of Fosun Foundation, Associate Professor of Fudan University, and famous TV host, presided over the summit. For nearly three hours, more than 30 young people who actively participated in public welfare gathered together to receive awards and share their public welfare stories and dreams.
This year, the Spirit of Community Awards has evolved into Emerging Visionaries. This is the first summit & ceremony held after the upgrade. Out of 457 applications received from 163 schools across the country, the Emerging Visionaries selected 2 Charity Ambassadors, 10 Emerging Visionaries and 16 Potential Visionaries and 5 Outstanding Charitable Associations, of which the two Charity Ambassadors participated in the international Emerging Visionaries Summit in the US in April.
Over the past ten years, the awards has attracted nearly 6,500 Chinese middle school students to participate. The ten large group photos displaying in the basketball hall have witnessed students' growth from "light chasers" to "shining stars". In the tenth year, the upgraded Emerging Visionaries encourages middle school students to carry out innovative public welfare actions in line with the United Nations (UN) Sustainable Development Goals (SDGs), helping them realize their public welfare ideas.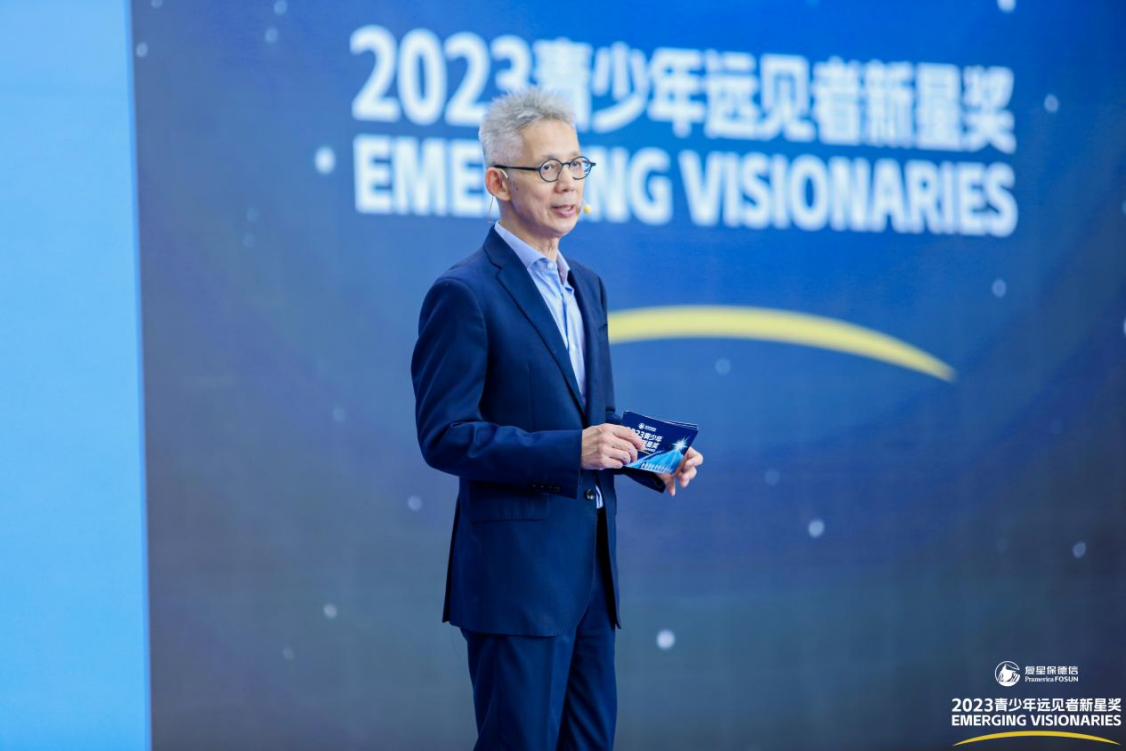 Jiang Changjian presided over the summit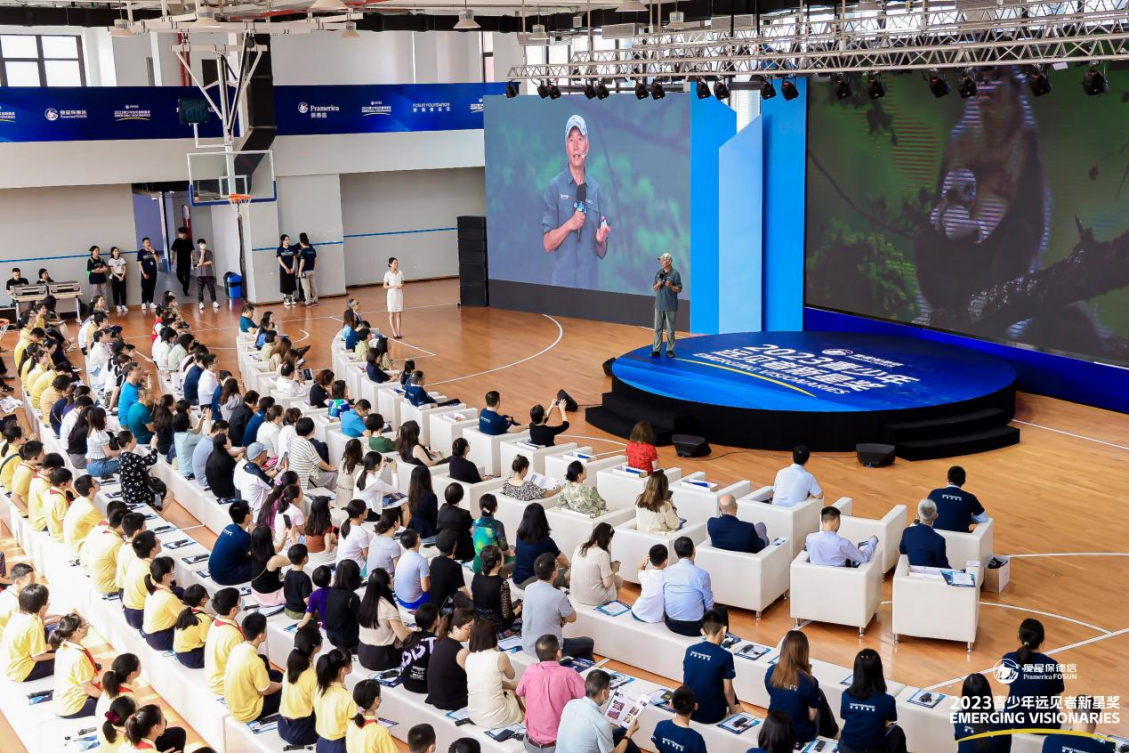 Xi Zhinong, a famous wildlife photographer of Philanthropy Masters and Founder of Wild China gave a sharing on "Protecting Nature with Images"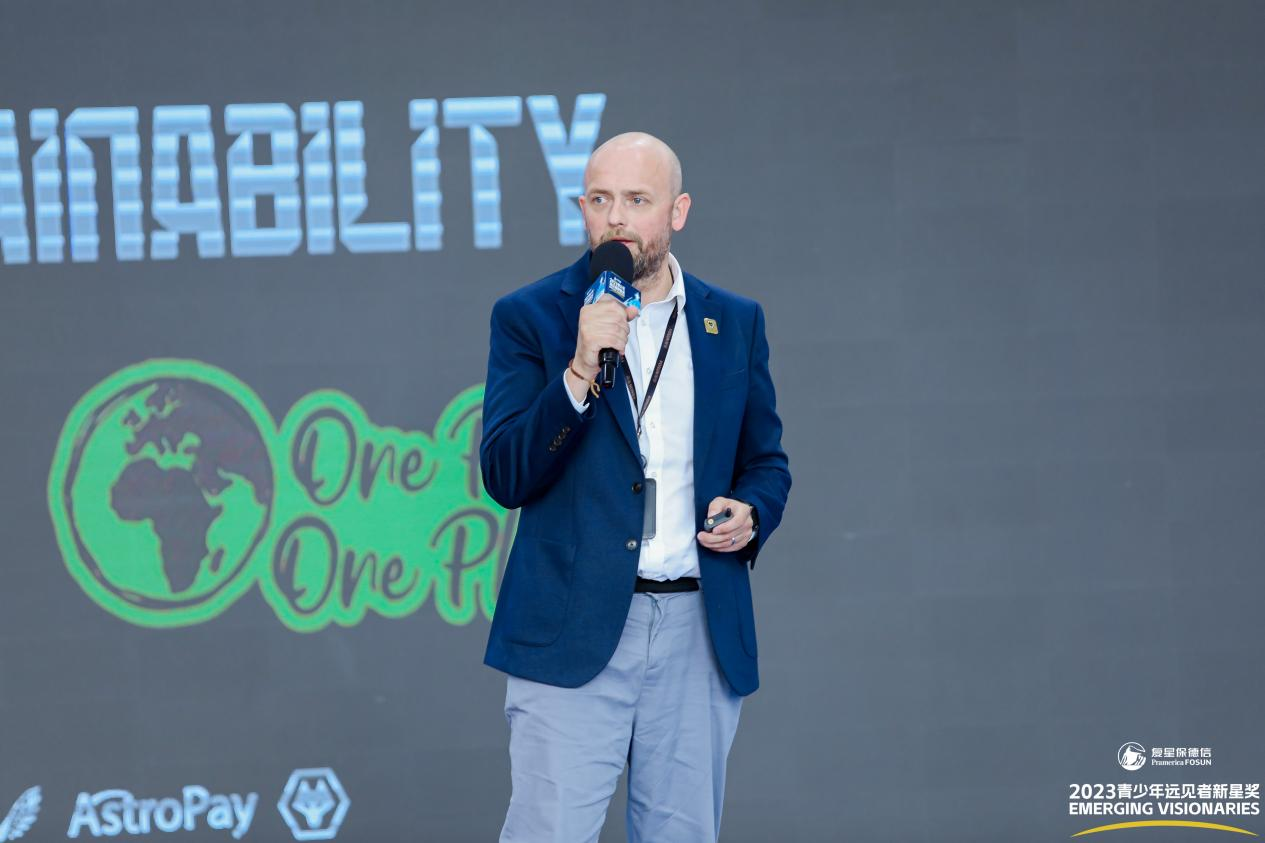 Will Clowes, Head of Wolverhampton Wanderers Foundation, gave a sharing on "Environmental Sustainability at Wolves"
Benchmark against UN SDGs to develop an international perspective
"What can you do with RMB380? What about RMB1,200?"
When helping out-of-school girls in Kenya, Leng Xiaoao from Beijing No. 66 Middle School proposed these two questions. By chance, he learned that there are lots of girls in the slums of the Kenyan capital who are unable to attend school due to poverty. He also discovered that there is a low-cost school for underprivileged children in the local area — Bridge School. In Kenya, RMB380 is enough to fund breakfast and lunch for an underprivileged girl for a year, while RMB1,200 is enough to fund tuition, books and miscellaneous expenses for a year.
With reference to Quality Education, one of the UN SDGs, Leng Xiaoao initiated the project, Send Girls to School, to raise funds for underprivileged girls in Kenya to attend Bridge School, and to establish a database for donors and recipients, so that all parties can see the results in a timely manner. He said, "I hope they can have a brighter future filled with possibilities and an equal opportunity to realize their dreams.
Leng Xiaoao introduced the project, Send Girls to School
"Encouraging middle school students to carry out more creative public welfare projects with reference to the UN SDGs is an important development in the evolution of the awards," Lai Jun, President of Prudential Financial China, said in his opening speech, based on the successful experience of the past ten years, we hope to continue to build a charitable platform for children, and guide them to gain an international perspective and be humanistic.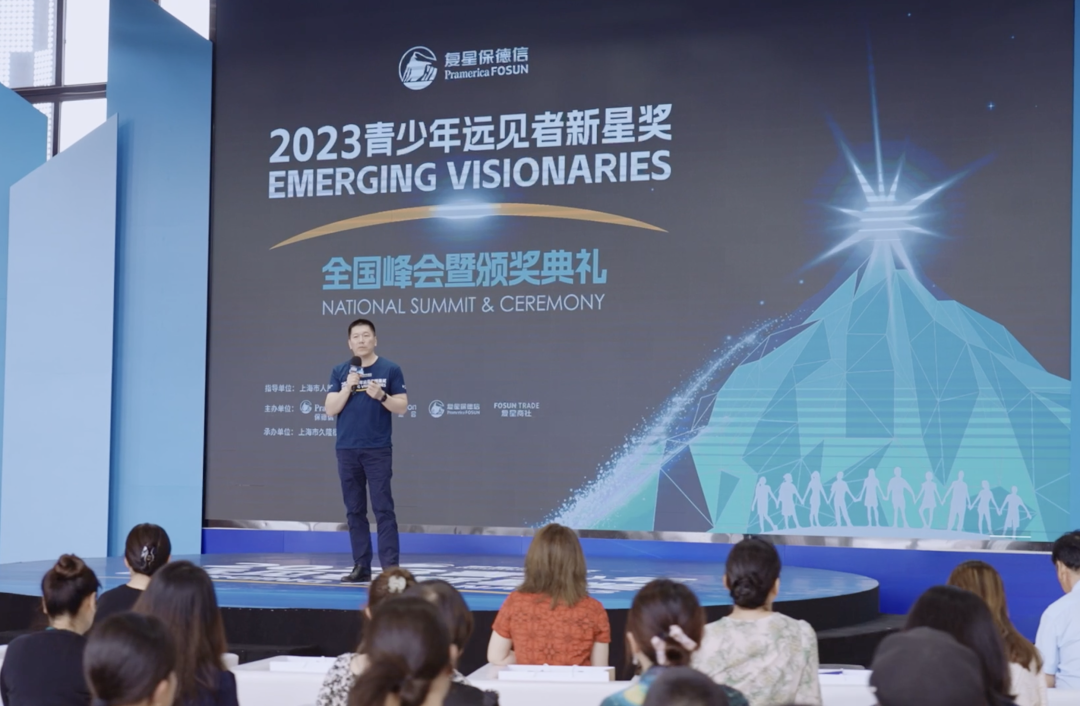 Lai Jun, President of Prudential Financial China, made an opening speech
Provide funding support for sustainable public welfare
Leng Xiaoao won Emerging Visionaries for the project Send Girls to School. His roadshow also attracted the attention of Huang Liyang, representative of Clé de Peau Beauté, a strategic empowerment partner of Emerging Visionaries, "In view of on our previous campaign to provide education support for underprivileged girls around the world, we would like to give professional support to Leng Xiaoao in this field."
In addition to Clé de Peau Beauté, representatives of companies or institutions such as Shanghai Henlius, StarKids Children's Hospital Shanghai, FOCONG Hearing Aids, Center of Youth Talent Enlighted, Mutian Charity, Club Med (France), HAL (Germany), IDERA (Japan), Wolves Foundation (UK) directly provided funding support or professional guidance to projects of their choice during the public welfare funding roadshow at the summit.
This is another major development in the evolution of Emerging Visionaries: Fosun Foundation not only builds a platform for students to practice public welfare actions, but also imports the rich resources within and outside the Fosun system for the sustainability of innovative public welfare projects.
The Health One Youth Club of the Shanghai High School International Division received an offer from Shanghai Henlius. It innovatively launched Bike for Lung, a public health project to raise public awareness of lung health through daily exercise. Zhou Wenting, representative of Shanghai Henlius, said after listening to Wang Jingyuan's sharing, "Our company would like to give full play to its advantages in the field of health and help students carry out this project so as to bring more attention to lung diseases and improve the awareness of public health."
Li Shuo from Shandong Experimental High School is concerned about the orphaned and hearing-impaired children in the city where he lived, and launched the Lamplighters, a charitable association to help these children return to school and integrate into society. However, there were many times that Li Shuo encountered difficulties in putting his ideas into practice due to insufficient funds. At the event, StarKids Children's Hospital Shanghai and FOCONG Hearing Aid expressed their wish to invest in Li Shuo's project.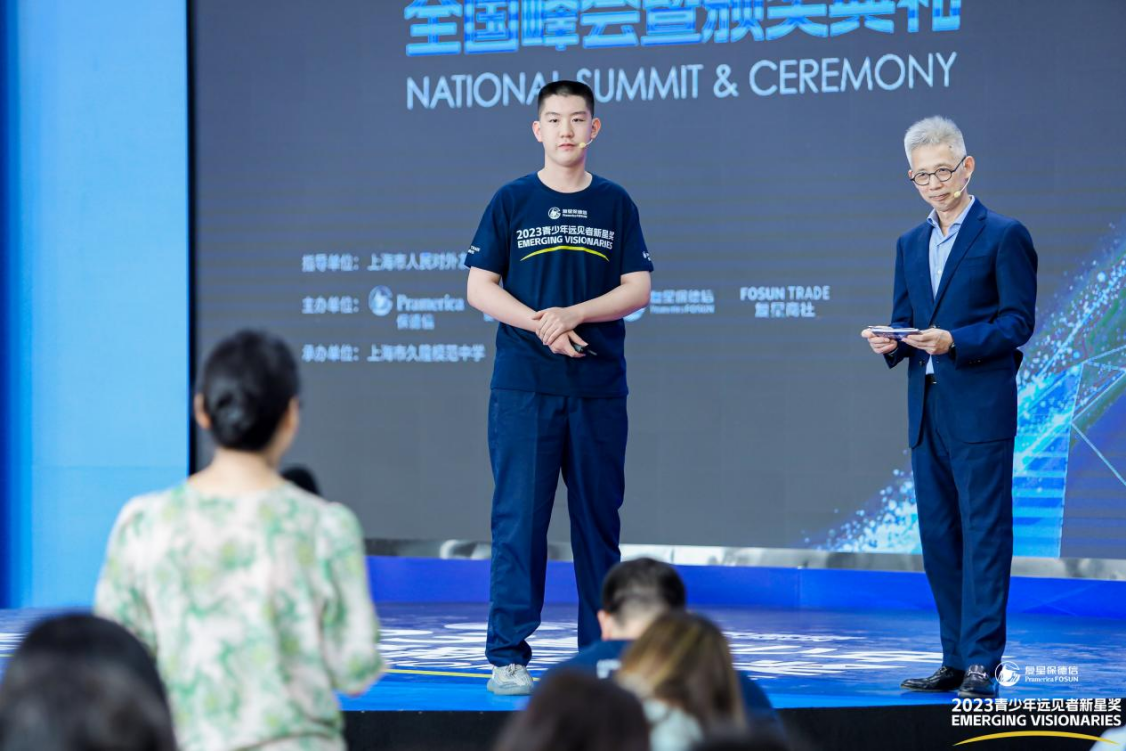 Li Shuo interacted with venture capitalists
At the summit, Live 2 Drama of the International Department of Shanghai High School International Division not only presented the popular Broadway musical, Hadestown, but also announced that they would donate the proceeds from their charitable performances on campus to Fosun Foundation again. This time, the proceeds will benefit Wonder Girl – a project incubated from the winner of the Spirit of Community Awards, Better and Better, in the 2021. Inspired by the students, Fosun Foundation launched Wonder Girl in 2022 to raise funds and materials for rural girls in remote areas and build a system for the growth of adolescents in rural areas. "Starting from a good idea, to building a team, to getting support from institutions or enterprises, this development concept is very consistent with ours, and we will continue to support it," Zhang Yifei, Secretary General of Fosun Foundation, expressed his gratitude to Live 2 Drama for its donation, and called on more students to bring good projects to participate in next year's case collection.
Connect and communicate, look forward to the future together
"Experience is growth", Li Xiaoying, Principal of Shanghai World Foreign Language Middle School, said at the international idea sharing conference before the summit. She was very pleased to see that this year's students from the school won the award again. "Although our school has provided instructors, we do not need to define the way of public welfare. Instead, we encourage students to perceive and explore the outside world, and let them realize that public welfare is not only a dedication of love, but also growth through experience."
At the idea sharing conference themed "Public Welfare for Middle School Students from an International Perspective", principals and teachers from 9 middle schools and ESG/CSR leaders of some overseas industries of Fosun had an in-depth exchange on the topic of how to empower students for public welfare projects.
Chen Wenguo, Principal of Shanghai Hongrun Boyuan School, believes that the school should be built into a friendly community, so that students can identify problems around them and solve problems with everyone through the network around them. "True innovation does not necessarily mean great invention, but the ability to identify problems in familiar environments."
Patricia Georgi, Head of ESG at HAL, said, "We all share the same world. Through the practice of public welfare projects, we can bring everyone together, connect emotionally, help and learn from each other."
Su Xiaoyun, organizer of the summit and Principal of Shanghai Jiulong Model Middle School, expressed his gratitude to Fosun for its donations to the teachers and students of the school over the past 20 years. He introduced the public welfare co-creation laboratories such as Grandma's Wonderful House and Digital π Youth independently initiated by students. "We hope to transform from beneficiaries of public welfare undertakings into disseminators of social love. Children who graduate from our school, no matter where they study at home or abroad, will leave a mark in public welfare, nourishing their lives."
Li Haifeng, Chairman of Fosun Foundation, said, "Standing at a new starting point, we must be more determined to work together, use public welfare as a link to connect all parties, promote exchanges and cooperation, and continue to build a broader international platform for young people who devote themselves to public welfare, stepping towards a brighter future!"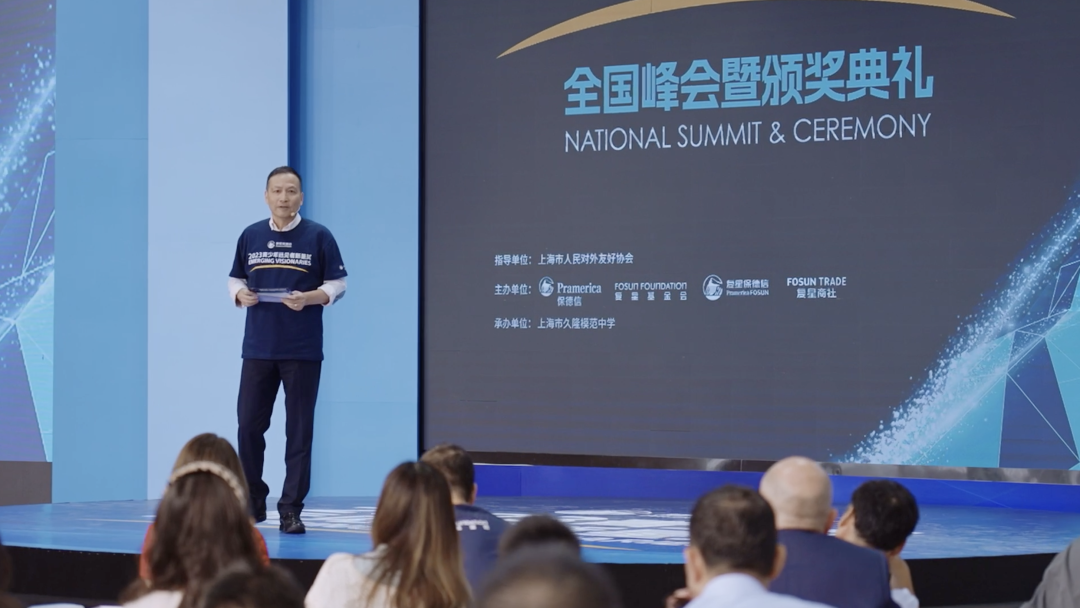 Li Haifeng, Chairman of Fosun Foundation, delivered a closing speech