Fosun Contributes to Carbon Peak and Carbon Neutrality Acting as a Responsible Global Citizen
Release Time:2023-07-07
Author:
Source:
Pageviews:
Fosun has been founded for more than 30 years since 1992. Looking back on the past and looking ahead, Fosun always adheres to the original aspiration of "Self-improvement, Teamwork, Performance and Contribution to Society", striving to make the world a better place because of the presence of Fosun.
Standing at a new historical starting point after the 30th year of establishment, Fosun will continue to actively assume more social responsibility, implement the concept of ESG, create value and give back to society.
With the global trend of promoting carbon neutrality, carbon emissions reduction and the sustainable development of the earth, Fosun will continue to actively cooperate with its member companies to promote the implementation of ESG strategies, especially in the areas of carbon emissions peak, carbon neutrality, energy conservation and consumption reduction, and actively promote the sustainable development of the Group.
Issued the first TCFD Report to call on all sectors to promote carbon neutrality
The latest Global Risks Report 2023 released by the World Economic Forum points out that the world must cooperate more effectively in the next decade to mitigate and adapt to climate change, which is the most severe long-term risk the world is facing, to avoid "ecosystem collapse" and continued global warming. While global efforts are being made to address climate change, the Chinese government also officially announced in September 2020 that it will strive to "achieve carbon peaking by 2030 and carbon neutrality by 2060". Moreover, it has issued the Working Guidance for Carbon Peaking and Carbon Neutrality in Full and Faithful Implementation of the New Development Philosophy, which specifies that to achieve the objectives for carbon peaking and carbon neutrality, we must follow the working guidelines of exercising nationwide planning, prioritizing conservation, leveraging the strengths of the government and the market, coordinating efforts on the domestic and international fronts, and guarding against risks. It also issued the Action Plan for Carbon Peaking Before 2030 and put in place a "1+N" system, striving to achieve synergy in pollution reduction and carbon reduction.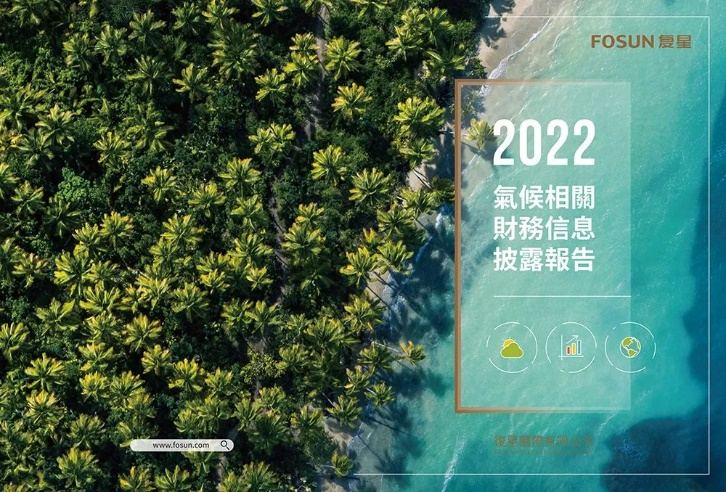 Fosun has issued the first TCFD Report to call on all sectors to promote carbon neutrality
Facing the increasingly severe challenges of global climate change, Fosun issued the ESG Report which complied with the Global Reporting Initiative (GRI) Sustainability Reporting Standards (GRI Standards) and the Environmental, Social and Governance Reporting Guide in Appendix 27 to the Listing Rules of Hong Kong Stock Exchange. Fosun also based on the Task Force on Climate-Related Financial Disclosures ("TCFD") recommendations, disclosed its climate-related financial risks voluntarily and issued its first Task Force on Climate-Related Financial Disclosures report (the "TCFD Report"), with a view to striving to build a long-term climate adaptive capacity and drive the transformation towards a low-carbon economy through supporting and implementing the TCFD recommendations.
In 2023, Fosun ushered in the "third year" of its "Carbon Neutrality Goal". Fosun took an important step to strengthen Fosun's climate resilience by making a commitment to society - "strive to peak carbon emissions by 2028 and achieve carbon neutrality by 2050" and issuing the first TCFD Report, demonstrating its commitment of climate action to international community, and calling on all sectors to work together to promote carbon neutrality. Fosun has formulated effective strategies for climate change mitigation and adaptation to align with 1.5°C temperature control target set in the Paris Agreement. By conducting the analysis and assessment of climate-related risks and opportunities, Fosun has identified key risks and opportunities and mapped out response measures, and further improved the management of metrics and targets accordingly, to ultimately cultivate a capability to address climate issues in the long term and enhance climate resilience.
Established Carbon Neutrality Committee and Working Group to actively advance Fosun's carbon peak and carbon neutrality targets
In order to further push forward the 2050 "Carbon Neutrality Goal" of Fosun, the Group has established a Carbon Neutrality Committee and a Carbon Neutrality Working Group, with carbon neutrality led and progressed by the Environment, Health, Safety & Quality (EHSQ) Department. The Carbon Neutrality Committee, composed of directors of Fosun International and directors of member companies, is responsible for supervising and promoting the overall carbon neutrality strategy, and regulating and monitoring climate-related risks and opportunities. Fosun has also added the indicator of "carbon neutrality management" to the ESG management performance appraisal mechanism of responsible persons of each business segment of the Group, with the aim of promoting further implementation and enforcement of carbon-neutral management across the Group.
Fosun also made systematic and standardized arrangement on EHSQ work of member companies, and at the same time put the "1+N" strategic deployment into practice, which involved setting up 1 carbon management system and producing N reports (including studies on water risk assessment, climate change, and biodiversity), and developing an ESG-Carbon Neutralization Life Cycle management platform that includes ESG and carbon neutrality-related content in the Group's system audit. Additionally, Fosun upgraded the corresponding management and reward system to scientifically and systematically manage corporate risks and evaluate ESG performance with reference to advanced international-leading management standards, requirements for energy control and environmental audit, etc.
Actively promote energy conservation and carbon reduction to contribute to the sustainable development of the earth
The Group has been actively monitoring and recording greenhouse gas (GHG) emissions of each member company for continuous improvement. GHG emissions intensity in 2022 was 95.6 tonnes/RMB million of revenue, representing a decrease of 8.02% from 2021. Energy consumption intensity in 2022 was 239.0 MWh/RMB million of revenue, representing a decrease of 12.90% from 2021.
The Group and its member companies actively promote energy conservation and carbon reduction and are determined to become carbon reduction pioneers in their industries. The Group's Atlantis Sanya obtained the National Certificate of Three-star Green Building Design and Operation Label, the highest level of Chinese green building certification; obtained the LEED (Leadership in Energy and Environmental Design) Gold Building Design and Construction Certification, the "EarthCheck" Silver Certification, the leading environmental certification for the global tourism industry and numerous accolades. The Bund Finance Center (BFC), the Group's base in Shanghai and a landmark in Shanghai, was awarded the LEED Platinum certification, which is hailed as the "Oscar Award" in the green building industry, with a score of 97 points to set a new world record.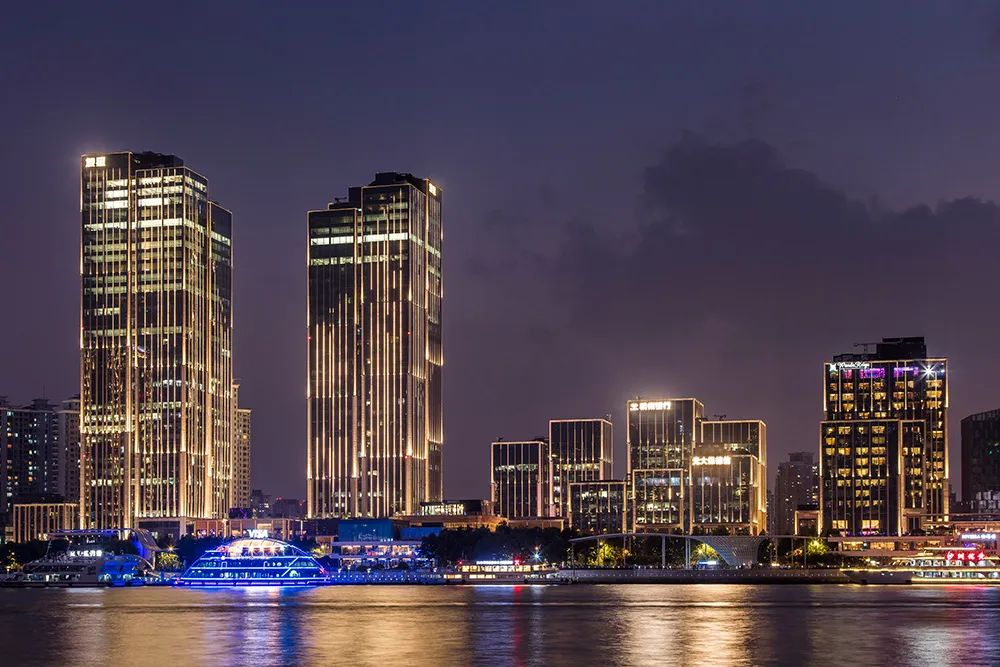 The Bund Finance Center (BFC) was awarded the LEED Platinum certification, which is hailed as the "Oscar Award" in the green building industry, with a score of 97 points to set a new world record
To enhance Fosun's leading position in the green and low-carbon market, the Group has stepped up investments in clean technology. At present, the Group has invested in a number of clean technology companies in different sectors. Most investments were made in the clean energy sector (wind, solar, tidal, biomass, etc.) and energy efficiency sector (battery, advanced materials, energy storage, heat & power, smart grid, industrial automation, natural gas combined, etc.), and some were made in the green building sector (certified green property, building insulation, etc.). The Group has also reduced product lifecycle carbon emissions through adopting recyclable raw materials, increasing the use of clean energy and improving energy efficiency. In addition, the Group has stepped up its investment in the green consumer goods sector and is committed to providing consumers with green and low-carbon products and services.
Became a member company of UN Global Compact and CBCSD to actively promote the sustainable development of China + the world
After over 30 years of development, Fosun has grown into a global innovation-driven consumer group. As a responsible global citizen, Fosun joined the United Nations (UN) Global Compact in 2014 and is committed to the global commitment of sustainable development. The Group promotes the achievement of the UN Sustainable Development Goals (SDGs) through participating in related activities globally and locally, and actively cooperates with its member companies to respond to the UN SDGs, contributing to the realization of the UN SDGs by 2030 from multiple dimensions.
Regarding climate action, affordable and clean energy, life below water, life on land, responsible consumption and production and other UN SDGs, the Group adheres to the principle of sustainable development. It supervises and guides member companies to attach importance to work safety, actively tackle climate change, carry out energy conservation and emission reduction by reducing the emissions of solid waste, wastewater and atmospheric pollutants, and recycle wastes in the course of operation to mitigate the impact of production and business activities on the environment and people, while seeking low-carbon opportunities and developing a green circular economy.
In 2020, Fosun became a member of the China Business Council for Sustainable Development (CBCSD) and acted actively in fostering conversation, communication and cooperation in the field of sustainable development among enterprises, governments and social organizations. In June 2022, the Group participated in the 18th CBCSD New Trend Report Conference on Sustainable Development with the theme of "High-quality Development of Enterprises in the Context of Carbon Peaking and Carbon Neutrality" to discuss with relevant government departments, experts from research institutions and other enterprise representatives on how enterprises can achieve green and low-carbon development goals by adapting to the new development pattern and tapping new driving force of economic development under the background of carbon neutrality.
Achieved remarkable ESG performance, remaining true to the original aspiration of "Contribution to Society" and working with all sectors to promote sustainable development
In 2022, Fosun's ESG management work was widely recognized. Fosun received an AA MSCI ESG Rating and was the only conglomerate in Greater China with such AA rating, and was selected as a constituent of the MSCI CHINA ESG LEADERS 10-40 Index again. Fosun also received a rating of A in the Hang Seng Sustainability Index and has been selected as a constituent stock of the Hang Seng ESG 50 Index for two consecutive years and a constituent stock of the Hang Seng Corporate Sustainability Benchmark Index for three consecutive years; it was selected as one of the constituents of FTSE4Good Index Series for the first time; its S&P CSA ESG score has risen significantly, outperformed 91% of its global peers. Fosun was included in S&P Global's Sustainability Yearbook 2023 (China Edition) and recognized as an "Industry Mover" by S&P Global.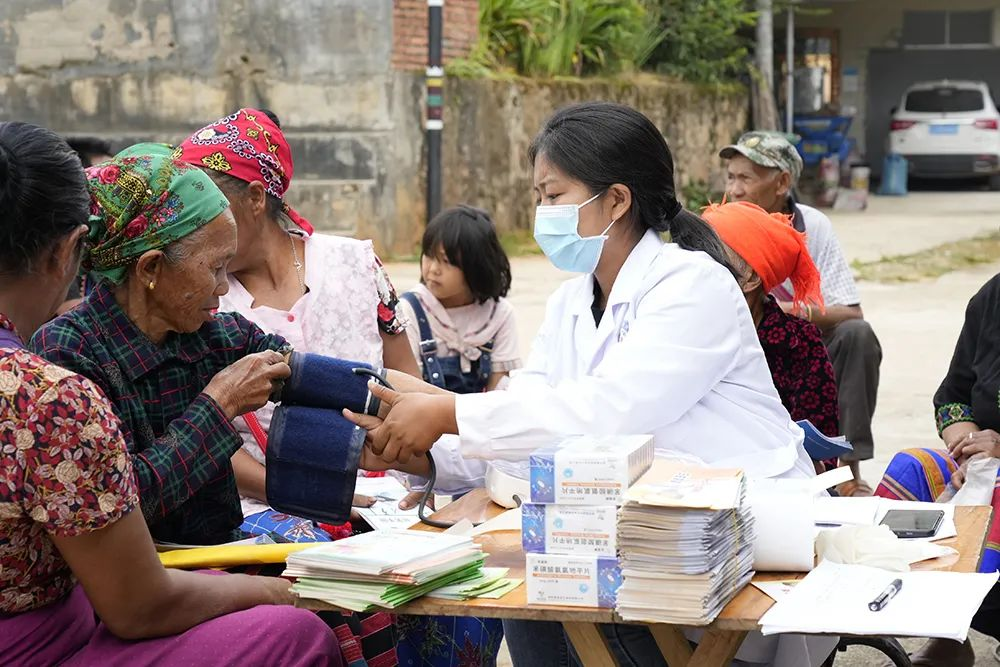 Adhering to the original aspiration of "Contribution to Society", the Rural Doctors Program has covered 73 counties in 16 provinces, municipalities, and autonomous regions, benefiting 3 million grassroots families
As a global enterprise rooted in China, Fosun will continue to uphold the original aspiration of developing business for good and "Contribution to Society", actively shoulder more social responsibility, and make unremitting efforts in the fields of global emergency relief, rural revitalization, health, education, culture and art, youth development, etc. to create social value. Looking ahead, Fosun will work hand in hand with global customers, partners, investors, communities, etc. to promote global sustainable development and fulfill the mission of "Creating Happier Lives for Families Worldwide".
Source: The content above is based on an article published in the China Investment Network.