Fosun International Included in S&P Global's Sustainability Yearbook 2023 (China Edition) and Recognized as Industry Mover
Release Time:2023-06-28
Author:
Source:
Pageviews: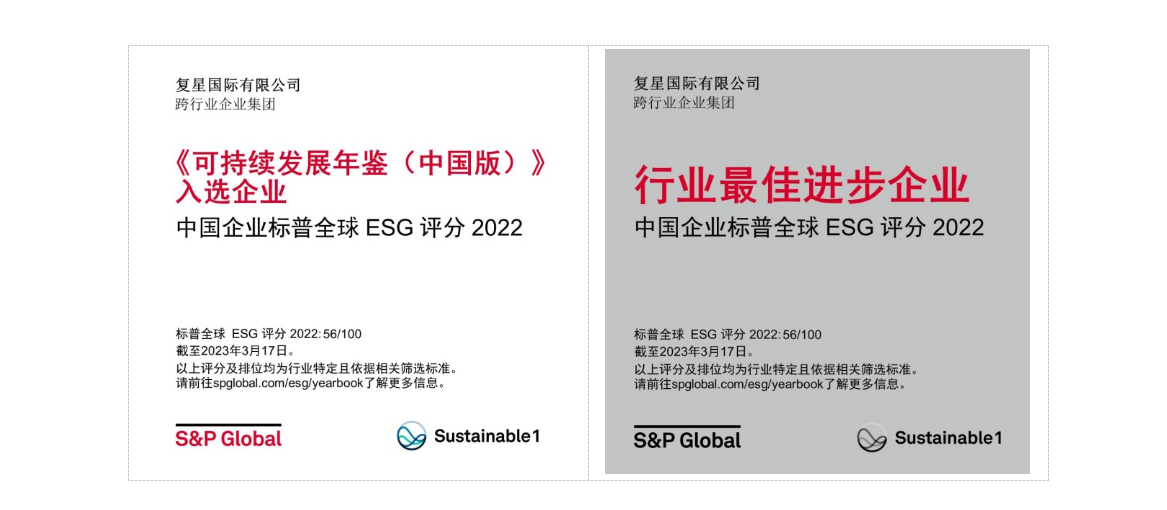 Photo caption: Above are the S&P Global Sustainability Yearbook (China Edition) Emblems granted by S&P Global to Fosun International. Left is "Sustainability Yearbook Member (China Edition)" Emblem, right is "Industry Mover" Emblem.

(28 June 2023) S&P Global held the "Creating Advantages, Seizing Sustainable Development Opportunities - S&P Global Sustainable1 Sustainability Seminar and the Launch of Sustainability Yearbook 2023 (China Edition)" in Shanghai. Based on S&P Global's Corporate Sustainability Assessment (CSA), Fosun International Limited (HKEX stock code: 00656, "Fosun International") was successfully included in S&P Global's Sustainability Yearbook 2023 (China Edition) and was recognized as an "Industry Mover" for its continuous efforts in environmental, social and governance (ESG) over the years.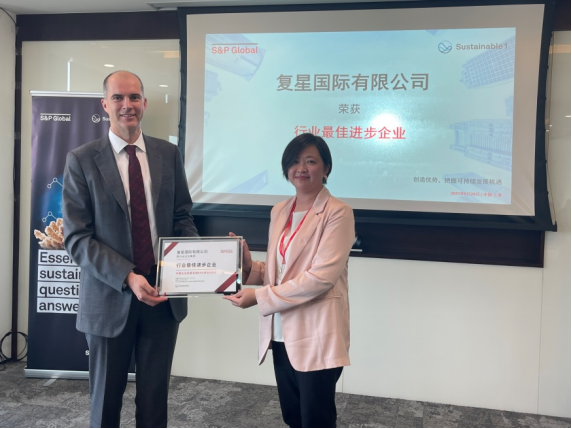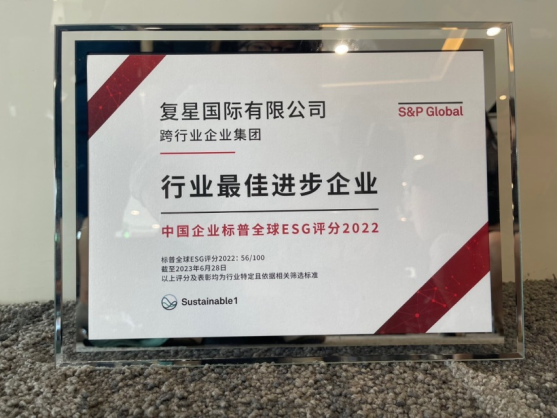 Photo caption: As a company commended by S&P Global's Sustainability Yearbook 2023 (China Edition), Robert Dornau, Global Head of Corporate Engagement of S&P Global presents a certificate to Angel Sze, Fosun Global Partner, Company Secretary and Head of ESG Management Committee of Fosun International.
Douglas L. Peterson, President and Chief Executive Officer of S&P Global, pointed out: "S&P Global noticed that Chinese companies are showing growing interest in sustainable business strategies. Therefore, S&P Global published the first Sustainability Yearbook (China Edition) based on the S&P Global's Global Sustainability Yearbook to help companies in the Chinese Mainland, Hong Kong SAR and Macau SAR understand how their sustainability performance compares with their peers in the region. Over the past 24 years, S&P Global's CSA has grown into the world's leading corporate sustainability database. A record number of companies have participated in the CSA in 2022 and the number of participating companies in the Chinese Mainland, Hong Kong SAR and Macau SAR is about to triple that in 2021."
As of 17 March 2023, nearly 1,600 companies assessed for the 2022 CSA were considered for inclusion in the S&P Global's Sustainability Yearbook 2023 (China Edition). Among these companies, S&P Global identified the top performing companies in each industry, and excluded some companies according to the established rules. In the end, only 88 companies with the best performance were listed in this Yearbook. To be listed in the Yearbook, companies must score within the top 15% of their industry and have a gap of no more than 30% from the industry's highest score.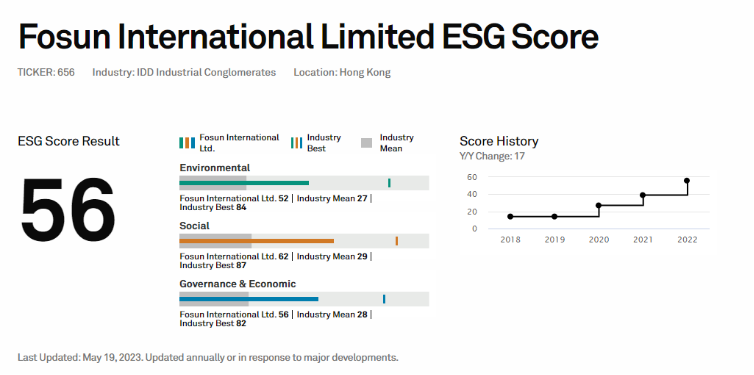 Fosun International's S&P Global CSA ESG score jumped from 39 points in 2021 to 56 points in 2022. As of June 2023, its total score outperformed 91% of its global peers, which was well ahead of the industry average of 28 points. Fosun International scored significantly higher than its global peers in areas such as Materiality, Risk & Crisis Management, Business Ethics, Policy Influence, Supply Chain Management, Information Security/Cybersecurity & System Availability, Innovation Management, Environmental Policy & Management Systems, Operational Eco-Efficiency, Labor Practice Indicators, Human Rights, Talent Attraction & Retention, Occupational Health & Safety, and Customer Relationship Management.
In addition to being included in the Sustainability Yearbook (China Edition) by S&P Global, Fosun International was recognized as an Industry Mover by S&P Global for its active participation in this year's and last year's CSA, achieving a S&P Global ESG score in the top 15% of its industry (i.e. IDD Industrial Conglomerate for Fosun), and achieving the strongest improvement in its industry, with an increase of at least 5%.
Fosun has always paid attention to the development of the global sustainability. It has established a sound ESG management system. Over the years, it has integrated ESG management requirements into business management, and actively responded to national strategies, ensured information security, promoted technology innovation, implemented "dual carbon" goals, participated in public welfare, protected the rights and interests of employees to promote sustainable management and value creation. Leveraging on years of continuous cultivation in the ESG field, long-term responsible operations and effective management, Fosun International's S&P Global CSA ESG score has continued to rise and be well ahead of its peers since 2018. Therefore, Fosun was recognized as an Industry Mover by S&P Global.
Established a sound ESG management system and joined the United Nations Global Compact to firmly promote the implementation of ESG strategies
As a responsible global citizen, Fosun has continuously strengthened sustainable development management, implemented and monitored Fosun's ESG strategies and goals over the years. Fosun has set up an ESG Board Committee under the Board of Directors to assist the Board of Directors in guiding and overseeing the Group's ESG development and implementation. At the management and decision level, Fosun has established an ESG Executive Committee to provide decision support for the implementation of ESG strategies. At the implementation level, the Group has also set up an ESG Management Committee and an ESG Working Group to ensure the establishment of appropriate and effective ESG risk management and internal control system to implement ESG strategies and related actions across the Group.
In order to actively promote global sustainable development, Fosun formally joined the United Nations (UN) Global Compact in 2014 and strives to fulfil the global commitment of sustainable development. The Group fully supports the ten principles of the UN Global Compact in the fields of human rights, labor, environment, anti-corruption, etc., continuously promotes their close integration with its own ESG strategies, and actively engages its member companies in the implementation of ESG strategies.
Issued the first TCFD Report to call on all sectors to promote carbon neutrality
Facing the increasingly severe challenges of global climate change, in addition to publishing ESG reports in accordance with the Global Reporting Initiative Sustainability Reporting Standards (GRI Standards) and the ESG Reporting Guide in Appendix 27 to the Listing Rules of Hong Kong Stock Exchange, Fosun based on the Task Force on Climate-Related Financial Disclosures (TCFD) recommendations, disclosed its climate-related financial risks voluntarily and issued its first TCFD report, with a view to striving to build a long-term climate adaptive capacity and drive the transformation towards a low-carbon economy through supporting and implementing the TCFD recommendations.
In 2022, Fosun ushered in the "second year" of its "Carbon Neutrality Goal". Fosun made a commitment to society – "strive to peak carbon emissions by 2028 and achieve carbon neutrality by 2050". Fosun has formulated effective strategies for climate change mitigation and adaptation to align with 1.5°C temperature control target set in the Paris Agreement. In order to further push forward the "dual carbon" goals of Fosun, the Group has established a Carbon Neutrality Committee and a Carbon Neutrality Working Group to actively promote further implementation and enforcement of carbon-neutral management across the Group.
Upholding the original aspiration of "Contribution to Society" and working hand in hand with all sectors to promote global sustainable development
Since its establishment, Fosun has defined its corporate operating principles and cultural values of "Self-improvement, Teamwork, Performance, and Contribution to Society". It has been closely linking the development and achievement of individuals and enterprise with the improvement of social welfare all along. As a global enterprise rooted in China, Fosun will continue to uphold the original aspiration of developing business for good and "Contribution to Society", actively shoulder more social responsibilities, and make unremitting efforts in the fields of global emergency relief, rural revitalization, health, education, culture and art, youth development, etc. to create social value.
Looking ahead, Fosun will adhere to its strategic focus, leverage its advantages in "global operations" and "technology innovation", and work hand in hand with global customers, partners, investors, communities, etc. to promote global sustainable development and fulfill Fosun's mission of "Creating Happier Lives for Families Worldwide".
About Fosun
Fosun was founded in 1992. After more than 30 years of development, Fosun has become a global innovation-driven consumer group. Adhering to the mission of creating happier lives for families worldwide, Fosun is committed to creating a global happiness ecosystem fulfilling the needs of one billion families in health, happiness and wealth. In 2007, Fosun International Limited was listed on the main board of the Hong Kong Stock Exchange (stock code: 00656.HK). As of 31 December 2022, Fosun International's total assets amounted to RMB823.1 billion; it received an AA MSCI ESG rating and was the only conglomerate in Greater China with such rating.