Sing for Hope Pianos Launched on Fosun Plaza
Release Time:2023-06-23
Author:
Source:
Pageviews:
Largest Annual Public Arts Project in the United States featured free performances from
Rwandan Women's Drumming Group, Sing for Hope Youth Choir, LaGuardia High School Choruses
NEW YORK – Recently, Sing for Hope unveiled twenty artist-designed pianos at 28 Liberty's Fosun Plaza. The event featured open-play for the public and pop-up performances throughout the day from artists like Lissa deGuzman of Broadway's Wicked and Aladdin, with a free concert from the Rwandan Women's Drumming Group, the Sing for Hope Youth Chorus and the choruses from LaGuardia High School of Music & Art and Performing Arts.
Each year, Sing for Hope selects local and international artists to design and paint donated pianos that are then placed in parks and other public spaces for all to play. The 20 Sing for Hope Pianos are available for the public to play throughout the city from June 12th until July 4th, after which they will be placed in their permanent homes in schools and community-based organizations across the greater NYC area.
"The annual launch of Sing for Hope Pianos on Fosun Plaza is a signature event for the Lower Manhattan community," said Thomas Costanzo, Global Partner of Fosun and CEO of Four Trees Asset Management. "We are honored to have partnered with Sing For Hope to make arts and culture programming accessible to the neighborhood."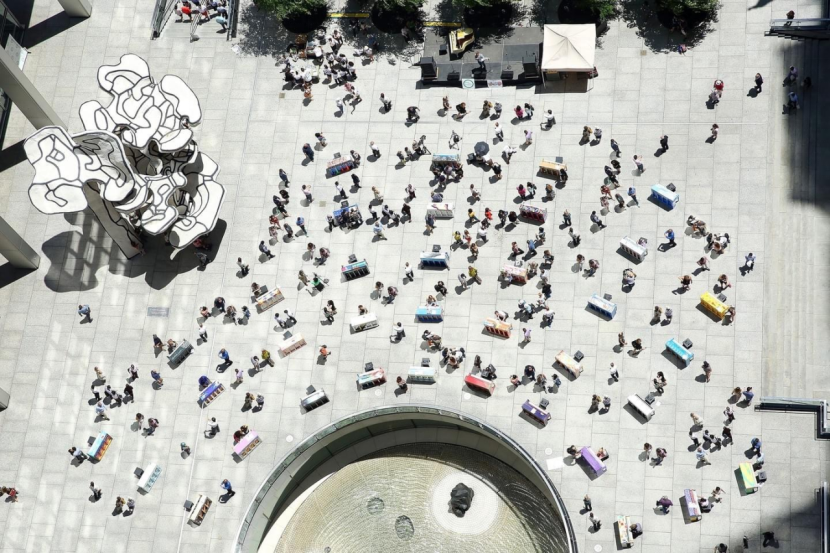 Sing for Hope Pianos at Fosun Plaza (Photo source:https://singforhope.org/)
Sing for Hope Pianos was first launched in 2010 and is one of the world's largest annual recurring public arts programs, with more than 580 one-of-a-kind piano artworks placed in public spaces from The Bronx to Beirut. The program supports local visual artists while creating musical experiences for individuals of all ages and levels of experience.
Since 2015, Fosun Plaza has hosted Sing for Hope's annual event. 28 Liberty continued its support of "Sing for Hope" during the pandemic by delivering donated pianos to New York's Jacob Javits Center vaccination site, where live musical performances brought joy and eased nerves for those in line for vaccinations.     
"Our mission is to bring hope, healing and connection through the power of music," said Sing for Hope Co-Founder Camille Zamora. "The Sing for Hope Pianos are a celebration of New York's creative spirit, and we are thrilled to share these beautifully designed instruments with the community," said Sing for Hope Co-Founder Monica Yunus. "Music is a force that has the power to heal and inspire us all."
About Sing for Hope
Sing for Hope harnesses the power of the arts to create a better world. Our creative programs bring hope, healing, and connection to millions of people in hospitals, schools, care facilities, refugee camps, transit hubs, and community spaces worldwide. A non-profit organization founded in New York City in response to the events of 9/11, Sing for Hope partners with hundreds of community-based organizations, mobilizes thousands of artists in creative service, and produces artist-created Sing for Hope Pianos across the US and around the world. The official Cultural Partner of the World Summit of Nobel Peace Laureates, Sing for Hope champions art for all because we believe the arts have an unmatched capacity to uplift, unite, and heal.
About 28 LIBERTY
28 Liberty, at the heart of downtown NYC, is the go-to destination in Lower Manhattan for recreation and best-in-class dining. The office tower's 2.5 acre Fosun Plaza hosts a variety of community events throughout the year, from food festivals to arts programs to educational experiences and more. The 38,000-square-foot penthouse is home to restaurateur Danny Meyer's latest endeavor, Manhatta, a restaurant and bar with sweeping panoramic views of the NYC skyline, and featuring a multifunctional event space accommodating up to 800 guests at three simultaneous gatherings. Alamo Drafthouse Cinema and Court 16 are among the tenants of the new 200,000-square-foot retail space at the base of the building. Whether exploring the latest cultural event or sipping cocktails at sunset from the 60th floor, 28 Liberty always offers something new to discover.
About FOSUN
Fosun was founded in 1992. After more than 30 years of development, Fosun has become a global innovation-driven consumer group. Adhering to the mission of creating happier lives for families worldwide, Fosun is committed to creating a global happiness ecosystem fulfilling the needs of one billion families in health, happiness and wealth. In 2007, Fosun International Limited was listed on the main board of the Hong Kong Stock Exchange (stock code: 00656.HK). As of 31 December 2022, Fosun International's total assets amounted to RMB823.1billion. Fosun International ranks No.589 on the 2022 Forbes Global 2000 List, with a MSCI ESG rating of AA.
For more information, please visit our official website:  https://www.fosun.com/
About FOSUN HIVE
Utilizing "Hive City + Global Landscape" as its core strategy, Fosun Hive continuously leads the upgrading of industry-and-city integration. Through profound industry operations + industrial investment, Fosun Hive consolidates global industrial resources, focuses on customized industrial C2M model and well-positioned industries to promote the upgrading of urban industries and the high-quality development of the regional economy with the "Hive model".
For more information, please visit: www.fosunhive.com.