Fosun Foundation Brings Young Chinese Social Changemakers to Pramerica's Emerging Visionaries Summit
Release Time:2023-05-19
Author:
Source:
Pageviews: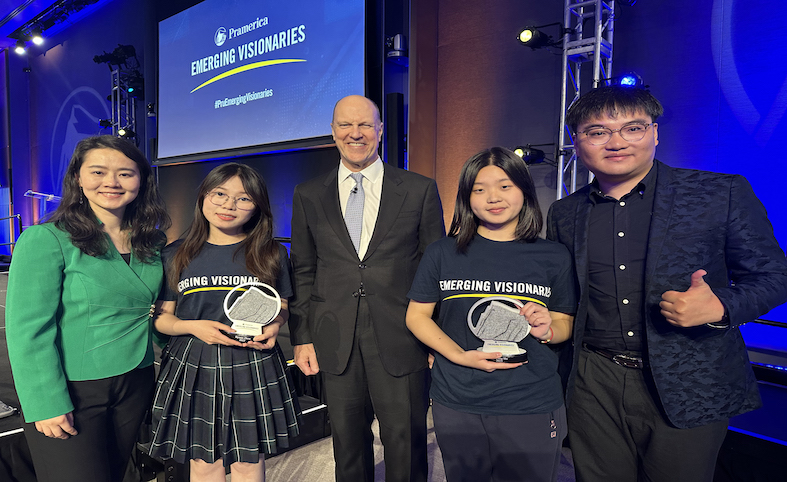 NEW YORK – May 25, 2023 –Pramerica Financial has recently honored 30 young changemakers, including two Chinese students, at the Emerging Visionaries Summit held at Pramerica's headquarters in Newark, New Jersey.
Yunyang Shi and Siyuan Zhou were winners of Pramerica's Emerging Visionaries program, along with youths from Brazil, India, Japan, and the US. The awards honor remarkable young people between 14 and 18 years old from across the world for leading initiatives that produce innovative solutions to current financial and societal challenges.
Pramerica Emerging Visionaries is the evolution of Pramerica's long-running Spirit of Community awards, which has honored more than 150,000 outstanding youth volunteers in the past 26 years. Last year Pramerica Emerging Visionaries launched in the US and will soon occur in Japan, Japan, India, China and Brazil.
Shanghai-based Fosun Foundation and Pramerica Financial Group introduced the award to China in 2013. To date, more than 6,500 Chinese middle school students have applied to participate, and two "charity ambassadors" are invited to represent China while participating in global exchanges each year.
"It is crucial that we harness the ingenuity and potential of youth in China to address the world's most pressing concerns," said Li Haifeng, Chairman of Fosun Foundation. "With Fosun's spirit of 'developing business for good' and our original aspiration of 'Contribution to Society,' we have introduced the Emerging Visionaries program into China for consecutive ten years and will continue to support social entrepreneurship among youth in China by elevating social changemakers."
"The goals of our Emerging Visionaries program reflect Pramerica's overarching purpose: to make lives better by solving the financial challenges of our changing world," said Pramerica Chairman and CEO Charles Lowrey. "We applaud all of our honorees for their commitment to improving the lives of others and creating inclusive and thriving communities."
During a four-day summit held last month, five young people were named Grand Prize winners. Shi and Zhou were among 25 other honorees nominated in February to each receive a $5,000 prize and an all-expenses-paid trip to the Emerging Visionaries Summit.
Shi is a ninth-grader from the Second Affiliated School of Fudan University. She is a co-founder of the "Heart Star Lighting" project, which has mobilized over 5,300 students and families from more than 50 schools across China. The initiative raised more than 730,000 yuan to purchase more than 70,000 pieces of personal protective equipment and daily necessities for COVID-19 and flood relief in Henan in 2021.
Zhou, a sophomore from Shanghai World Foreign Language Academy, leveraged her piano and vocal skills to create a music therapy program for autistic children through continuous research and exploration of music therapy theory.
During the four-day international summit, the winners from different cultures and perspectives had face-to-face discussions.
"I really want to know what kind of public welfare projects young people are doing in the US, where public welfare is a priority," Zhou said. She said her belief in the power of public welfare to change the world has become even stronger.
"With passion and perseverance, we will cross language and regional barriers to contribute and support each other's public welfare projects. We are changemakers," said Shi.
She also started to think more deeply about the future development of her project.
"We have reflected on our own projects, which aim to further improve skills training, budgeting, plan development, analysis and problem solving as well as one-on-one coaching. This initiative has given me more confidence as I continue working on the 'Heart Star Lighting' public welfare project," Shi said.
The Emerging Visionaries program is conducted by Pramerica Financial in partnership with the social entrepreneurship network Ashoka, with advisory support from the Financial Health Network.
# # #
About Shanghai Fosun Foundation
Shanghai Fosun Foundation was founded in November 2012. As a 5A Charity Organization, Fosun Foundation firmly upholds its values of "Self-improvement, Teamwork, Performance, and Contribution to Society" and its mission of "Fosun for Good". Fosun Foundation is committed to corporate social responsibility, serving the needs of the society at all times. Fosun Foundation's public welfare work covers disaster relief, health, poverty alleviation, education, community construction, culture and art, and youth entrepreneurship, in many countries and regions worldwide, putting its corporate social responsibilities into action.
About FOSUN
Fosun was founded in 1992. After more than 30 years of development, Fosun has become a global innovation-driven consumer group. Adhering to the mission of creating happier lives for families worldwide, Fosun is committed to creating a global happiness ecosystem fulfilling the needs of one billion families in health, happiness and wealth. In 2007, Fosun International Limited was listed on the main board of the Hong Kong Stock Exchange (stock code: 00656.HK). As of 31 December 2022, Fosun International's total assets amounted to RMB823.1billion. Fosun International ranks No.589 on the 2022 Forbes Global 2000 List, with a MSCI ESG rating of AA.
For more information, please visit our official website:  https://www.fosun.com/
About Pramerica Financial
Pramerica Financial, Inc. (NYSE: PRU), a financial wellness leader and premier active global investment manager, has operations in the United States, Asia, Europe and Latin America. Pramerica's diverse and talented employees help to make lives better by creating financial opportunity for more people. Pramerica's iconic Rock symbol has stood for strength, stability, expertise and innovation for more than a century. For more information, please visit news.prudential.com.