Guo Guangchang Stresses Healthy Corporate Development and Expresses Full Confidence in the Future
Release Time:2023-03-20
Author:
Source:
Pageviews:
On 17 and 18 March, Guo Guangchang, Chairman of Fosun International, attended the 23rd Annual Conference of Yabuli China Entrepreneurs Forum 2023, and the 6th Shanghai Forum Themed Zhejiang Entrepreneurs in the World & the 11th Member Representative Conference of ZCCS (Zhejiang Chamber of Commerce in Shanghai) hosted by the ZCCS, where he was interviewed by CCTV and delivered a keynote speech, respectively, emphasizing the two major focus of innovation and global operations and expressing his confidence in the future of the economy.
In an interview with CCTV, Guo Guangchang emphasizes R&D investment and global operations 
At the Yabuli Forum themed "Concentrate on High-Quality Development", more than 500 renowned entrepreneurs, economists, relevant leaders of Heilongjiang Province, and heads of key enterprises in the province gathered to explore new opportunities in the path to modernization and this year's growth targets. 
In an interview with a CCTV reporter at the forum, Guo Guangchang said that for future development, Fosun will first focus on innovation and R&D investment, especially in biopharmaceuticals. Secondly, Fosun will step up its efforts to improve global innovation capabilities and operational capabilities. Fosun has full confidence in its overall development goals for this year.
Entrepreneurs participating in the forum believe that enterprises should leverage the digital economy to empower traditional industries, use green and low-carbon technologies to transform production processes, and promote the upgrading of the consumption industry with the upgrading of the manufacturing industry. In 2023, the private economy will step up investment in science and technology and expand effective investment.
Guo Guangchang emphasizes the power of belief in his speech at the Shanghai Forum Themed Zhejiang Entrepreneurs in the World
At the Shanghai Forum Themed Zhejiang Entrepreneurs in the World, Guo Guangchang made a keynote speech to expound comprehensively on the current economic recovery, innovation and entrepreneurship of private enterprises, and Fosun's next strategic deployment.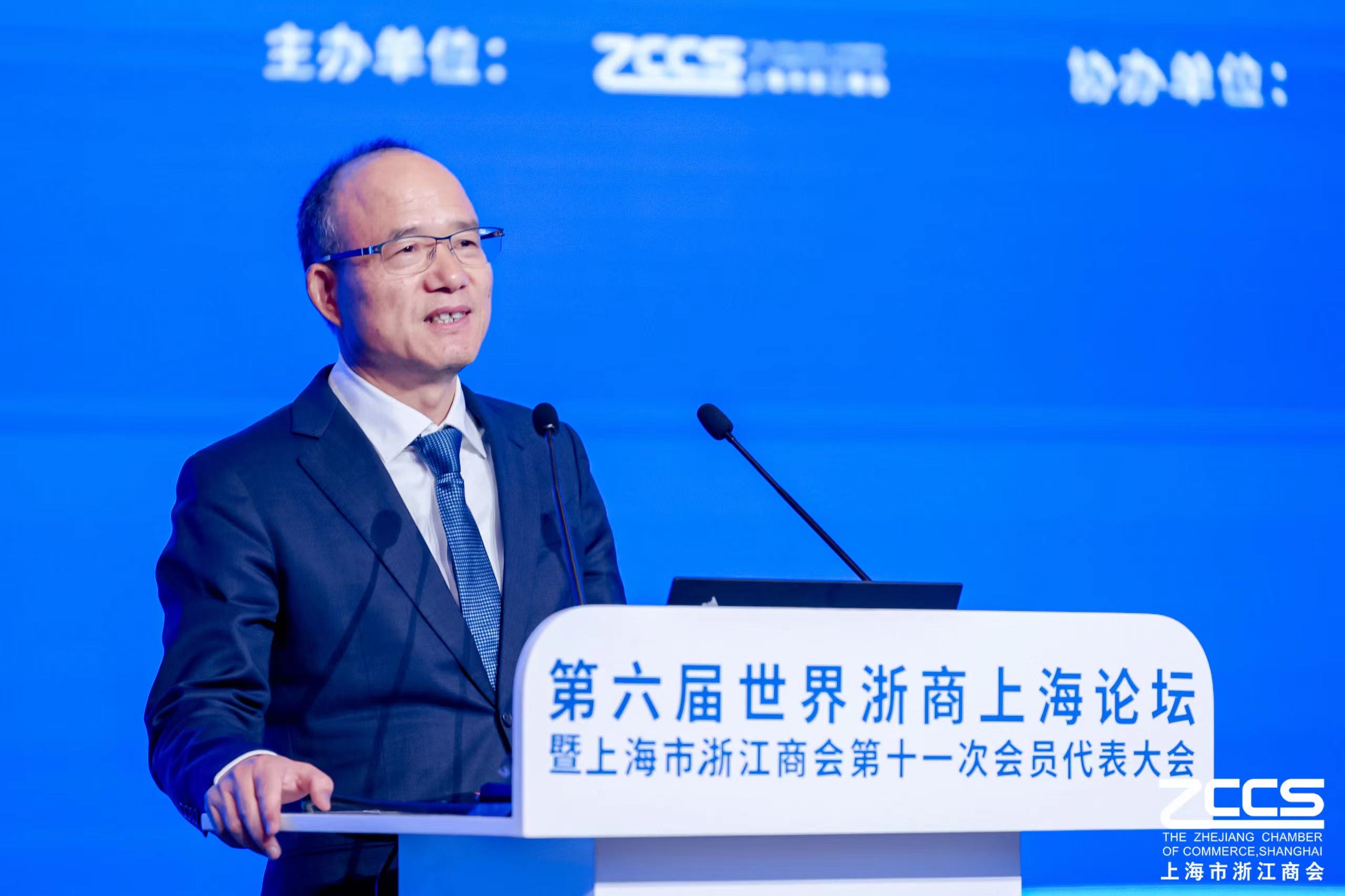 "In today's market environment, everyone must know how to survive. 'Belief' creates strength, but confidence is very important as well," Guo Guangchang said, "Although the economy is gradually picking up now, we must always plan for the worst and do our best. Persistence may not necessarily lead to success, but failure to persist will definitely result in failure. Therefore, we must persevere. Hard work may not necessarily lead to the best results, but no good results can be achieved without hard work. Therefore, we must work hard. Confidence may not lead to success, but we will definitely not succeed without confidence. Therefore, we must have confidence."
Offline consumption is recovering rapidly
"Since the beginning of this year, we have truly felt the rapid recovery of consumption, offline consumption in particular," Guo Guangchang said.
Guo Guangchang shared the data of Fosun's various businesses to demonstrate its optimistic performance in the domestic and overseas markets: Yuyuan Garden Lantern Festival became an Internet sensation this year and attracted more than 4 million visitors. The recovery of the tourism industry is even more significant, the occupancy rate of Atlantis Sanya under Fosun Tourism Group (FTG) has exceeded 90% since mid-January and has exceeded 99% during Chinese New Year. In terms of overseas markets, Club Med posted the highest single-month business volume in its history of more than 70 years since its establishment.
Shifting from "cultivating a strong pioneering spirit" to "establishing a firm foothold while promoting expansion for growth"
Started in Shanghai, Zhejiang, Fosun with its root in China and thoroughly develops the Chinese market, with business presence all over the world. Guo Guangchang is deeply touched by the shift from "cultivating a strong pioneering spirit" to "establishing a firm foothold while promoting expansion for growth" in Zhejiang.
He said: "The road to entrepreneurship has never been smooth sailing. It's all about overcoming obstacles and challenges with hard work. I think that Zhejiang entrepreneurs are particularly outstanding. We don't like grumbling, we are able to seek joy during difficult times and enjoy the process of entrepreneurship."
"Marching towards the future, we need everyone to understand that what we do is worthwhile. We do it for our customers, not for praise or affirmation. We work hard to provide them with better products, "Guo Guangchang said.
In January this year, the government of Zhejiang province proposed to implement the "No. 1 reform project" to enhance its capabilities in "establishing a firm foothold while promoting expansion for growth", thus creating a more resilient, dynamic, and competitive economy.
Speaking of "establishing a firm foothold while promoting expansion for growth", Guo Guangchang said, "if you would like to innovate and develop further, you might want to have look at overseas markets, not only in Southeast Asia, but also in the U.S. and Europe. We must be full of curiosity about the world. We need to understand low-cost regions, and we must know where the latest science and technology are. We must go global. Fosun has always insisted on operating globally and proposed to "look at the world from a global perspective". We must take root in China, Zhejiang, and Shanghai, but we must also have a global vision and global operation capabilities, and this is the way to survive the future."
Calling on enterprises to maintain sound development and seek innovation
Since Fosun has established a strong business presence in the health segment early on, Guo Guangchang is particularly interested in the topic of health. He said that based on the experience and lessons learned in the past three years, everyone should understand that health is the most precious thing in life. As an enterprise, we should pay more attention to our corporate health in the next step of development.
Guo Guangchang analyzed that corporate health first represents financial and business health. Fosun is actively streamlining its organization. Recently, Fosun officially signed an agreement with Shagang on the transfer of equity in Nanjing Nangang.
In his view, an enterprise must continue to innovate and operate globally in order to maintain corporate health. It is reported that recently, Fosun held a global partner conference. Guo Guangchang called on Fosun's global partners not to create products or make investments that do not create unique value for society. "We must innovate. We must do things that others cannot do."
Focusing on innovation and adhering to global operations, Fosun will continue to maintain steady and sustainable growth this year.