Fosun International's 2021 Annual Report Wins Gold Award at the 2022 International ARC Awards
Release Time:2023-01-27
Author:
Source:
Pageviews:
On 27 January 2023, winners of the 36th International ARC Awards were announced. The 2021 annual report of Fosun International Limited ("Fosun International" or the "Company", HKEX: 00656) won Gold Award in the "Traditional Annual Report" category of the 2022 International ARC Awards. The award commends Fosun International's annual report for its distinctive theme, clear business and development strategies, sufficient content and forward-looking perspective, and excellent concept and layout design.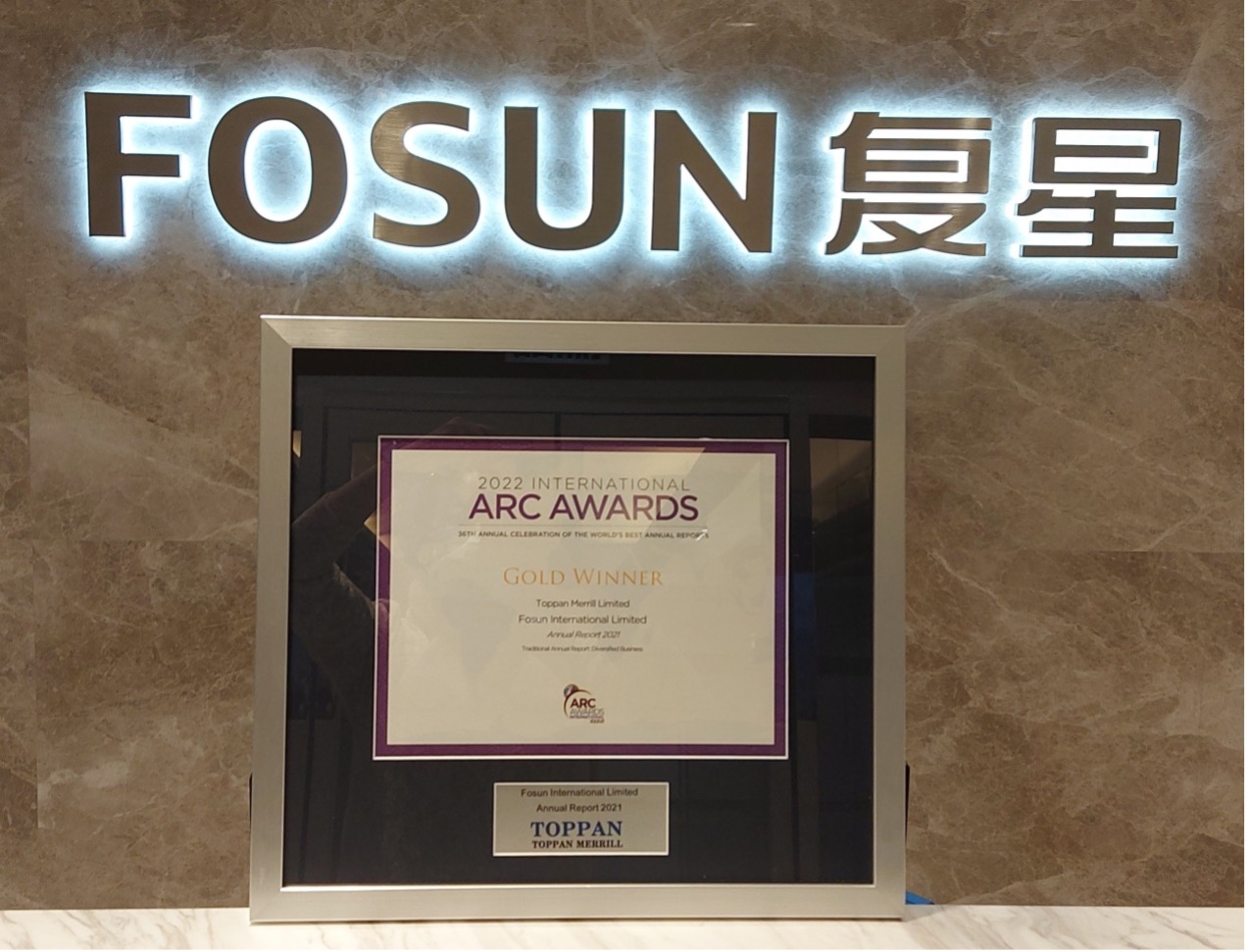 Hailed as the "Academy Awards of annual reports", the International ARC Awards is the world's most prestigious competition honoring excellence in annual reports. Some of the elements to be considered in the judging of the annual reports include theme of the annual report, chairman's letter, the company's business development and strategy, cover and interior design, presentation of corporate information, expression of financial data, and how well the spirit of the organization is communicated. Judges come from around the globe to participate on the ARC jury panels. Preliminary judging is carried out by panels of judges representing leaders in the fields of investments, writing, design and photography. Final judging is made by presidents, CEOs and other senior executives of corporations, agencies, and design firms. Winners are granted Honors, Bronze, Silver, and Gold awards.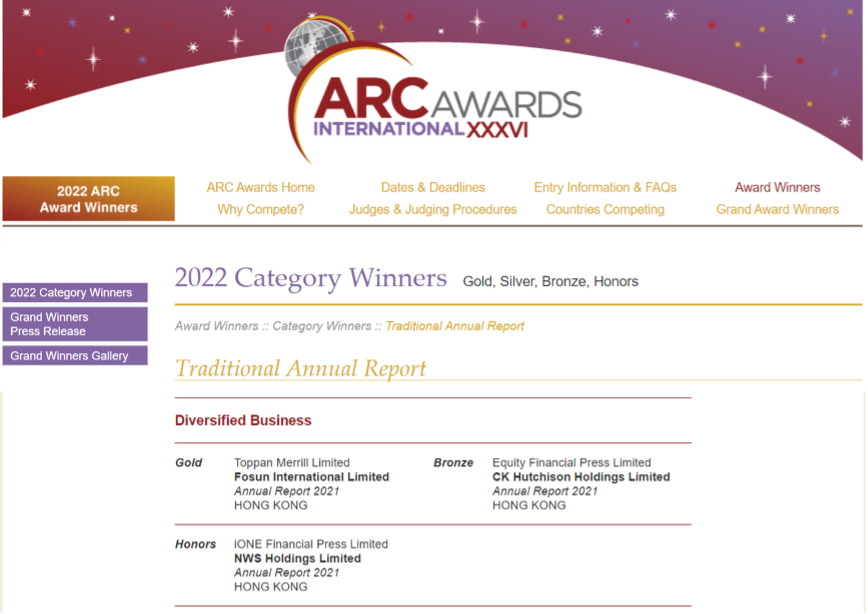 In addition to Fosun International, CK Hutchison Holdings and NWS Holdings also won awards in the Traditional Annual Report - Diversified Business category of the 2022 International ARC Awards. Winners of the International ARC Awards this year include many well-known large Chinese and foreign companies, including CLP Holdings, Airport Authority Hong Kong, Hang Seng Bank, Industrial and Commercial Bank of China, China Construction Bank, New World Development, China Telecom, China Mobile, Alibaba, etc.

 

The awards demonstrates the market's recognition of Fosun's business strategy

The theme of Fosun International's 2021 annual report was "Sustain Resilience and Accumulate Capabilities to Empower the Future". In 2022, despite the volatile global epidemic situation and the headwinds of anti-globalization, Fosun is still a firm practitioner of globalization. In 2022, COMIRNATY® COVID-19 mRNA vaccine continued to provide an anti-epidemic barrier for Hong Kong SAR, Macao SAR and the Taiwan region; Club Med opened new resorts; Lanvin Group was successfully listed on the New York Stock Exchange. In the face of uncertainties, Fosun remained committed to technology and innovation in order to weather market cycles. HANQUYOU, independently developed by Henlius, was successfully launched in Australia after entering the European Union market; the registration application in the Chinese Mainland for the new indication of Yi Kai Da, China's first CAR-T cell therapy was officially accepted. 

 

In recent years, although the global market has been going through different stages of the economic cycle, Fosun has remained committed to its core businesses. Looking forward to 2023, Fosun has mapped out the future direction for development: Fosun will reinforce its positioning as "a global innovation-driven consumer group", focus on its core businesses strategically around the consumption needs of global families, and strengthen the two core growth engines of globalization and innovation. Since the beginning of the year, Fosun's main businesses centering on household consumption, such as Health, Happiness, and Wealth, have shown signs of strong recovery and its forward-looking efforts in the anti-epidemic field have gradually borne fruit.

 

The two flagships of Fosun's Happiness segment, Fosun Tourism Group and Yuyuan have shown strong signs of recovery. According to market sources, when the domestic tourism industry suffered a huge setback in 2022, Fosun Tourism Group still stood firm to build global presence and opened seven new Club Med resorts throughout the year. Club Med's global bookings in the first half of 2023 have greatly exceeded the same period in 2019 before the pandemic. During the 2023 New Year holiday period, Atlantis Sanya, FOLIDAY Town Lijiang and other businesses in China all performed better than their respective pre-pandemic levels, and many Club Med resorts in China recorded close to 100% occupancy. During the 2023 New Year holiday period, the 2023 Yuyuan Garden Lantern Festival in the Grand Yuyuan attracted a large number of tourists. It is expected that the Spring Festival will further unleash consumption vitality.

 

Fosun's anti-epidemic "vaccine and drug" products have attracted great attention from the market. The self-paid vaccination service of COMIRNATY® bivalent vaccine was launched in Hong Kong SAR and vaccination is open to people including Mainland Chinese residents starting from 6 January 2023. After the self-paid vaccination service of COMIRNATY® monovalent COVID-19 mRNA vaccine has opened for non-local residents in Macau SAR last year, it is informed that the COMIRNATY® bivalent vaccine became a regular imported vaccine in Macao SAR on 20 January 2023, and people in need may receive a booster dose with prescription. As regards Azvudine tablets, the oral medication for COVID-19, it is now included in the medical insurance scheme in 31 provinces, autonomous regions, and direct-administered municipalities across the country. It is rapidly expanding its coverage in hospitals and is now available in major healthcare institutions across the country, including secondary hospitals, tertiary hospitals, and primary healthcare institutions. The accessibility of Azvudine tablets has been greatly enhanced, helping the vast areas build a barrier against severe cases.

 

The market is optimistic about Fosun's strategies of accelerating its strategic transformation and focusing on household consumption sectors. A number of investment banks, including Morgan Stanley, Citi, Goldman Sachs and Nomura have published reports and assigned Fosun International an "Overweight" or "Buy" rating.

 

International ARC Awards

Established in 1987, the International ARC Awards is the world's renowned competition honoring excellence in annual reports. Hailed as the "Academy Awards of annual reports", the International ARC Awards is globally recognized for its openness and fairness, providing a platform for the highest standards in the annual report industry. Every year, it attracts more than a thousand companies from different industries, government agencies, non-profit organizations as well as other organizations around the world to enter the competition.