28 Liberty Presents Free Summer Movie Series in Partnership with Alliance for Downtown New York, Alamo Drafthouse
Release Time:2022-07-14
Author:
Source:
Pageviews:
NEW YORK (July 14, 2022) – Fosun's 28 Liberty has partnered with the Alliance for Downtown New York and Alamo Drafthouse to present three dance-themed films for Lower Manhattan residents to enjoy under the night sky. The free screenings take place once a month on Wednesday nights at 7:00 PM.
The outdoor movie series, which has been run since 2016, excluding 2020 due to the pandemic, kicked off on July 13, at 28 Liberty's Fosun Plaza in Lower Manhattan. Films are projected on a screen on 28 Liberty's South Plaza, which features a signature sculpture by Jean Dubuffet and a Sunken Garden by Isamu Noguchi, and complemented by themed festivities and popcorn before the show. Screenings start at 7:00 PM and Plaza seating opens at 6:30 PM on three Wednesday evenings across the summer and fall this year. 
Dancing Under the Stars: Three Movies You Can Move To: 
Wednesday, July 13 @ 7:00 p.m. - Dirty Dancing
Wednesday, August 24 @ 7:00 p.m. - La La Land
Wednesday, September 21 @ 7:00 p.m. - In the Heights
Fosun provides seats, and attendees are welcome to bring a blanket to sit on the plaza. Alamo Drafthouse will have popcorn at the ready, and attendees are welcome to bring their own food and drinks. Alamo will also have posters from their own printing press at the Plaza.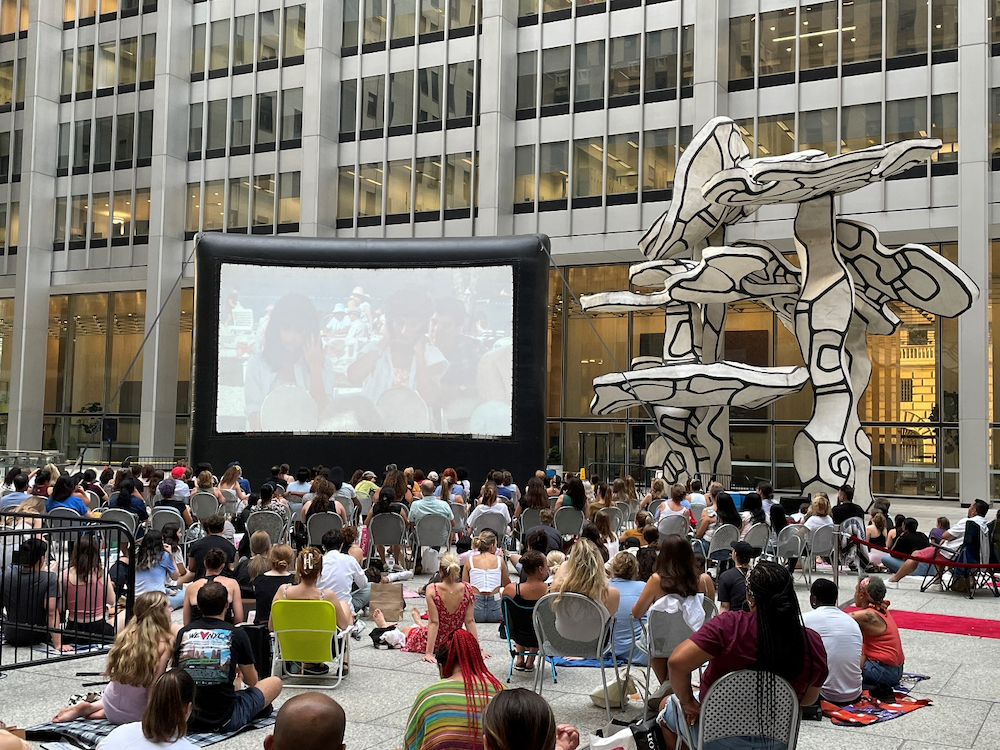 "We are pleased to join with Alamo Drafthouse and the Downtown Alliance to welcome back the Summer Movie Series," said Thomas Costanzo, Global Partner of Fosun and CEO of Four Trees Asset Management. "It is exciting to renew our commitment to bringing the community together through movie nights for the whole family."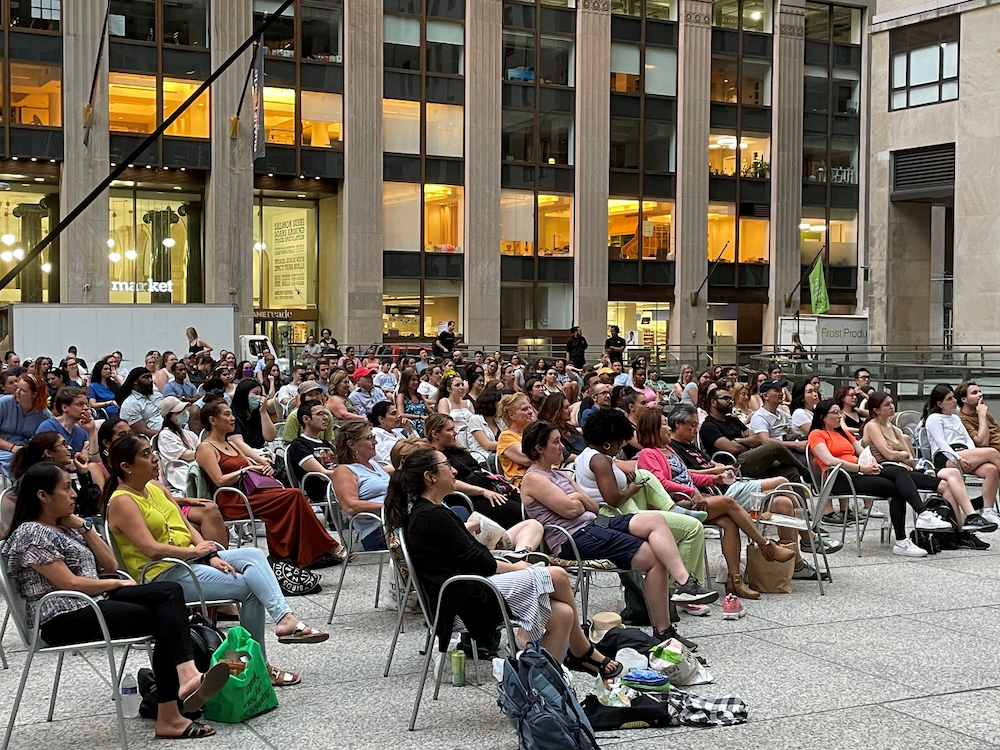 28 Liberty is a historically significant office tower located in the heart of New York City's Financial District, with modern amenities and direct connection to six subway lines and the city's mass transit hubs. During the past several years, Fosun has transformed the 60-story, 2.2 million-square-foot class-A office tower through a comprehensive repositioning program.  
Other community and cultural events at 28 Liberty include Sing for Hope Pianos, a yearly initiative that gathers local artists to create pianos that will be displayed on the plaza in June and then placed in each borough before being donated to New York City Public schools. It also accommodates the annual arts festival, River to River, which has become a cornerstone of Lower Manhattan culture.
Fosun, which is celebrating its 30th anniversary this year, will continue to uphold its original aspirations of developing its business for good and "Contribution to Society", actively shoulder more social responsibilities, implement ESG (Environmental, Social and Governance) strategies, constantly create value and give back to the society by sharing happiness with one billion families worldwide. 
About the Alliance for Downtown New York
The mission of the Alliance for Downtown New York is to provide service, advocacy, research and information to advance Lower Manhattan as a global model of a 21st century Central Business District for businesses, residents and visitors. The Downtown Alliance manages the Downtown-Lower Manhattan Business Improvement District (BID), serving an area roughly from City Hall to the Battery, from the East River to West Street. For more information visit downtownny.com
About 28 Liberty
28 Liberty, at the heart of downtown NYC, is the go-to destination in Lower Manhattan for recreation and best-in-class dining. The office tower's 2.5 acre Fosun Plaza hosts a variety of community events throughout the year, from food festivals to arts programs to educational experiences and more. The 38,000-square-foot penthouse is home to restaurateur Danny Meyer's latest endeavor, Manhatta, a restaurant and bar with sweeping panoramic views of the NYC skyline, and featuring a multifunctional event space accommodating up to 800 guests at three simultaneous gatherings. Alamo Drafthouse Cinema and a food hall are among the tenants of the new 200,000-square-foot retail space at the base of the building. Whether exploring the latest cultural event or sipping cocktails at sunset from the 60th floor, 28 Liberty always offers something new to discover.  
About Fosun
Founded in 1992, Fosun is a global innovation-driven consumer group dedicated to providing high-quality products and services for families around the world in Health, Happiness, Wealth, and Intelligent Manufacturing segments. In 2007, Fosun International Limited was listed on the main board of the Hong Kong Stock Exchange (stock code: 00656.HK). In 2021, Fosun International's total revenue was RMB161.3 billion and total assets amounted to RMB806.4 billion. Fosun International ranks No.589 on the 2022 Forbes Global 2000 List, with a MSCI
ESG rating of AA.  
About Fosun Hive
Utilizing "Hive City + Global Landscape" as its core strategy, Fosun Hive continuously leads the upgrading of industry-and-city integration. Through profound industry operations + industrial investment, Fosun Hive consolidates global industrial resources, focuses on customized industrial C2M model and well-positioned industries to promote the upgrading of urban industries and the high-quality development of the regional economy with the "Hive model". For more information, please visit: www.fosunhive.com.