Fosun Ranks Fourth in "Hurun China Private Companies SDG Readiness 100"
Release Time:2022-01-13
Author:
Source:
Pageviews:
(13 January 2022)Recently, the Hurun Research Institute released the "2021 Hurun China Private Companies SDG Readiness 100", listing 100 Chinese private companies that best meet the 17 sustainable development goals of the United Nations. Fosun International (00656) ranked fourth.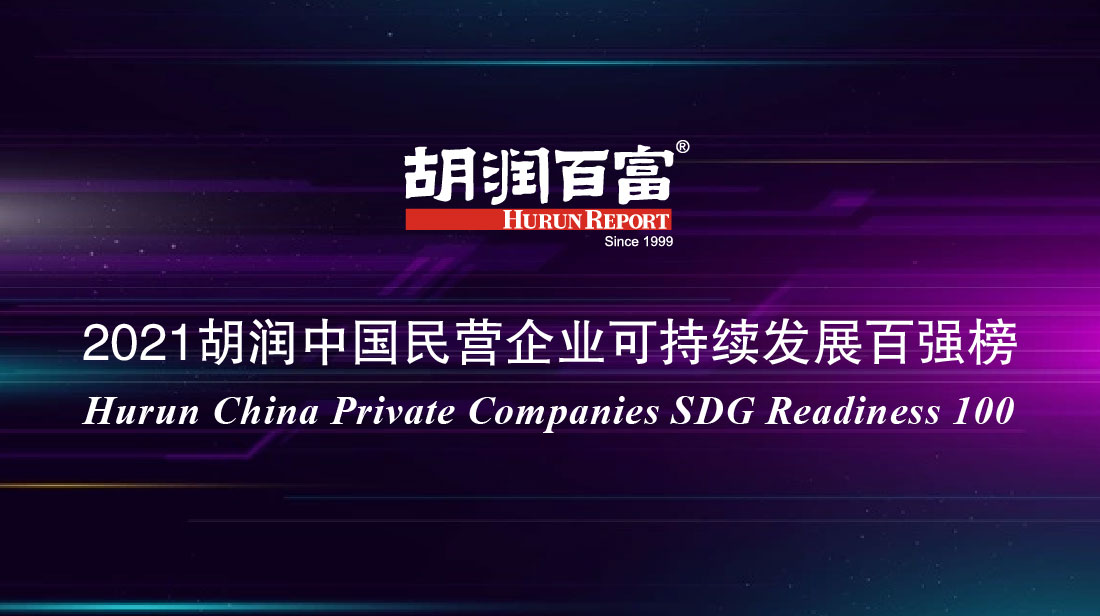 Among the 17 sustainable development goals formulated by the United Nations, Goal 1: No Poverty, Goal 5: Gender Equality and Goal 13: Climate Action. With 169 specific goals, these goals aim at comprehensively solving development problems in three dimensions – society, economy and environment – before 2030.
The survey scope of the recently published list spans companies in the "Hurun China 500 Most Valuable Private Companies." Sources include public information on enterprises and industries, such as annual reports and ESG reports (environmental, social and governance), CSR reports (corporate social responsibility) and SDG reports (sustainable development goals).
As a corporate citizen with a high degree of social responsibility, Fosun diligently practices its original aspiration of "Self-improvement, Teamwork, Performance, and Contribution to Society" and stay committed to its mission of "Creating Happier Lives for Families Worldwide". While taking initiatives to create business value, Fosun gives high priorities to corporate social responsibility and incorporates sustainable development into its business strategy.
In recent years, Fosun International has achieved impressive ESG results. Its MSCI ESG rating was upgraded to AA, holding a leading position in the industry; its Hang Seng Sustainability Rating was A. Fosun International was selected as a constituent stock of Hang Seng ESG 50 Index (top 50 large-to-mid cap) and it has been included as a constituent stock of the Hang Seng Corporate Sustainability Benchmark Index for two consecutive years, which includes the top 20% of Hong Kong-listed companies in the Hang Seng Composite Index in terms of corporate sustainability. In addition, itsS&P Dow Jones Indices ESG score and FTSE Russell ESG rating were improved significantly, whichare higher than the average rating of global peers.
While developing rapidly, Fosun leveraged its own industrial advantages to actively give back to the society through philanthropic activities such as supporting the combat against the pandemic, the fight against malaria in Africa, flood control and disaster relief,Rural Doctors Health Poverty Alleviation Program ("Rural Doctors Program"), education, culture, and entrepreneurship support, etc.On 21 December 2021, Fosun ranked fifth in the "2021 Top 100 Chinese Private Enterprises with Social Responsibility" due to its active participation in the fight against the COVID-19 pandemic, flood control and disaster relief, education support, rural revitalization and other public welfare activities.
Over the years, Fosun Foundation has leveraged on Fosun's industrial resources to carry out public welfare work in the fields of rural revitalization, culture, education, art, youth entrepreneurship and employment. It makes donations to more than 40 public welfare programs every year, actively promoting community development and supporting people's livelihood to improve social well-being.
Fosun, which is about to turn 30 this year, willcontinue touphold its original aspiration of developing its business for good and "Contribution to Society", actively shoulder more social responsibilities, implement ESG strategies, constantly create value and give back to the society, helping to promote high-quality development and common prosperity. With the global trend of promoting carbon emission reduction, carbon neutrality and the sustainable development of the earth, Fosun will continue to actively cooperate with its member companies to promote the implementation of ESG strategies, especially in the areas of carbon emission peak, carbon neutral, biodiversity, energy conservation, etc., and actively promote the sustainable development of the Group.