Fosun International Receives "ESG Communications Award" at the PR Newswire New Communications Awards 2021
Release Time:2021-12-21
Author:
Source:
Pageviews: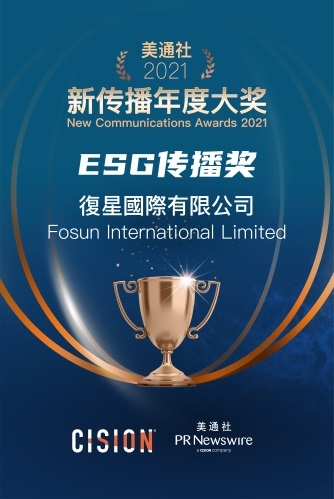 On 20 December 2021, Fosun International won the "ESG Communications Award" at the PR Newswire New Communications Awards 2021 organised byPR Newswire, reflecting market's recognition of Fosun International in communications in the areas of environmental protection, social welfare, corporate governance and corporate social responsibility, etc.
As a globalized company rooted in China, Fosun takes initiatives to create business value and gives high priorities to corporate social responsibility. Together with its original aspiration of "Self-improvement, Teamwork, Performance and Contribution to Society" and its corporate mission of "Creating Happier Lives for Families Worldwide", Fosun has integrated the principle of sustainable development into all levels of the Group's operations.
PR Newswire said that the "ESG Communications Award" presented to Fosun is to commend its active contribution to the globalfight against the pandemic. It deems that Fosun, in the face of the pandemic, has leveraged its global resources advantages to urgently deploy protective materials to assist many countries affected by the pandemic. In addition, Fosun has made full use of the Group's health resources to jointly develop a COVID-19 mRNA vaccine with Germany's BioNTech, making a substantial contribution to the control of the pandemic.PR Newswire pointed out Fosun's global pandemic reliefcampaign is an outstanding initiative and a great example of ESG communications that deserves high recognition. Other "ESG Communications Award" recipients include McDonald's, PepsiCo Greater China, Shanghai Electric, etc.
About PR Newswire New Communications Awards
Presented annually since 2013, PR Newswire New Communications Awards has been held for seven consecutive years byPR Newswire. With the aim of enhancing understanding and the adoption of quality content-oriented communications among companies, organizations and the media, it helps companies to improve the quality of content and gain more communications opportunities through various types of new media channels. By modeling their efforts on award winners, companies can provide better content for the media and meet the increasing expectations of audiences for compelling, newsworthy content.