Thomas Cook Celebrated 180th Anniversary with New International App
Release Time:2021-07-19
Author:
Source:
Pageviews:
On 18 July, Thomas Cook celebrated its 180th anniversary on the 'Ferry Cook' on Huangpu River in Shanghai. With the theme of 'Travel from the Heart', the celebration invited leaders and partners from all walks of life to witness the growth of the Thomas Cook Lifestyle Platform App (Thomas Cook App) since its debut one year ago and announced the official launch of the Thomas Cook App international version.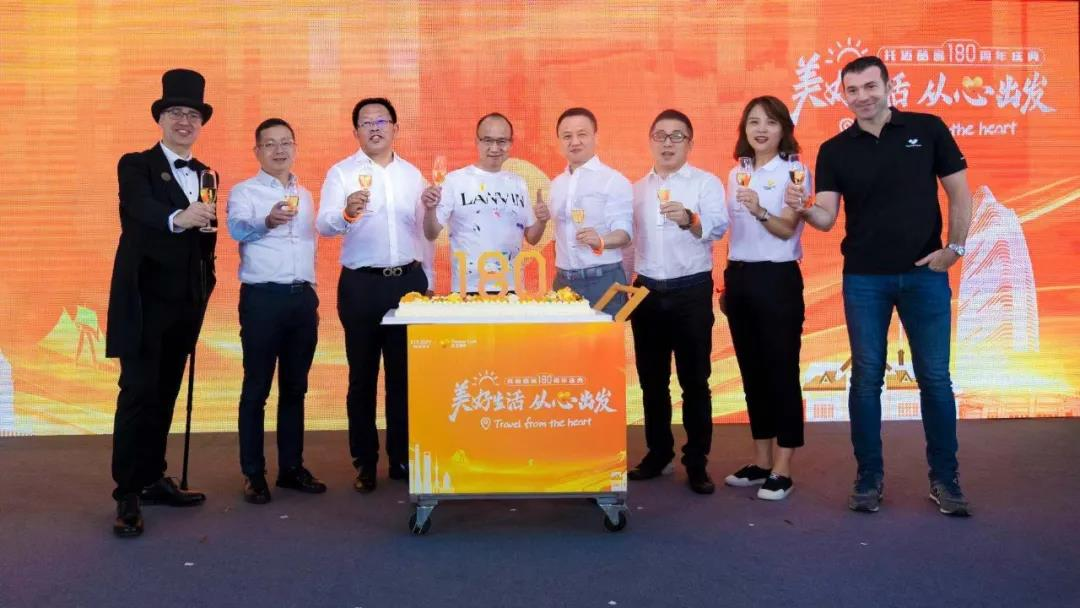 Guo Guangchang, Chairman of Fosun International (fourth to the left), Xu Xiaoliang, Co-CEO of Fosun International (fourth to the right), Qian Jiannong, Chairman of the Board and CEO of Fosun Tourism Group (third to the left) and other guests celebrating the 180th anniversary of Thomas Cook.
One hundred and eighty years ago, Mr. Thomas Cook, the founder, rented a whole train to send around 500 people from Leicester to Loughborough. This unprecedented trip was recognized as the world's first commercial tourism activity and created the concept of "vacation". Thomas Cook was also recognized as the originator of the modern tourism industry. One hundred and eighty years later, on the first anniversary of the launch of Thomas Cook App, this brand with a long history has embarked on a new journey with digital elements.
Qian Jiannong, Chairman and CEO of Fosun Tourism Group said: "Thomas Cook has left unforgettable traveling memories for countless families in the past 180 years. Today, Fosun Tourism Group is giving Thomas Cook a new life by empowering it with technology. With extensive brand recognition and profound influence, Thomas Cook plays an essential role in the FOLIDAY eco-system.
With the rapid development of the internet and the continuous upgrading of technology, the digitization of the cultural and tourism industries continues to accelerate. Digital cultural tourism has become an essential part of promoting the recovery of the cultural tourism industry, boosting consumption expansion and upgrade. As the world's leading leisure tourism group, Fosun Tourism Group has always been committed to creating a FOLIDAY quality lifestyle that can meet the all-round needs of family vacation with an innovative attitude. We hope the Thomas Cook App can continue to innovate the traveling and vacation experience and bring FOLIDAY quality life to more families around the world."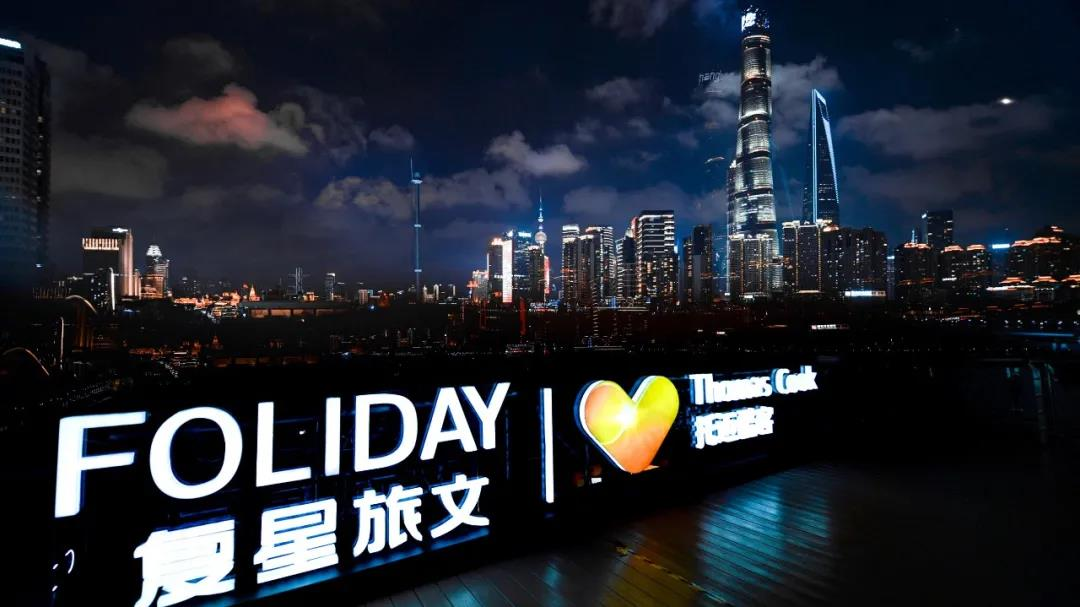 The new version of the Thomas Cook App is released under the rapid growth since its debut one year ago
On 18 July, on the colorful and dazzling Huangpu River in Shanghai, a cruise ship named 'Ferry Cook' set sail to celebrate the 180th anniversary of Thomas Cook, the world's oldest travel agency brand. It also symbolizes the new journey of this British brand in China.
On this day last year, Fosun Tourism Group announced the reborn of Thomas Cook brand through digitalization and officially released the Thomas Cook App in Shanghai. As a global one-stop tourism and lifestyle platform for families, the new Thomas Cook App leverages on Fosun Tourism Group's advantages of global superior resources. It also extends to life scenarios with leisure services as the core, satisfying the diverse 'travel + life' demands of family users.
Through a whole year's effort, Thomas Cook App achieved a turnover of approximately RMB 420 million in the first half of 2021. As of 30 June 2021, it has 1.5 million downloaded users, and its monthly active users during peak load phases exceeded one million. In the first half of 2021, its Gross Merchandise Value (GMV) increased more than three times as compared with that in the second half of 2020, and the number of App downloads increased by 172.7%, which indicates its rapid growth.
The new version of the Thomas Cook App was release on its first anniversary. In this revision, the platform is given a new visual appearance and equipped with a complete itinerary digital service function, an upgraded member interaction system, a new merchant business platform, and a hotel brand zone and distribution alliance. At the same time, the personalized service of the platform can quickly find a suitable vacation plan for customers to meet the diversified vacation needs of various users such as family, newlyweds, and fashionistas.
It is noteworthy that the anniversary celebrating activities at Thomas Cook App held from now until 6 August to celebrate its 180th anniversary are in full swing. The platform has a limited-time shopping activity hoping that families can enjoy and have a wonderful holiday. Two hundred products with good value were selected from various categories such as featured hotels, KOL celebrity homestays, exquisite group tours, tourist spots tickets, and daily goods. In addition, the platform has opened a flagship store on Tiktok and holds a 4-hour live streaming every day and sent out benefits during the live streaming interaction.
Upgraded operating model of resorts and demonstration of the potential for digitalized operation of tourism destinations
Since its launch, the Thomas Cook App has maintained the frequency of updating every two weeks for fast and repeated calculations. It has opened up diversified online and offline membership services through the concept of intelligent scenario operation, with abundant privileges and 360° customized services to light up users' whole journey.
Take Atlantis Sanya as an example. The platform can take care of the user's itinerary throughout the entire journey. It provides more than 20 exclusive privileges such as pre-departure customized vacation plans, one-stop food, lodging, entertainment and shopping, and extra reward points after the trip. These provide users with a one-stop solution and a wonderful vacation experience. Since the launch of this function, it has directly increased the in-store services offered by the platform by five times, which shows the potential for digitalized operation of tourism destinations.
Fiona Dou, Vice President of Fosun Tourism Group, CDO and President of Thomas Cook Group, said: "The end product of the service industry is experience. From leisure tourism to daily goods, from offline scenarios to online platform interactions, the integration of multiple scenarios is becoming the general trend. Thomas Cook adheres to the original intention of being customer oriented. Through technologies and continuous calculation of contents, products, and services, Thomas Cook hopes to create unique vacation experiences for users and promotes a brand-new lifestyle where vacation is life and life is vacation.
With a year of experience, we are delighted to discover that Foliday's leisure tourism demands tend to shift towards high frequency and higher quality in terms of products and services. More than half of the holiday product consumers purchased lifestyle merchandise on the App, showing users' recognition of Thomas Cook's 'tourism + life' strategy. Focusing on the diverse needs of users, Thomas Cook is building a one-stop lifestyle online platform for multiple scenarios and integrate business transaction, resources sharing, content marketing, big data insight, reward points sharing, etc. In the future, we will invite more partners to emerge in the platform to enrich the business categories and enable more users to enjoy life using Thomas Cook platform."
The international version of Thomas Cook App launched officially and waiting for the recovery of international business
As the Thomas Cook App has been growing rapidly in China, Fosun Tourism Group officially launches the long-awaited international version of the Thomas Cook App globally. It is developed by the technical team in the PRC and will be an innovative masterpiece in the overseas tourism industry.
In the mode of 'short video + social media platform', the international version of the App focuses on high-quality short videos with experiences of combining social media, travel related products and tourism platform operation. It also inspires users through experience sharing by travel experts, travel recommendations, and tourism cooperation partnership exploration, etc., which forms a complete close loop from being impressed to placing orders and sharing experience.
Alessandro Dassi, Vice President of Fosun Tourism Group, Co-president of Thomas Cook Group, and Co-general Manager of Casa Cook Hotel Management Limited said, "As a veteran employee of Thomas Cook, I am really happy to see that the App has given the 180-year-old brand Thomas Cook a brand-new vitality. In 1841, Mr. Thomas Cook first launched a traveling booking service, by using a train ticket to travel through England to start the modern tourism industry. In 2021, Thomas Cook reaches young users with a brand-new App. The European market is looking forward to the resumption of traveling. When that moment comes, our creative and proactive team together with their products will surely inject new vitality into the European tourism market and reshape our international brand influence."
FOLIDAY's ecological brand is released together with new surprises on the platform
As a digital platform that carries the entire FOLIDAY ecosystem of Fosun Tourism Group, the main feature between the Thomas Cook App and the rich tourism products under the ecosystem is their seamless connection. Moreover, a list of brands under Fosun Tourism Group, including Cook's Club, Club Med, and Lizzie Collection, announced the first launch of their new products on the Thomas Cook App at the anniversary celebration. While it brings vitality to the platform, it also brings surprises to consumers continuously.
On the top terrace of the 'Ferry Cook' cruise ship, a trendy electronic music party ignited the audience. Cook's Club, a trendy hotel and resort brand that originated in Greece and was designed for the new generation of travelers under Fosun Tourism Group, launched in China with the White Wave Electronic Music Party. They collaborated with the leading electronic music culture brand in China 'FEVER' and the School of Fashion Design of Donghua University, aiming at creating an eclectic hotel experience as a trending player for the new generation of travelers. The first two hotels built by the brand in China, Guilin Cook's Club and Chongqing Jinfo Mountain Cook's Club, are expected to open at the end of 2021.
Lijiang Club Med Resort and Albion Resort in the magnificent Yulong Naxi Autonomous County, as well as the teahouse of the new high-end souvenir brand " Lizzie Collection " in Atlantis Sanya, were launched together. As Fosun Tourism Group's first self-owned Club Med resort in China, Lijiang Club Med unlocks the authentic Lijiang with French sophistication. The village has opened Club Med's largest indoor water park in China of 1,500 square meters and a large indoor sports world of 700 square meters. They create a comfortable and leisure tourism experience suitable for all seasons.
Guo Guangchang, Chairman of Fosun International, said: "As the core C-end entry of Fosun in the tourism industry, Thomas Cook App is supported by the world-class tourism destinations as well as the global industrial ecosystem of Fosun. I believe it will develop rapidly. We hope that the legend of Thomas Cook can be continued and lead the innovation and development of the global leisure tourism industry."