What is a "Happy Planet"? Starting today, let's take a closer look at the China International Consumer Products Expo with Fosun!
Release Time:2021-05-13
Author:
Source:
Pageviews:
What is a "Happy Planet"? If you would like to learn more about it, starting today, let's take a closer look at it with Fosun!
The first China International Consumer Products Expo (CICPE) kicked off today in Haikou. Fosun integrated a cluster of well-known consumer brands in the fields of tourism, jewelry, cosmetics and fashion etc. and featured online/offline and on-site/off-site interactions, making its debut in the Fashion Life exhibition area of the CICPE.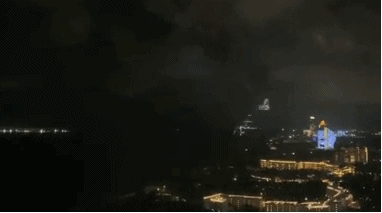 ▲ Tonight, 1,000 drones lit up the sky in Atlantis Sanya, dazzling Fosun's slogan "Towards a Brighter Life" in the night sky of the Hainan Free Trade Port to celebrate the opening of the CICPE.
Fosun's consumer products focus on the field of family happiness consumption and provide solutions for family consumers to fulfil their needs of various scenes in the happiness segment. At the CICPE, Fosun upheld its happiness gene and created a "happy planet" that encompasses all aspects of daily life, including clothing, dining, consumption goods and tourism.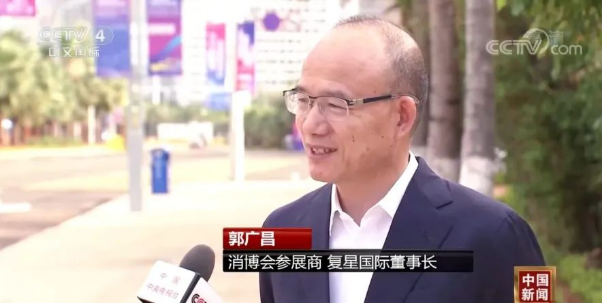 Guo Guangchang, Chairman of Fosun International said, "Fosun's active participation at the first CICPE is not only due to Fosun's attachment and commitment to Hainan, but also from its positioning as an 'innovative-driven consumer group'. At the same time, Fosun proposed the strategy of "C-end Top Priority" this year, with the intention of leveraging the CICPE platform to demonstrate its determination to serve one billion families around the world. Fosun is committed to providing high-quality products and services for families, including Hainan consumer market and focusing on the happiness needs of family customers, hoping to provide them with the ultimate products and services."
Clothing: a modern wardrobe with both quality and style
Fosun Fashion's three high-end brands have all took part in the expo, including the French luxury fashion house with 130 years of legacy, LANVIN, the legendary Californian luxury women's clothing brand that specializes in knitwear, St. John, and the technology-driven sustainable fashion pioneer and Austria's luxury skinwear brand, Wolford, showcasing a modern wardrobe with both quality and style for contemporary women.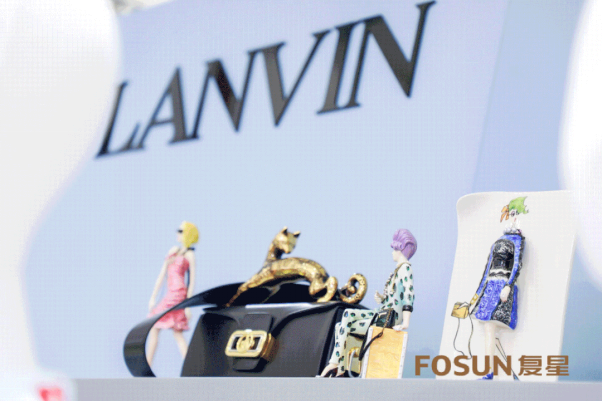 ▲ LANVIN
At the CICPE, LANVIN introduced the spring/summer 2021 collection and the limited-edition capsule collection, "Love Poem", exuding its classic French elegance. LANVIN illustrates women's grit and grace with exquisite romance, and expresses the infinite vitality with casual chic designs. Each unique detail makes the piece even better than the inspiration itself.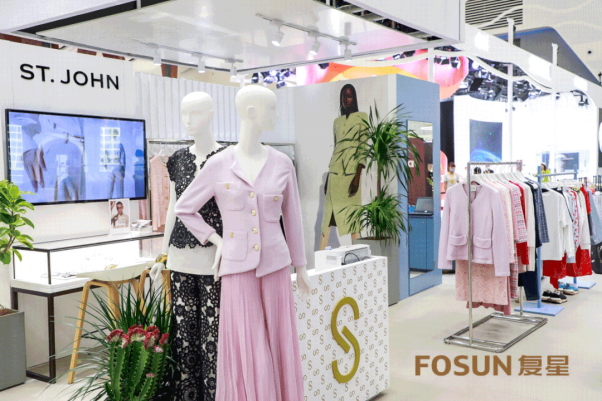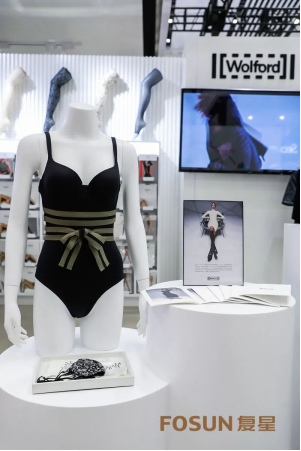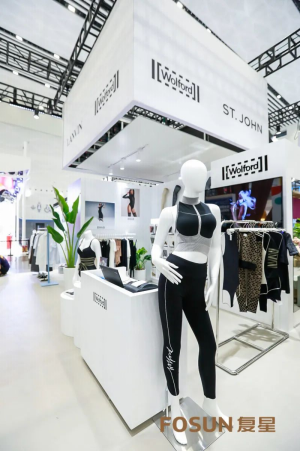 ▲ St. John (top)、Wolford (bottom)
St. John presented the spring/summer 2021 collection with the finest knitting craftsmanship. Modern cutting and exquisite details are the highlights of the collection. With a unique vision, St. John integrated soft tone colours into the knitwear, injected fresh vitality into the knitted fabric with the exceptional knit technique, combined soft tone colours with thoughtful tailoring, each stitch and thread are the epitome of St. John's ultimate exquisite craftmanship, allowing contemporary women to fully express themselves in elegance, comfort and style; Wolford showcased the spring/summer 2021 collection with innovative spirit and exquisite craftmanship. Its signature products were once again made with the ultimate fabric to exude its elegance and charm. On top of comfort, Wolford's skinwear provides great versatility and figure-embracing silhouette. Combined with seamless craftmanship, the skinwear fits ergonomically all-round. At the same time, the use of organic fabrics is not only breathable on the skin, but environmentally friendly as well.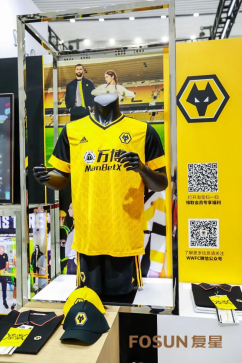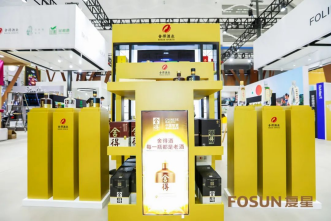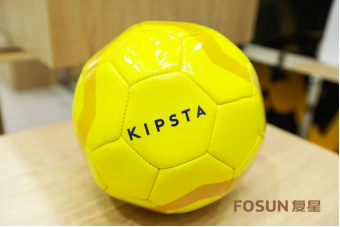 ▲ WWFC
In addition, WWFC (Wolverhampton Wanderers FC) is a trendy sports lifestyle brand from the century-old England football team, Wolves. The CICPE exhibited the Wolves' home jersey and other football related apparels. WWFC, inspired and started by the century-old football club of the Premier League, Wolves integrated trendy avant-garde 3D designs into exquisite tailoring. Its products are stylish, versatile and comfortable to wear.
Dining: the trend of national pride, taste great wines with like-minded friends
Liquor is the star product of Fosun's "Happy Planet". Incorporating liquor with the trend of national culture to bring out the happiness and confidence in Chinese culture.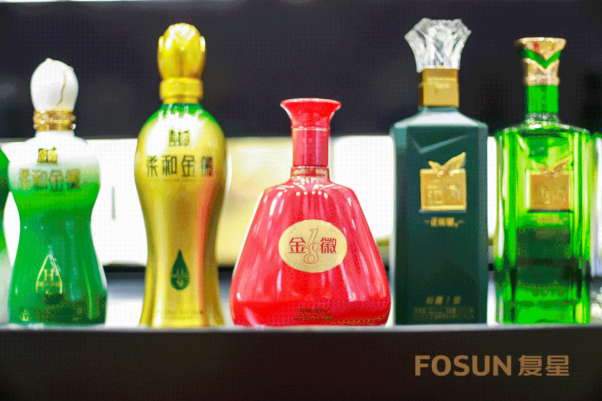 As the flagship platform of Fosun Happiness segment, Yuyuan stays committed to the "new consumption trend of national culture" and is constantly exploring new opportunities. Time-honored brands, such as Jinhui Liquor, Shede Spirits, Tuopai Liquor, Mei Mei Green Plum Wine, Tong Han Chun Tang brought their signature products to the expo, showing the charm of domestic consumer brands and time-honored brands. Mei Mei Green Plum Wine launched a beverage with low alcohol content, Mei Mei sparkling green plum wine for wine lovers with lower alcohol tolerance.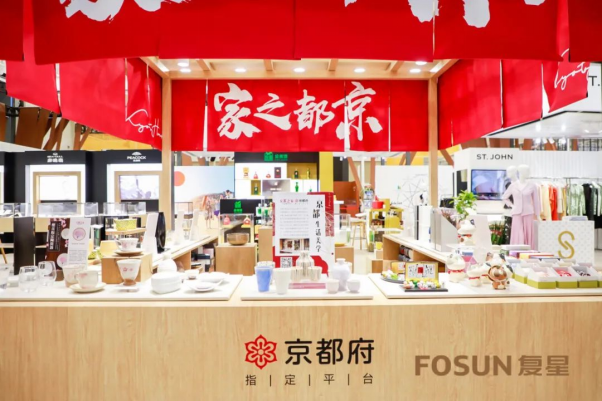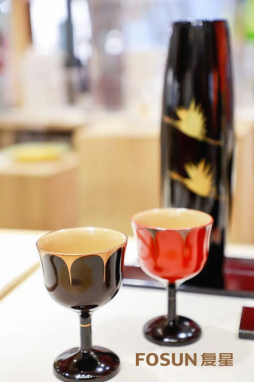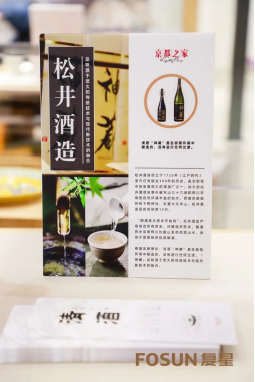 ▲Kyoto House
In terms of craftsmanship, Kyoto House is the first transnational collaborative project between Fosun and Kyoto Prefecture and the overseas promotion platform designated by Japan's Kyoto Prefecture. The Kyoto House booth is uniquely designed with Kyoto elements, and exhibited several centuries-old family-owned Kyoto brands, showcasing many Kyoto's traditional crafts such as Kyo Yaki · Kiyomizu Yaki, tinware, Kyoto lacquer and Nishijin-ori. In particular, the booth featured a sake zone, presenting the exclusive "Kagura" sake from Matsui Brewery. Founded in the Edo period, Matsui Brewery is one of the oldest breweries in Kyoto with a history of nearly 300 years and has been passed down to the 15th generation of the family. The manufacturing process of the "Kagura" sakes, from rice steaming to koji, to brewing and bottling, is done completely by hand to ensure that the product tastes clean, crisp and sweet.
Consumer goods: elegant first choice for contemporary sophisticated mothers
As an important figure in household consumption, women have always been a group that Fosun pays attention to. Among Fosun's "top products" that are presented at the CICPE, consumer products such as cosmetics, trendy products, and maternal and child products have all been targeted because of fully tapping the needs of sophisticated mothers.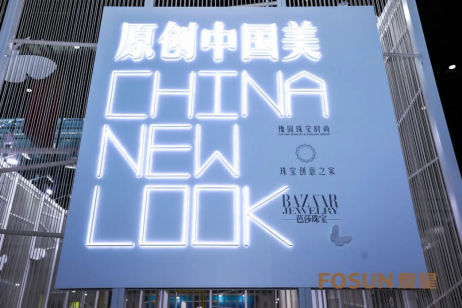 Yuyuan Jewelry Creative House is an online designer platform under Yuyuan Jewelry and Fosun Fashion Group, which aims to provide a fair and creative environment for designers. At the expo, Yuyuan Jewelry Creative House has chosen the theme, "Original Beauty of China", and hopes that through the artistic creation of entire exhibition area and the unique pieces designed by young designers through the platform to showcase the innovative capability of the new generation of Chinese jewelry designers and the unique beauty of China.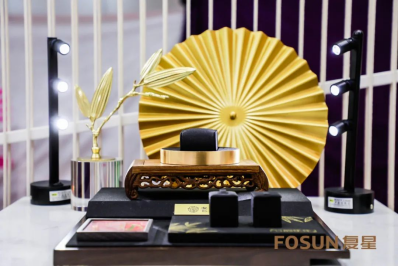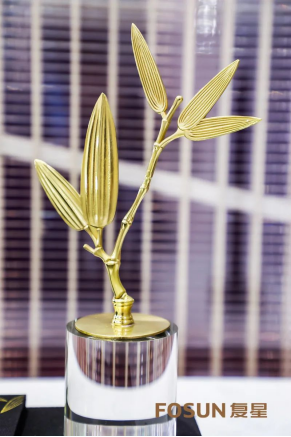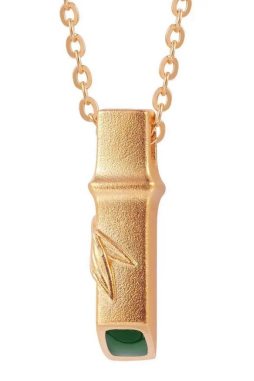 ▲Laomiao Gold
Another well-known brand under Yuyuan Jewelry and Fosun Fashion Group, Laomiao introduced the Ancient Gold "Zhu Yun Nian Nian" series, using traditional techniques to replicate the Hui-style bamboo paintings of the Song Dynasty and fully illustrate bamboo's refined elegance and charm of the Song style. Laomiao uses artisanal craftsmanship to outline the products of Laomiao's Ancient Gold "Zhu Yun Nian Nian" series, continuing the Ancient Gold series' yearning for happiness, well-being and prosperity.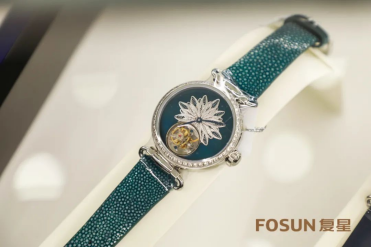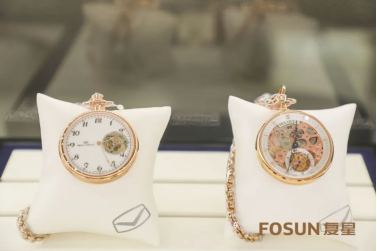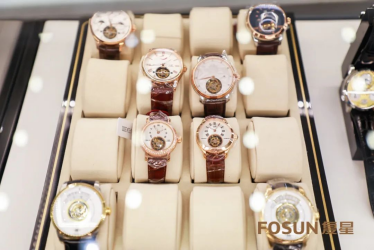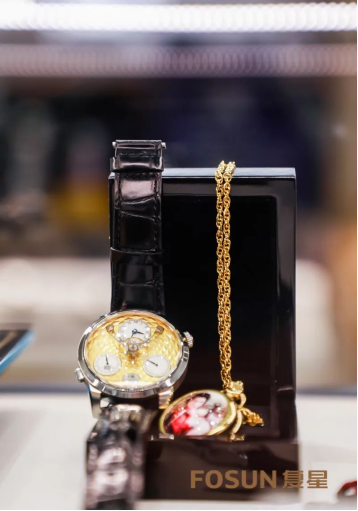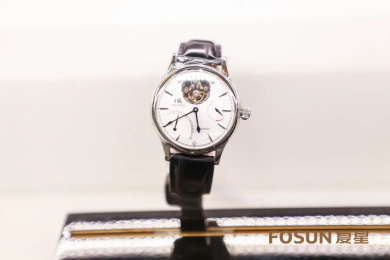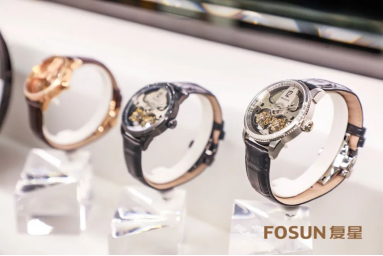 ▲ Seagull Watch (top), Shanghai Watch (middle), Peacock Watch (bottom)
All-China Watch Brand Shop under Yuyuan brought time-honored brands that are full of characteristics and are "made in China". Founded in 1955, Shanghai Watch launched the new 922 concave bezel collection at the CICPE, featuring a domestic manufactured center-mounted balance movement that has been sought after by young consumers; Tianjin Seagull Watch as the master of the domestic manufactured movements showcased the new fashion collection in collaboration with Dewu app, the urban civil servant collection, the Premier League Wolves collaborative sports collection etc.; Peacock Watch exhibited the latest styles from its trendy tourbillon collection.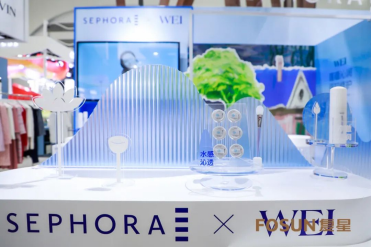 ▲WEI Beauty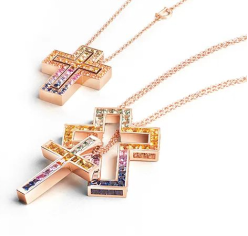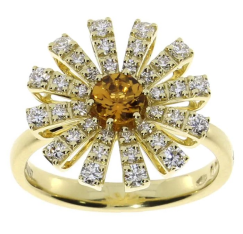 ▲Djula, Damiani
In addition, targeted at the sophisticated mothers, WEI Beauty brought the new "white lotus" product series; as a French designer jewelry brand under Yuyuan Jewelry and Fosun Fashion Group, Djula brought the most iconic Barbelés collection, incorporating thorn elements into jewelry design and combining the texture of karat gold and brilliance of diamonds into a totem of thorns with a unique vision. The design is avant-garde and unique. Djula aims to help women to express their personality and be invincible. As a high-end jewelry brand under Yuyuan Jewelry and Fashion Group, Damiani brought its classic Margherita Daisy collection and Belle époque collection to the first CICPE. Founded in 1924, Damiani interprets the passionate "Italian-made" exquisite craftsmanship, gorgeous style and high-quality gems. The brand has won 18 international diamond awards known as the "Oscars in the jewelry industry". With constant creativity, Damiani has always injected unique vitality into every piece of work.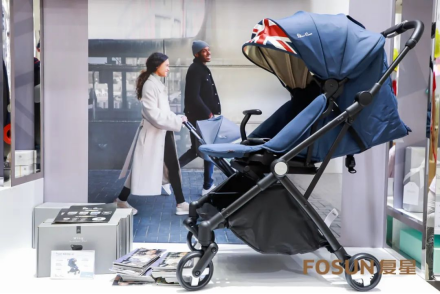 ▲ Silver Cross
Silver Cross, a century-old British nursery brand invested by Fosun, in addition to presenting the concept combination of the travel system at the CICPE, also launched the brand-new "children's thermostatic sleeping bag" and "children's magic bean blanket" at the event. As the brand's new collection this year, it specializes in providing better babies' sleep and in-home solutions and a dream start for "sophisticated mothers" and babies.

Play: Cultural tourism and experience
As a global comprehensive tourism group rooted in China and a representative of leading the upgrading of domestic tourism industry, Fosun Tourism brought its brands from the global FOLIDAY ecosystem to the expo, including Sanya's popular landmark resort, Atlantis Sanya, French originated, all-inclusive resort chain brand operating in six continents and 40 countries across the globe, Club Med, Greek luxury boutique hotel pioneer, Casa Cook and Cook's Club, professional tourism destination operator, Albion, culture and entertainment events provider, Fanxiu, one-stop learning and playing club, Miniversity, integrated urban ski brand, Foryou Ski, and Thomas Cook Lifestyle Platform that provides consumers with an one-stop travel experience.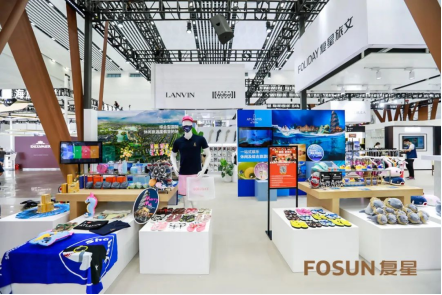 In addition, the two major tourism destination projects under development by Fosun Tourism, FOLIDAY Town Taicang Alps Resort and FOLIDAY Town Lijiang Mediterranean Resort were revealed at the expo. As Fosun Tourism's ultimate tourism and leisure product in response to consumption upgrade, FOLIDAY Town leverages on the global FOLIDAY ecosystem to integrate global leading tourism brands to lead the future FOLIDAY lifestyle. Among them, the Lijiang project, which is in front of the Yulong Snow Mountain and north of the Baisha Ancient Town, combines Lijiang's local cultural characteristics and overseas resort brand and is expected to commence operation in fall 2021; the Alpes Snow World-themed Taicang project, located near Taicang South Station and adjacent to Shanghai, is expected to be in full operation in October 2023.
Dress up, taste great wines, put on some jewelry and enjoy a beauty escape. Fosun's exhibition area welcomes you to a happy energy place towards brighter life!