Fosun International Awarded "Excellent ESG Enterprise of 2022-2023" by Hong Kong Economic Times
Release time:2023-11-02
Author:
Source:
Pageviews:

On 31 October 2023, Hong Kong Economic Times (HKET), a Chinese financial newspaper in Hong Kong, held the "Excellent ESG Recognition Scheme" awards ceremony. Fosun International was awarded the "Excellent ESG Enterprise of 2022-2023" by HKET, in recognition of the company's performance in environmental, social, governance and sustainable development, which has been recognized by the market.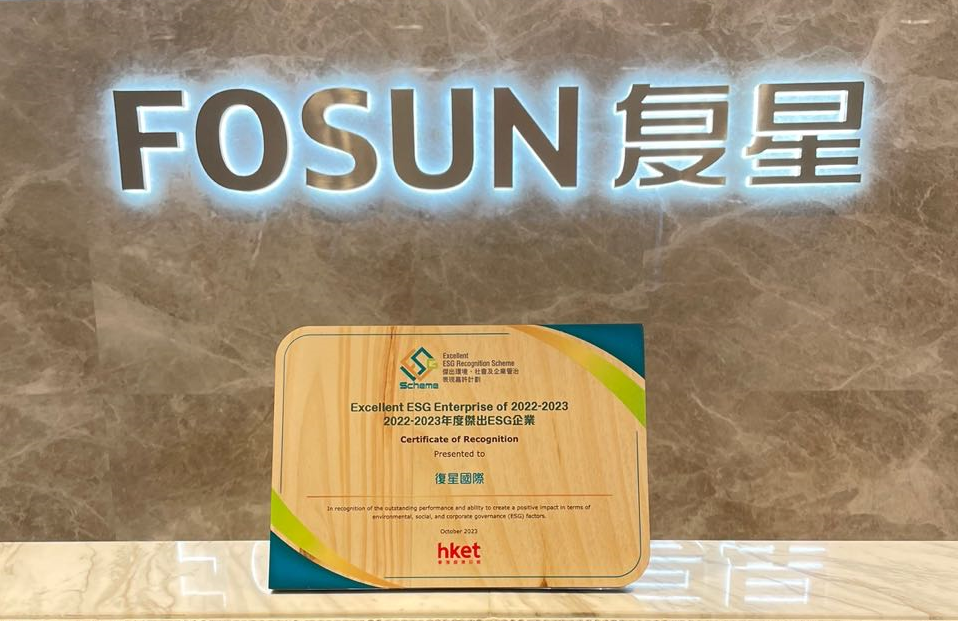 Michael Wong, Deputy Financial Secretary of the Hong Kong Special Administrative Region (SAR) was invited to this year's awards ceremony as the officiating guest. In his speech, Michael Wong said that the Hong Kong SAR government is committed to building Hong Kong into a green financial technology hub, with a focus on actively formulating strategies to support the development of the industry. Diane Chan, General Manager and Publisher of HKET, said in her welcome speech that this year marks the third edition of the program, and more companies have been awarded than in the previous two editions, and the industries covered are more diversified, reflecting that Hong Kong has paid more attention to ESG factors in the past few years, which is encouraging.
Diane Chan, General Manager and Publisher of Hong Economic Times presents the "Excellent ESG Enterprise of 2022-2023" certificate to the representative of Fosun International
HKET pointed out that Fosun International is a deserving winner of the "Excellent ESG Enterprise of 2022-2023". Fosun actively engages stakeholders to gauge their perspectives on ESG matters, gathering valuable insights to enhance its sustainable practices. This open dialogue builds trust and allows the Company to refine and optimize its ESG strategies based on their feedback. Fosun fosters these communications through various channels, including industry forums, customer interactions, supplier engagements, non-governmental organization (NGO) collaborations, media outreach, investor relations, employee initiatives, and more.
In addition to Fosun International, award recipients of the "Excellent ESG Enterprise of 2022-2023" include China Construction Bank (Asia), Henderson Land Development Co. Ltd., SOCAM Development and Alibaba Group.
HKET pointed out that in recent years, global investors have attached increasing importance to the ESG performance of enterprises. Fosun International has also continued to promote ESG work and achieved impressive results. Fosun International received an AA MSCI ESG rating and was the only conglomerate in Greater China with such rating. It was selected as a constituent of the MSCI CHINA ESG LEADERS 10-40 Index again. Its S&P CSA ESG score outperformed 91% of its global peers, and was included in S&P Global's Sustainability Yearbook 2023 (China Edition) and recognized as an "Industry Mover" by S&P Global. Fosun International's HSI ESG rating was upgraded to AA- and was selected as a constituent stock of the Hang Seng Corporate Sustainability Index for the first time. Fosun International's FTSE Russell ESG score was upgraded from 3.0 to 3.8, consistently higher than the global industry average and Chinese company average, and it has been continuously selected as a constituent of the FTSE4Good Index Series.
As a global enterprise rooted in China, while actively creating business value, Fosun attaches great importance to corporate social responsibility and incorporates social responsibility into its sustainable development strategy. In order to further fulfill its corporate social responsibility, Fosun established Fosun Foundation in 2012 and continues to advance in the fields of global emergency relief, rural revitalization, health, education, culture and art, and caring for children and adolescents, demonstrating its commitment to public welfare. In the future, Fosun will continue to develop its businesses, strengthen innovation and globalization, and join hands with customers, partners, investors and all parties in society to forge ahead and continue to uphold its original aspiration of "Contribution to Society" so as to actively promote the sustainable development of ESG globally to fulfil Fosun's mission of "Creating Happier Lives for Families Worldwide".