A Forward-Looking Strategy for Sustainable Momentum; Focusing on Core Businesses and Streamlining the Organization
Release time:2023-05-09
Author:
Source:
Pageviews: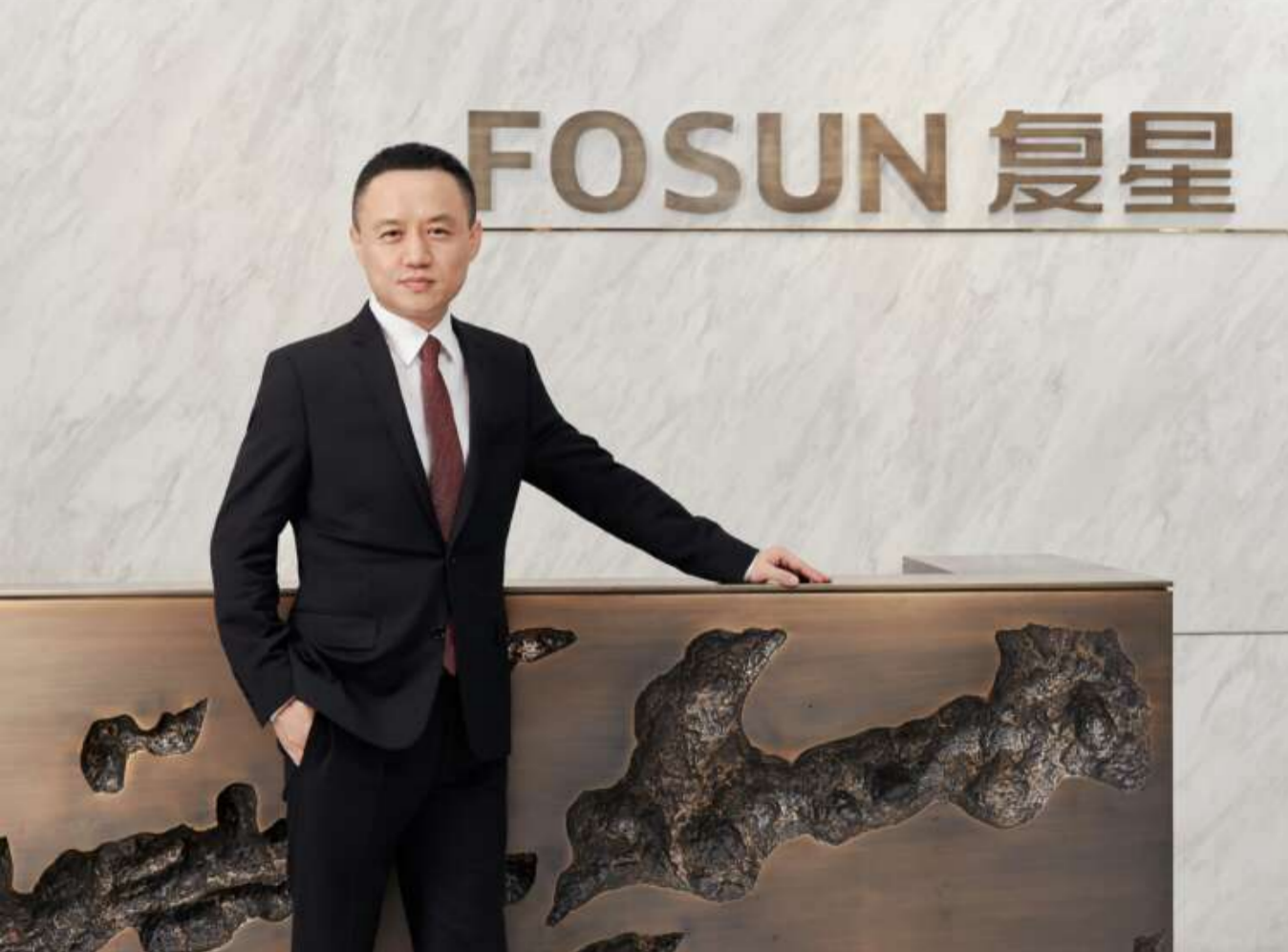 Global innovation-driven consumer group Fosun International has become known as a practitioner, promoter, and pioneer of globalisation. Headquartered in Shanghai, and with a vision to create an ecosystem that fulfils the needs of worldwide families in health, happiness and wealth. Its business presence in various fields cover over 35 countries and regions, and it ranks No. 589 on Forbes' Global 2000 list in 2022.
By accumulating profound technology and innovation capabilities since its founding in 1992, Fosun has continued to embrace change and closely observe emerging markets, meeting customers' needs with innovative thinking and by promoting the continuous evolution of products and organisations.
"Fosun has gone through different stages of development, but we always adhere to the original aspiration of 'Self-improvement, Teamwork, Performance, and Contribution to Society,'" says Xu Xiaoliang, the Co-CEO of Fosun International. "Through the continuous improvement and upgrading of our strategies of global operations and technology innovation-led development, we remain committed to our vision of bringing healthier, happier, and wealthier lives to families worldwide."
Based on its mission and vision, Fosun has maintained its focus on core businesses in the household consumption sector, which is also the fundamental reason behind its strategy of 'streamlining the organisation' in recent years. This strategy has been greatly accelerated in 2022, in the face of ample influences in the external environment such as geopolitical tensions disrupting the economy, USD interest hikes, and the recurrent effects of the pandemic. Fosun Chairman Guo Guangchang has been quoted as describing last year as the "perfect storm," but a storm that is being ridden out; data for Q1 2023 has shown a strong upward trend, and tourism and commercial businesses—the sectors most severely affected by COVID-19 in the last three years— have shown resilience in their recovery.
Entering 2023, Yuyuan Inc. remains one of Fosun's business segments that have made solid strides in emerging from the haze of the pandemic. "In 2022, the total revenue of Yuyuan reached RMB50.1 billion, and the net profit attributable to owners of the parent exceeded RMB3.8 billion, representing a year-on-year increase of 1.5%," Mr. Xu reports. "Among them, the sales revenue from the consumption industry increased by 17% year-on-year to RMB38.6 billion, accounting for 77%."
Positive movement has also been seen in the operation of industries within the fashion and lifestyle sector, with Fosun's jewellery businesses expanding against the sluggish market trend. "More than 600 new stores have been opened every year for four consecutive years, and more than 4,500 online stores in total," he says. "In terms of strategy, Laomiao (老廟) has been focusing on the core business districts of first and second-tier cities, and Yayi (亞一) has been committed to penetrating into third, fourth and fifth-tier markets. The sales of its blockbuster product Guyun Gold (古韻金) exceeded RMB5.0 billion in 2022, representing a year-on-year increase of 40%. Since its launch just over three years ago, the cumulative sales have exceeded RMB10.0 billion."
Other highlights include Shede Spirits, the core platform for Fosun's long-term investment in the internationalisation of Chinese liquor, which recorded revenue of more than RMB6.0 billion, representing a year-on-year increase of 21.86%. The net profit attributable to shareholders of the listed company was RMB1.685 billion, a year-on-year increase of approximately 35%. Then there is Songhelou, the Suzhou-style noodle shop, which has established more than 160 shops since the implementation of the single-store model in 2019. Last year, it opened 86 new shops, with sales of the packaged noodle brand Zhengchangjia (真嘗家) exceeding RMB30.00 million.
Furthermore, the annual Yuyuan Garden Lantern Festival, now a signiture event of the Chinese Lunar New Year festivities, was newly upgraded this year, inspired by the Chinese classic text Shanhaijing, (also known as the Classic of Mountains and Seas) and "powered by AR and other digital technology, the festival presented a world of the magical adventure of mountains and seas," Mr. Xu says. "It received wide recognition in China and overseas, drawing more than 4 million visitors and including many foreign diplomats and envoys from all over the world." He adds, "Yuyuan has also enjoyed growth in terms of membership operation, acquiring more than 7.20 million new members in 2022, representing a year-on-year increase of 40%. The proportion of member sales increased to 64%."
A second subsidiary to see growth since the lifting of COVID-19-related policies was Fosun Tourism Group (FTG), which includes its two core businesses of Club Med and the Atlantis Sanya resort. The Group's revenue for 2022 reached RMB13.8 billion, representing a year-on-year increase of 49%; business volume of tourism operation reached RMB14.5 billion, a year-on-year increase of 85%, while adjusted EBITDA increased tenfold to RMB2.3 billion.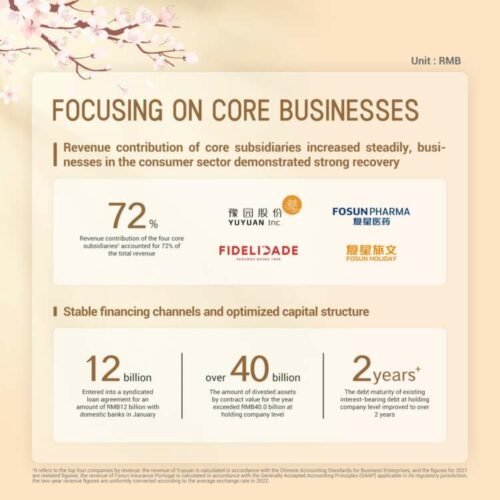 "The business volume and adjusted EBITDA of Club Med have basically returned to pre-pandemic levels, and the business volume of Club Med in Europe, the Middle East, Africa and the Americas exceeded that of 2019," Mr. Xu reveals. "Further, in the first two months of 2023, the business volume rose by 55% year-on-year, exceeding the 26% increase in the same period in 2019."
Despite only operating normally for three months in 2022, Atlantis Sanya recorded a business volume of RMB880 million and an adjusted EBITDA of RMB290 million for the year. He confirms that like Club Med, it too went on to experience a record high in January and February of this year. "The business volume of nearly RMB400 million in this period represents a year-on-year increase of 10%. In particular, during the Chinese New Year holiday period in 2023 (from 21 January 2023 to 5 February 2023), Atlantis Sanya achieved a total business volume of approximately RMB159.5 million, exceeding that of 2022 and 2019, with a room occupancy rate of approximately 98.6%, an average daily room rate of approximately RMB3,950, and total visits of over 470,000.
"Additionally, the business volume of Lijiang Foliday Town surged 149% year-on-year. Taicang Foliday Town is scheduled to open in the second half of this year. Tourism-related property sales have picked up rapidly; 54 sets were pre-sold in the first two months of 2023 and more than 100 sets have been sold since March."
Fosun's luxury fashion subsidiary, Lanvin Group, performed far beyond expectations in 2022 and, recorded a double-digit growth in e-commerce. On 15 December 2022, Lanvin Group was listed on the New York Stock Exchange under the ticker symbol LANV, making it the first company in which Fosun holds a controlling stake to be listed in the US. "While 2023 is a challenging year for businesses due to macroeconomic factors, the global luxury market continues to prove its resilience," says Mr. Xu. "We believe that Lanvin Group has great growth potential in Greater China in 2023."
Fosun implemented the strategic mindset of "focusing on core business" and stepped up its efforts in the divestment' of non-core assets in 2022, further optimising its asset portfolio. "The amount of divested assets by contract value for the year exceeded RMB40.0 billion, bringing a cash inflow of nearly RMB30.0 billion," Mr. Xu reports. "This included the systematic divestment of the iron and steel asset, the transfer of certain equity interests in Yong'n P&C Insurance, and the sale of secondary market equity interests in Tsingtao Brewery, Zhaojin Mining, and Zhongshan Public Utilities. "We will continue to adhere to this strategy, and focus on core businesses in the household consumption sector as we streamline the organisation."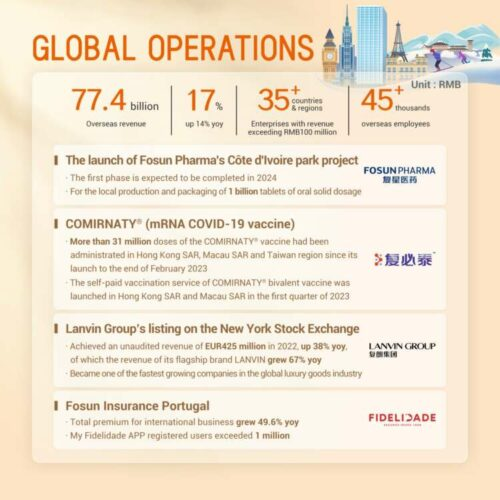 Concurrently, Fosun has also made continuous efforts in financing. In 2022, the Group completed syndicated loans of US$875 million and RMB1.66 billion, completed the issuance and resale of domestic bonds equivalent to RMB10.2 billion, and redeemed several offshore bonds in advance. In January this year, Fosun entered into a syndicated loan agreement for the amount of RMB12 billion with domestic banks, led by five major state-owned banks in cooperation with policy banks and joint-stock banks. This followed the announcement of 'encouraging and supporting the development of the private economy and private enterprises' at the Central Economic Working Conference in December 2022. According to outside commentators, this move reflects the confidence of financial institutions, especially state-owned commercial banks, in Fosun's capital and business strategies, and further reduces Fosun's reliance on public market financing, increasing its risk tolerance to cope with fluctuations in the international capital market.
"After streamlining the organisation, we will mainly focus on profound industry operations, improving the operation of core enterprises such as Fosun Pharma, Yuyuan, FTG, and Fosun Insurance Portugal," Mr. Xu explains. "At the same time, we will continue to increase R&D investment to enhance Fosun's overall competitiveness."
Long viewed as a promotor of globalisation, Fosun International has developed into one of the few domestic companies that is equipped with global operations and investment capabilities, which clearly inform the future direction of its development.
"Fosun has been developing globally. While being rooted in China and thoroughly developing the Chinese market, it has achieved a revenue of more than RMB100 million in 35 countries and regions around the world and built core capabilities in global operations, investment and financing," he says. "It links up its various businesses and resources in different territories, actively expands the geographical markets of the Group's member companies, and facilitates the rapid development of such member companies' business outside their home countries. In 2022, Fosun's overseas revenue accounted for 44% of total revenue, representing a year-on-year increase of 14%. In addition, the establishment of the European Finance Sharing Center has reduced costs, enhanced efficiency, and increased the scientificity and transparency of the Group's management and control."
The globalisation journey of Fosun started in 2007 when Fosun International was listed in Hong Kong. Nearly 16 years later, Fosun continues to deepen and expand the coverage of its globalisation strategy. As of the end of the Reporting Period, Fosun has 43 overseas brand enterprises. "Our business presence in many countries around the world is only the foundation of globalisation," he continues. "Globalisation is about looking at the world from the perspective of China. Fosun's globalisation strategy aims to look at the world from a global perspective and serve families worldwide through strengthening global operations and integrating global resources."
Since 2022, Fosun's globalisation strategy has entered the third stage of 'global organisation + local operations' to foster the cross-regional, cross-cultural and cross-organisational operation capabilities of its global business ecosystem, thereby providing new impetus for the improvement and expansion of its industry operations. Fosun's Co-CEO believes that compared to the previous model of 'mutual empowerment between China and the world' that aimed to complement each other's strengths, Fosun's Globalisation 3.0 strategy takes a holistic approach to the world. "Through deepening its global business presence and building a diverse talent pool, Fosun aims to use the most suitable resources to deeply cultivate key areas, accumulate industrial knowledge, and attract the highest quality funds, partners, technologies and talents to create the most competitive products and services. The strategy also aims to achieve mutual empowerment and multiplied growth within the ecosystem."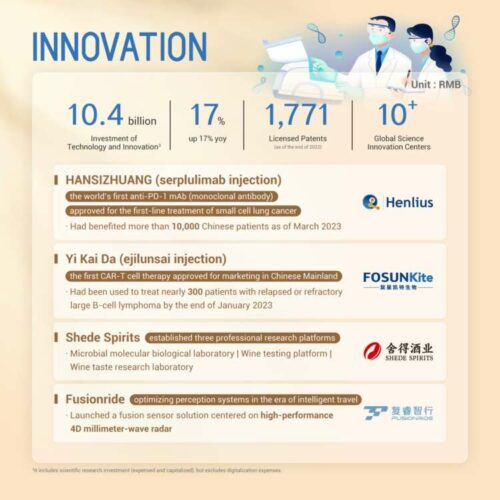 Cross-national and cross-cultural empowerment makes Fosun's globalisation capabilities more prescious. A prime example is Lanvin, the French couture house, which was acquired by Fosun in 2018. Lanvin has since maintained robust growth, and its operating parent company, Lanvin Group, has become one of the fastest-growing companies in Asia's luxury goods industry. As Mr. Xu says, "By leveraging Fosun's ecosystem and operational management capabilities, and preserving the historical heritage and aesthetic foundation of the oldest fashion brand in France, we can help the brand achieve a rebirth by building on its past success and bringing beautiful elements, with a blend of Chinese and Western influences, to global consumers."
Fosun has never spared any effort to promote the innovation development of the Group and its subsidiaries. Having just celebrated its thirtieth year of establishment, Fosun insists on taking 'technology innovation' as the core driving force for sustainable development in the next thirty years, while improving the intensity and efficiency of investment in R&D. This is evidenced by Fosun's R&D investment in 2022, reached RMB10.4 billion, representing a year-on-year increase of 17%. Meanwhile, the total number of patents for invention increased from 1,500+ by the end of 2021 to 1,771 by the end of 2022.
"Fosun has always emphasised the 'innovation-driven technology' strategy," Mr. Xu says. "We have maintained high investment in R&D for many years, disclosing relevant figures in the hope of demonstrating the concrete actions that Fosun has taken in technology innovation."
In the face of cutting-edge technologies and unmet material, cultural and health needs among families worldwide, Fosun's technology innovation strategy, he reveals, is based on four focal points: "First, in the field of hard technology, focus on the R&D of technology platforms and products for health and intelligent manufacturing; second, agile product innovation for consumers; third, innovation in the field of cultural creativity and design, and fourth, solving bottlenecks in manufacturing."
He goes on to outline a number of Fosun's key achievements and highlights in innovation in the past year. "Core enterprises have successively established technology innovation centres. For example, Shanghai Henlius established a global innovation centre; Yuyuan newly established a cultural catering technology innovation centre and a wine industry technology innovation centre; Shede Spirits established three major professional research platforms, namely a microbial molecular biological laboratory, the Lujiu experimental platform, and a spirit flavour research platform. Fusionride has built new R&D centres in Munich, London and Nanjing."
Under its Health ecosystem, Fosun has continued to make progress in terms of vaccines and innovative drugs. Comirnaty BNT162b2 (i.e. mRNA COVID-19 vaccine BNT162b2) and Comirnaty Bivalent (i.e. mRNA COVID-19 Original/Omicron BA.4/BA.5-adapted bivalent vaccine) were officially registered as drugs/products in Hong Kong; the 13-valent pneumococcal conjugate vaccine (multivalent combination) is in Phase III of clinical trials in China (excluding Hong Kong, Macau and Taiwan regions; the same applies below). Shanghai Henlius' HANSIZHUANG (serplulimab injection), the world's first PD-1 monoclonal antibody for the first-line treatment of small cell lung cancer, was approved for marketing in March 2022. Yi Kai Da (Ejilunsai injection), Fosun Kite's first CAR-T cell therapy approved for marketing in China, was included in urban customised commercial health insurance in more than 70 provinces and municipalities in the first year of its launch.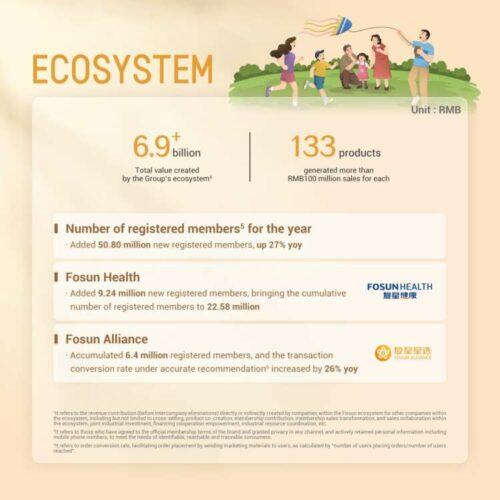 Innovation and creativity have also been at the forefront in consumer product development. "Through increased investment in R&D, Yuyuan officially launched its first fully self-incubated skincare product, YOGAN (愈感), in July 2022," Mr. Xu explains. "In addition, the Yuyuan Garden Lantern Festival's 'magical adventure of mountains and seas' and the Rabbit Lantern were highly popular at home and abroad, spreading the concept of oriental lifestyle aesthetics among family consumers."
Concurrent with its pursuit of commercial value, Fosun's active contributions to improve the business and natural environments of China in support of its economy and culture are substantial. Its efforts to become a responsible corporate citizen through 'Self-improvement, Teamwork, Performance, and Contribution to Society' date back to the company's genesis, developing into an ongoing commitment that Mr. Xu attributes to Fosun's cultural values.
"Fosun started its ESG work very early," he says. "Since the beginning of our business, we have made clear our mission of 'Contributing to Society.' We aim to create not only commercial value, but also social value, and to develop business for good.
"We have also made some new breakthroughs in the field of ESG in the past few years. On the environmental front, Fosun made a commitment to the society in 2021 to achieve emission peak by 2028 and carbon neutrality by 2050',' and contributes to the 1.5°C target of the Paris Agreement by developing effective climate change mitigation and adaptation strategies," he continues. "In 2022, we initiated the preparation of the TCFD (Task Force on Climate Related Financial Disclosures) report, and will publish our first report in 2023."
"And on the social front, in May last year, Nanjing Iron & Steel obtained the first SA8000 social accountability management system certification in the domestic steel industry, demonstrating the responsibility of corporate citizens. In addition, Fosun continues to contribute to the Rural Doctors Program, building a malaria-free world, and disaster relief."
Regarding corporate governance, the Group discloses an ESG report every year in accordance with the ESG Reporting Guide issued by the Hong Kong Stock Exchange and GRI standards. Mr. Xu states that Fosun continuously standardises and strengthens information disclosure, and protects the rights and interests of investors and other stakeholders. "As a global company, Fosun attaches great importance to assessing its own development with global standards, and ESG is one of the important criteria. Fosun has joined the United Nations Global Compact and the China ESG Leaders Association to promote the development of ESG across the Group."
Thanks to its active involvement and strong ESG performance, Fosun has been recognised by mainstream rating agencies. "As the only conglomerate in Greater China with an MSCI ESG rating of AA, Fosun continues to be a constituent stock on the MSCI China ESG Leaders 10-40 Index, the Hang Seng ESG 50 Index, and the Hang Seng Corporate Sustainability Benchmark Index," Mr. Xu confirms. "Moreover, Fosun International was selected as one of the constituents of the FTSE4Good Index Series for the first time in 2022, and its S&P CSA ESG score outperformed 91% of its peers around the world. In March this year, FTG was awarded an MSCI ESG rating of AAA, the only company in the hotel and travel industry to achieve this rating in the Greater China region."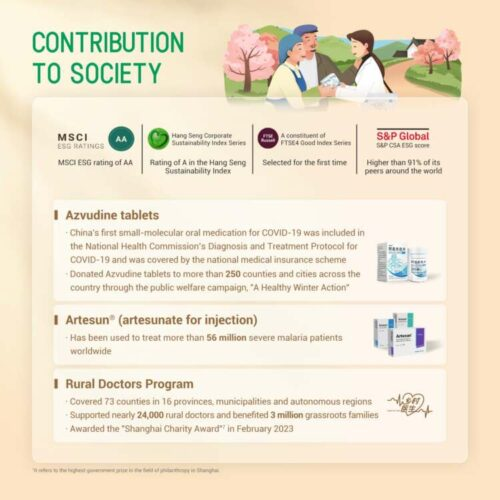 He concludes by discussing Fosun's plan for future development and steady, sustainable growth of its operations. "After more than a decade of development, we have largely completed our global layout and started to focus on global operations, which includes streamlining the organisation."
"The growth of Fosun depends fundamentally on its core enterprises. Core enterprises in different stages have different growth objectives. At the same time, such growth is measurable according to standards."
First of all, these core enterprises must be the species of the FC2M ecosystem (Fosun's client-to-maker model). "On the C-end, core enterprises must onboard customers to a membership system and form a digital operation system to classify members by category and tier. The supply chain on the Link end must be both flexible and resilient. At the same time, core enterprises need more mature sales and business development teams to link products and consumers effectively. On the M-end, core enterprises must continue to increase innovation and R&D capabilities to consistently create blockbuster products with high gross profit."
Second, each core enterprise must be capable of global operations. "Fosun's operations must be based on the global operations of each PL, and must view the world from a global perspective."
Third, online capabilities are as crucial to a core enterprise as offline. "In the future, both online and offline business operations and development will be indispensable. During the pandemic, the importance of online operations became particularly prominent. Therefore, online and offline business development is not a choice, but a must."
Fourth, a core enterprise must be driven by two forces, driving operations and strengthening them through investment. "Investment is not independent. The positive capital cycle of investment, financing, management and divestment continuously supports the twin-driver of 'investment + operations.'"
Fosun considers its growth to be dependent on core enterprises, and its investment value on its multiplying growth. "This is also the fundamental reason why the capital market invests in Fosun, not just every core company," Mr. Xu says. "We must show the market the horizontal ecosystem effect and multiplier effect among enterprises within Fosun's ecosystem, which are reflected in three ways.
"The first of these is product co-creation. Through collaboration and co-creation, we provide customers with more ecosystem products and experience. We better combine Fosun's medical, health and wellness resources to provide customers with one-stop elderly care services, and diversified experiences such as aesthetic medicine, sports (Wolves FC), vacations, fashion, etc.
"The second element is member sharing. Since they are both species of the FC2M ecosystem that operates globally and serves family customers, the member resources of each business can be shared.
"Finally, spread brand resonance. Fosun's overseas headquarters in each country should aggregate local Fosun corporate resources, convey a common voice of Fosun, and build Fosun's brand awareness among local customers through networks such as local business associations and governments."