Chen Qiyu: Fosun's Global Operationsand Technology Innovation-led Strategy Help Create Happier Livesfor Families Worldwide
Release time:2023-04-27
Author:
Source:
Pageviews:
(28 April 2023) Bloomberg Businessweek/Chinese Edition conducted an interview with Chen Qiyu, Executive Director and Co-CEO of Fosun International. The article has been published in the magazine recently with the title of "Fosun's Global Operations and Technology Innovation-led Strategy Help Create Happier Lives for Families Worldwide". The following is the translation of the article:
Fosun's Global Operations and Technology Innovation-led Strategy Help Create Happier Lives for Families Worldwide
Founded in 1992, Fosun is a global innovation-driven consumer group. Adhering to the mission of "creating happier lives for families worldwide", Fosun is committed to creating a global happiness ecosystem fulfilling the needs of one billion families in Health, Happiness and Wealth.
In 2007, Fosun International Limited (stock code: 00656.HK) was listed on the main board of the Hong Kong Stock Exchange. After more than 30 years of development, Fosun International ranks No.589 on the 2022 Forbes Global 2000 List. In the course of business expansion, Fosun actively fulfills its corporate social responsibility with the mission of "creating happier lives for families worldwide". In 2022, Fosun International received an MSCI ESG rating of AA and was the only conglomerate in Greater China with an MSCI ESG rating of AA. In 2022, Fosun International was selected as one of the constituents of the FTSE4Good Index Series for the first time, and its S&P CSA ESG score has risen significantly, overperformed 91% of its peers around the world.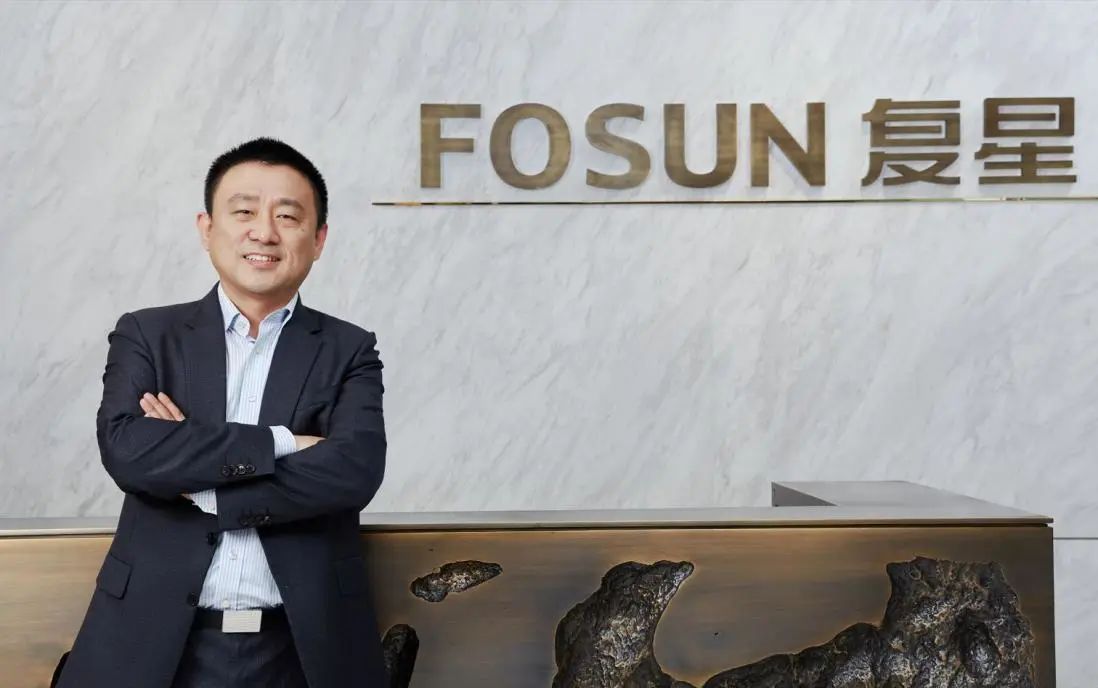 Chen Qiyu, Executive Director and Co-CEO of Fosun International
Steadfastly focus on core businesses, achieve healthy cash flow and revenue growth
In 2022, the world entered the post-pandemic era. Facing the challenges of the transition, Fosun continued to deepen its industry operations. Leveraging its long-term accumulation of innovation and industrial capabilities, the Group's Health, Happiness, Wealth, and Intelligent Manufacturing business segments demonstrated full resilience, driving the steady growth of the Group's revenue. In 2022, the Group's total revenue for the year reached RMB175.39 billion, representing a year-on-year increase of 8.7%. Benefiting from the recovery of overseas business, the Group's overseas revenue for the year reached RMB77.4 billion, representing a year-on-year increase of 14% and accounting for 44% of the total revenue. In 2022, the Group had enterprises with annual revenue exceeding RMB100 million in more than 35 countries and regions. At the beginning of 2023, Fosun's businesses showed a strong upward trend. Taking the tourism and offline commercial businesses that were heavily impacted by the pandemic in 2022 as an example, both sectors ushered in a strong rebound in the first two months of 2023. Among them, Atlanta Sanya posted a record-high business volume since its opening, and Club Med posted a decade-high business volume.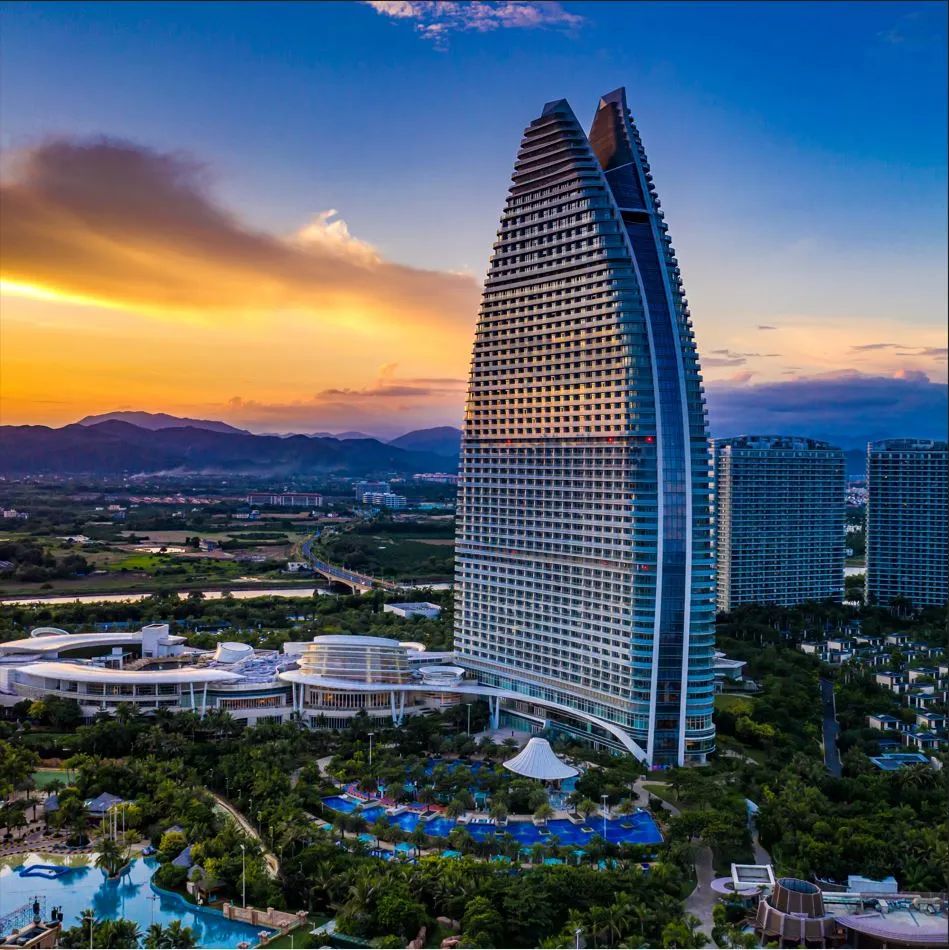 In the first two months of 2023, Atlantis Sanya posted a record-high business volume since its opening
Fosun steadfastly focuses on its core businesses. Since June 2022, Fosun has stepped up its efforts in the divestment of non-strategic and non-core assets, thus realizing an amount by contract value of more than RMB40.0 billion and bringing a cash inflow of nearly RMB30.0 billion. In January 2023, Fosun entered into a syndicated loan agreement for an amount of RMB12 billion with domestic banks, which was the largest private corporate syndicated loan led by five major state-owned banks in cooperation with policy banks and joint-stock banks since the announcement of "encouraging and supporting the development of the private economy and private enterprises" at the Central Economic Working Conference held in December 2022. Fosun abundant cash flow provides solid support for its strategic focus.

Fosun entered into a syndicated loan agreement for an amount of RMB12 billion with domestic banks in January 2023, further consolidating the capital flow
Looking back on the development of the Group in the past year, Chen Qiyu, Executive Director and Co-CEO of Fosun International, said that in the face of many challenges in the external environment such as the US dollar interest rate hikes and geopolitical tensions, Fosun steadfastly focused on its core businesses. On the one hand, it reduced its holdings of non-strategic and non-core assets, and expanded financing channels. On the other hand, Fosun put higher emphasis on improving its global operation and technology innovation capabilities. "In the future, Fosun will adhere to its strategic focus, and leverage Fosun's advantages to deepen its core businesses with global competitiveness. A major feature of Fosun's future business development is the exploration of global business capability, global operation capability, and global value. Fosun will significantly enhance the product competitiveness of its core businesses through technology innovation, stepping up research and development (R&D) investment in the pharmaceuticals and consumer sectors in particular," Chen Qiyu said.
Realize the multiplier effect of core engines, continuously improve the Group's innovation capability
Over the years, Fosun has been pushing forward the innovation development of the Group and its subsidiaries, its long-term investment in technology innovation has continued to reap fruitful results. In 2022, the Group's R&D investment reached RMB10.4 billion, representing a year-on-year increase of 17%. In addition, the Group had a total of 1,771 patents for inventions as of the end of 2022.
In the field of biopharmaceuticals, Shanghai Henlius' self-developed Han Si Zhuang, which was launched in March 2022, became the world's first anti-PD-1 monoclonal antibody approved for the first-line treatment of small cell lung cancer; Fosun Kite's Yi Kai Da, China's first CAR-T cell therapy, has been included in the urban customized commercial health insurance of more than 70 provinces and municipalities.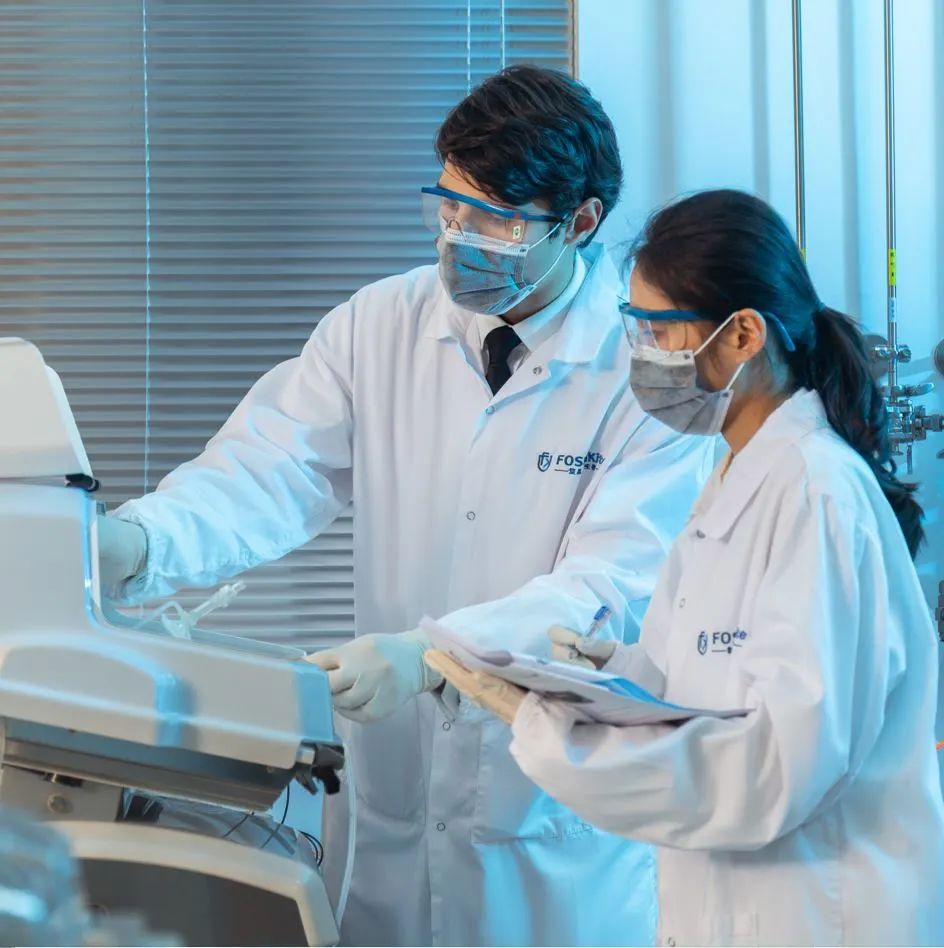 Fosun Kite's first CAR-T cell therapy approved for launch in Chinese Mainland, Yi Kai Da, benefits nearly 300 patients since its launch
Fosun is promoting the use of artificial intelligence technology in pharmaceutical R&D to improve efficiency, increase competitiveness, and introduce more innovative products globally. Chen Qiyu said, "We will also focus on strengthening the R&D of vaccines. The Phase III clinical trial for the 13-valent pneumococcal conjugate vaccine has already begun, and other clinical trials and development of more vaccines are expected to follow in the future. The Group hopes that with our endeavors in the next few years, together with the existing influenza and rabies vaccines, and pneumococcal vaccine, we can develop a competitive edge in China's fast-growing vaccine industry."
In terms of creativity and innovation, Chen Qiyu said that Fosun has initiated the research and application of "Oriental Lifestyle Aesthetics", which integrates Chinese and Western aesthetics to innovate through traditions. In 2022, the Yuyuan consortium under Fosun's Happiness segment became the primary developer of the land plot on Fuyou Road, which will connect Yuyuan Tourist Mart and the Bund Finance Center to form the Grand Yuyuan. The establishment of the Grand Yuyuan, a large cultural and commercial complex of more than 1 million square meters, will serve as a concrete demonstration of "Oriental Lifestyle Aesthetics", building a world-class design capital for Shanghai. In addition, Fosun will introduce more digital and intelligent whole chain solutions in the fields of finance and insurance for customers.
Establish a global presence, enhance global operation capability
In 2022, Fosun's business model of "global organization + local operations" became more mature, with 43 overseas brand enterprises and more than 45,000 overseas employees. In November 2022, Fosun Pharma's Ivory Coast facility in Abidjan (Côte d'Ivoire project) was launched and the first phase is expected to be completed in 2024, which will realize the local production and packaging of one billion tablets of oral solid dosage. In December 2022, Lanvin Group, one of the fastest-growing companies in the global luxury goods industry, was listed on the New York Stock Exchange. In 2022, Fosun Insurance Portugal actively expanded into overseas markets, mainly in Spanish and Portuguese-speaking regions, and as a result, its overseas business revenue grew 49.6% year-on-year.
Currently, Fosun is actively promoting the building of global operation capability of various businesses. "On the one hand, we require single business to build globalization and market expansion capabilities. On the other hand, the Group creates value by establishing organizations and mechanisms in different countries and regions, assisting companies in different fields around the world to operate more efficiently and cost-effectively, while effectively monitoring the risks of enterprises entering various markets. When we establish regional organizations and shared functions such as the sharing of human resources, for example, in the process of market expansion, some human resources work can be carried out by a platform, thereby helping our companies achieve internationalization and improving the overall global operation capability of the Group," Chen Qiyu said.
Chen Qiyu said that Fosun is also building capability to be a "platform enterprise". For example, in the past two years, Chinese biopharmaceutical companies encountered many setbacks in the course of globalization. In addition to large multinational pharmaceutical companies, most foreign pharmaceutical companies also faced challenges in building operation capability in China. "If we can build operation capability in the United States, Europe, Southeast Asia, Africa, and South America, our global platform can better connect Chinese companies and industries with the global market."
Excellent ESG performance, adhere to its original aspiration established 30 years ago
In 2022, while growing its business operations, Fosun upheld its original aspiration of "Contribution to Society" and continued to actively give back to society through participating in public welfare programs such as fighting against the COVID-19 pandemic, assisting the fight against malaria in Africa, running the Rural Doctors Program, fostering education, culture and entrepreneurship.
Since the COVID-19 outbreak, Fosun's forward-looking deployment of "vaccine and drug" has continued to contribute to the fight against the pandemic. The Group has continued to promote the vaccination and coverage of COMIRNATY® (mRNA COVID-19 vaccine) in Hong Kong SAR, Macau SAR and Taiwan region. The COMIRNATY® vaccine has fully covered the public and private markets. As of the end of February 2023, more than 31 million doses have been administered in Hong Kong SAR, Macau SAR and Taiwan region, building an immune barrier against COVID-19.
Azvudine tablets, China's first small-molecular oral medication for COVID-19 jointly developed by Fosun Pharma and Henan Genuine Biotech, was included National Health Commission's Diagnosis and Treatment Protocol for COVID-19 and covered by the national medical insurance scheme in 2022. At the beginning of the year, Fosun Foundation, together with Fosun Pharma and Henan Genuine Biotech, launched the campaign "A Healthy Winter Action" to donate Azvudine tablets to more than 250 counties and cities across the country, helping the grassroots weather the epidemic during the New Year.
In addition, Fosun Foundation's Rural Doctors Program has covered 73 counties in 16 provinces, municipalities and autonomous regions, supported nearly 24,000 rural doctors and benefited 3 million grassroots families since its launch at the end of 2017. As an official member of Roll Back Malaria, a global cooperative initiative advocated by the World Health Organization (WHO), Fosun has 30 antimalarial products that have passed WHO medicines prequalification (WHO-PQ). Moreover, Artesun®, artesunate for injection developed and manufactured by Fosun Pharma, has been used to treat more than 56 million severe malaria patients worldwide.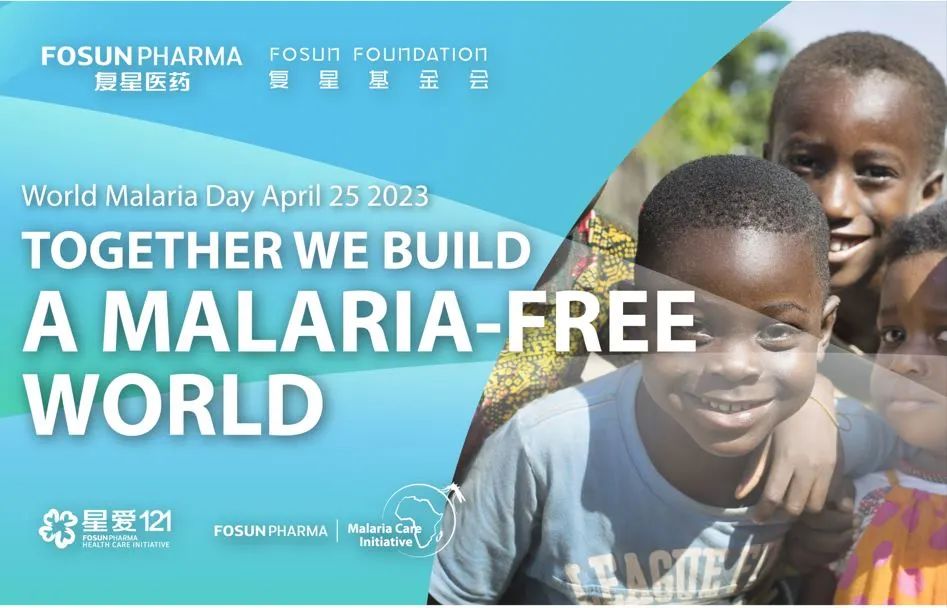 Fosun actively assists Africa in fighting against malaria. Together we build a malaria-free world
Chen Qiyu said, "Fosun promotes ESG work from top to down by establishing a special structure and mechanism at the Board level, establishing an ESG Board Committee under the Board of Directors, establishing an ESG Executive Committee at the management and decision level, and establishing an ESG Management Committee and an ESG Working Group at the implementation level to implement ESG strategies and related actions.Fosun also includes ESG management performance as an evaluation factor in the Executive Directors' performance assessment and remuneration assessment. In addition, leveraging Fosun's investment capability, multinational capability, global operation capability, we actively learn from the excellent ESG practices of outstanding foreign companies and apply them to the Group so as to continuously improve our ESG performance."
In recent years, climate change has become one of the hot topics in ESG globally. Fosun made a formal commitment in 2021, that is: "strive to peak carbon emissions by 2028 and achieve carbon neutrality by 2050", supporting the 1.5°C target of theParis Agreement by developing effective climate change mitigation and adaptation strategies. In order to achieve Fosun's carbon peaking and carbon neutrality goals, Fosun set up a Carbon Neutrality Committee and Working Group to comprehensively implement relevant measures. The Group has also initiated the preparation of the Task Force on Climate-related Financial Disclosures (TCFD) report and conducted climate-related risk assessment to demonstrate Fosun's commitment of climate action to international community, and call on all sectors to work together to promote carbon neutrality.
The years long pandemic has changed people's life, but Fosun always believes that people's aspirations for a happier and brighter life remain unchanged regardless of the external situation. Fosun, which just celebrated the 30th year of its establishment, will continue to strengthen innovation, deepen global operations, and create more good products and services, with a view to creating happier lives for more families.
(The article is sourced from Bloomberg Business week/Chinese Edition and the above text is a translation version of the article.)