Hong Kong Economic Journal: Fosun's Globalization Strategy Promotes Innovation and the Sustainable Development of ESG Globally
Release time:2022-09-15
Author:
Source:
Pageviews:
(15 September 2022) Recently, Hong Kong's financial newspaper, Hong Kong Economic Journal (HKEJ), has conducted an interview with Chen Qiyu, Executive Director and Co-CEO of Fosun International. The article, which was published this morning, mentioned that Fosun's solid results in the first half of the year and its transparent financial strategy have been recognized by many international investment banks; Fosun's globalization strategy promoted sustainable business development; outstanding technology and innovation are the keys to success; Fosun regards talents as an important asset of the Group; and Fosun International's outstanding ESG performance has been recognized by global professional organizations. The following is the full text of the article: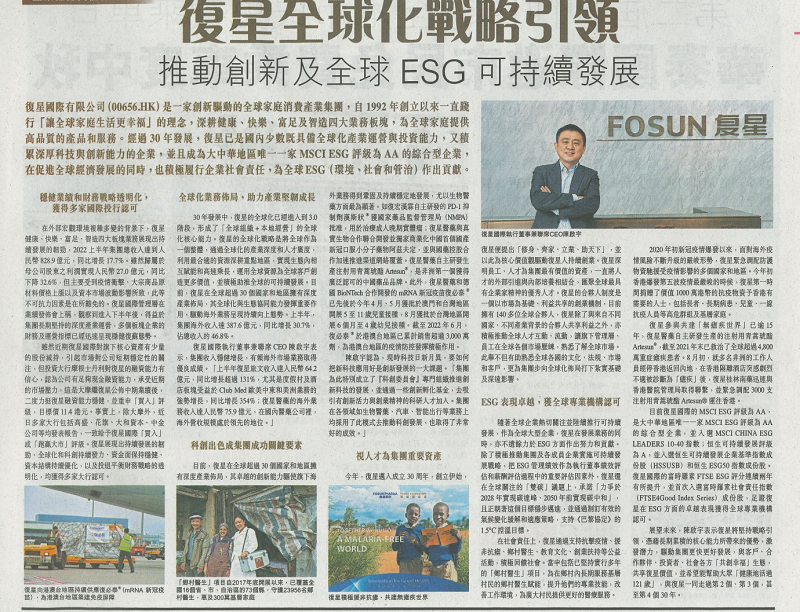 Fosun International Limited (00656.HK) is a global innovation-driven consumer group. Since its establishment in 1992, it has dedicated itself to the mission of "creating happier lives for families worldwide," providing high-quality products and services for families around the world in Health, Happiness, Wealth, and Intelligent Manufacturing segments. After 30 years of development, Fosun has grown into one of the few domestic companies that is equipped with global operation and investment capabilities, and has accumulated profound technology and innovation capabilities. It has also become the only conglomerate in the Greater China with a MSCI ESG rating of AA. While promoting the global economic development, it also actively fulfills its corporate social responsibility and contributes to ESG (environmental, social and governance) globally.
Fosun's Solid Results and Transparent Financial Strategy Have Been Recognized by Many International Investment Banks
Against the backdrop of the complex and volatile macro environment, Fosun demonstrated the resilience of sustainable development in its four major segments: Health, Happiness, Wealth, and Intelligent Manufacturing. In the first half of 2022, the Group's total revenue reached RMB82.89 billion, representing a year-on-year increase of 17.7%, while the profit attributable to owners of the parent amounted to RMB2.70 billion, representing a year-on-year decrease of 32.6%. The decline was mainly due to force majeure factors such as the pandemic, rising commodity raw material prices and fluctuations in the capital market. The management of Fosun International stated at the results presentation that after entering the second half of the year, thanks to the Group's long-term adherence to profound industry operations, the financial and operational indicators of companies in multiple segments have rapidly shown signs of a steady recovery.
Although Fosun International has recently announced a few small divestments in its core subsidiaries, which raised concerns about the company's near-term stability, Morgan Stanley, a major investment bank, has confidence in Fosun's financing capabilities and believes that the company can raise enough cash to handle its debts and withstand the recent market pressure. Following the announcement of Fosun's interim results, Morgan Stanley once again recognized Fosun's solid financing capabilities, and reiterated its "Overweight" rating on Fosun International with a target price of HK$11.4. In fact, in addition to Morgan Stanley, a number of major banks including Goldman Sachs, Citi, Daiwa Capital Markets, and CICC have all issued reports recently and unanimously assigned "Buy" or "Overweight/Outperform" ratings to Fosun International. Fosun has demonstrated the resilience of sustainable development, continued to develop in technology and innovation and strengthen its globalization strategy, maintained stable funds, continued to optimize its capital structure, and made its financial strategy of balancing investment and divestment more transparent, all of which have been recognized by many major banks.
Established a Global Business Presence to Promote Sustainable Business Development
In the 30 years of development, Fosun has entered Globalization 3.0 and formed the core competency of "global organization + local operations". Fosun's globalization strategy aims to take the world as a whole, through deepening its global business presence and building a diverse talent pool, use the most suitable resources to deeply cultivate key areas, and achieve mutual empowerment and rapid growth within the ecosystem. It leverages global resources to create greater value for customers worldwide and actively promotes sustainable development of the world. Currently, Fosun has established profound business presence in over 30 countries and regions and its globalization and ecosystem synergy capabilities are playing an important role in driving the continuous growing momentum of overseas business. In the first half of the year, the Group's overseas revenue reached RMB38.76 billion, representing a year-on-year increase of 30.7% and accounting for 46.8% of the total revenue.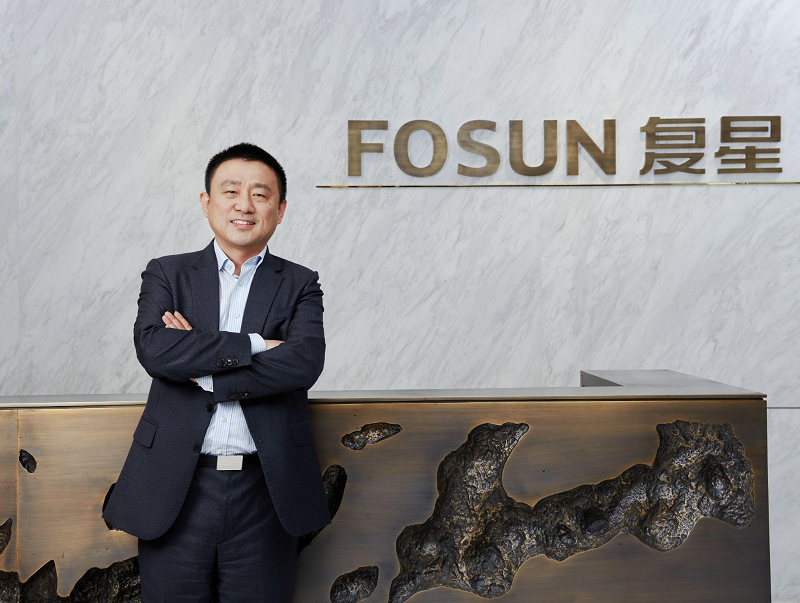 Chen Qiyu, Executive Director and Co-CEO of Fosun International
Chen Qiyu, Executive Director and Co-CEO of Fosun International, said that thanks to the Group's outstanding performance in overseas markets, the Group has achieved sustainable growth in its revenue. "In the first half of the year, Fosun Tourism Group's revenue reached RMB6.42 billion, representing a year-on-year increase of more than 131%. In particular, the resort and hotel segment benefited from the strong growth of Club Med's business in Europe, Middle East and Africa (EMEA) and the Americas, which increased by 354% year-on-year; Fosun Pharma's overseas revenue reached RMB7.59 billion, taking the lead among domestic pharmaceutical companies."
Outstanding Technology and Innovation are the Keys to Success
At present, Fosun has established profound business presence in more than 30 countries and regions. Its excellent innovation capability enables its overseas businesses to develop sustainably, especially in the field of biopharmaceuticals. For example, Shanghai Henlius' self-developed PD-1 inhibitor, Han Si Zhuang (serplulimab injection), was conditionally approved by the National Medical Products Administration (NMPA) for the treatment of advanced solid tumors in adult patients; Fosun Pharma entered into an agreement with Genuine Biotech in relation to the strategic cooperation on the joint development and exclusive commercialization of Azvudine, the first approved small molecular oral medication for COVID-19 independently developed by China, and entered into a strategic cooperation agreement with Sinopharm to accelerate the national channel network coverage. Artesunate for injection (Artesun®), self-developed and manufactured by Fosun Pharma, is the first Chinese brand pharmaceutical product well recognized in Africa. In addition, the paediatric formulation of the mRNA COVID-19 vaccine (COMIRNATY®), jointly developed by Fosun Pharma and BioNTech, a German biotechnology company, was approved for vaccination for children aged 5 to 11 in Macau SAR and the Taiwan region in April and May 2022, respectively, and the vaccination of infant dosage for young children aged 6 months to 4 was approved in the Taiwan region in August 2022. As of June 2022, a total of more than 30 million doses of COMIRNATY® have been sold in Hong Kong SAR, Macau SAR and the Taiwan region, playing an active role in the prevention and control of the pandemic in the regions.
Chen Qiyu believes that with the rapid development of science and technology, we should explore ways to make good use of new technologies to promote innovative development. "The Group has set up a 'Technological Innovation Committee' to promote the development of innovation and technology and attract research talents with innovative thinking and entrepreneurial spirit through innovation funds. The Group has adopted this model to promote the development of technology and innovation in various fields such as biopharmaceuticals, automobiles, and intelligent travel, and has achieved very good results."
Fosun Regards Talents as an Important Asset of the Group
This year, Fosun enters into the 30 years of establishment. At the beginning of its establishment, Fosun put forward the core values of "Self-improvement, Teamwork, Performance, and Contribution to Society" to help Fosuners stay motivated. Fosun understands that employees and talents are the most valuable assets of the Group, and has been introducing and integrating external talents into the internal training, so as to gather global talents with entrepreneurial spirit. Fosun's partner system is a market-based, benefit-sharing entrepreneurial mechanism. At present, it has more than 140 global partners. In addition to sharing benefits with partners from different countries and industries, Fosun also actively promotes the interaction and flow of global talents, allowing its management and employees to gain experience in various markets around the world and better understand the global market. This move not only helps the Group to better understand the cultures, regulations, markets, and customers of various countries around the world, but also helps the Group lay a solid foundation and make a profound impact on the Group's globalization strategy.
Fosun's Outstanding ESG Performance has been Recognized by Global Professional Institutions
As global enterprises pay increasing attention to and successively implement sustainable development, Fosun, as a large global enterprise, spares no effort in making contributions to ESG while developing its business. In addition to actively promoting the Group and its member companies to implement sustainable development strategies, Fosun regards ESG management performance as an evaluation factor in the Executive Directors' performance assessment and remuneration assessment. Centered around the dual carbon goals, the Group strives "to achieve carbon emissions peak by 2028 and carbon neutrality by 2050" and has formulated effective strategies for climate change mitigation and adaptation to align with 1.5°C temperature control target set in the Paris Agreement.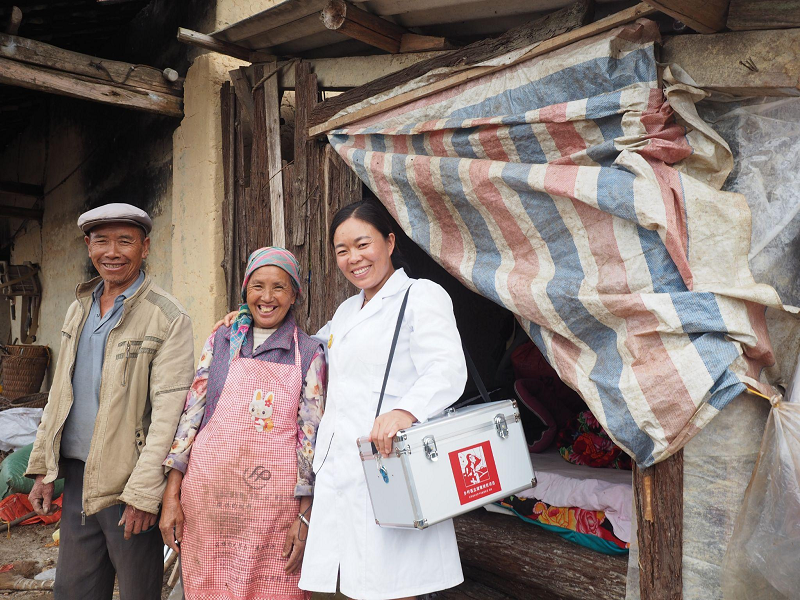 Since the launch at the end of 2017, the Rural Doctors Program has supported 23,956 rural doctors and 
benefited 3 million grassroot families, covering 73 counties in 16 provinces, municipalities, and autonomous regions
In terms of social responsibility, Fosun actively gives back to the society by supporting public welfare activities such as the combat against the pandemic, assisting in the fight against malaria in Africa, Rural Doctors program, fostering education, culture promotion, and entrepreneurial support. Among them, the Rural Doctors Program, which has been running for many years, empowers rural doctors who serve grassroot villagers, enhances their professional skills, and improves their working environment to provide better healthcare services for villagers.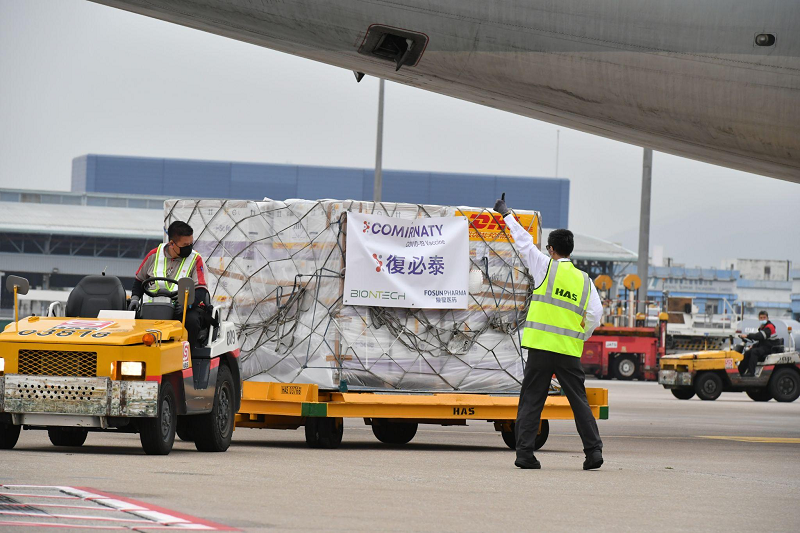 Fosun continues to supply COMIRNATY® (mRNA COVID-19 vaccine) to Hong Kong SAR, Macau SAR and the 
Taiwan region, building an immune barrier for the regions
Since the outbreak of the COVID-19 pandemic in early 2020, Fosun has urgently deployed protective materials to assist many countries and regions affected by the pandemic amid escalating overseas outbreaks. When the fifth wave of the epidemic broke out in Hong Kong at the beginning of this year, Fosun immediately donated HK$10 million worth of anti-epidemic materials to the people in need in Hong Kong, including grassroot families and high-risk groups such as the elderly, chronically ill patients, children, and front-line anti-epidemic personnel. 
Fosun actively assists in the fight against malaria in Africa to build a malaria-free world
Fosun has participated in the joint construction of a "malaria-free world" for more than 15 years. Artesunate for injection (Artesun®), self-developed and manufactured by Fosun Pharma, has been used to treat over 48 million severe malaria patients worldwide by the end of 2021. In early August, a number of workers travelling to mainland China from Africa through Hong Kong SAR were diagnosed with malaria during hotel quarantine in Hong Kong. Guilin Pharma, a subsidiary of Fosun Pharma, quickly got in touch with the Hospital Authority in Hong Kong and immediately dispatched 3,000 vials of artesunate for injection (Artesun®) to Hong Kong SAR.
At present, Fosun International's MSCI ESG rating is AA, and it is the only conglomerate in Greater China with a MSCI ESG rating of AA. It was also selected as a constituent of the MSCI CHINA ESG LEADERS 10-40 Index; its Hang Seng Sustainability Rating is A, and it was selected as a constituent of the Hang Seng Corporate Sustainability Benchmark Index (HSSUSB) and Hang Seng ESG 50 Index. Fosun International's FTSE Russell ESG rating has improved for two consecutive years, and it became a constituent of the FTSE4Good Index Series for the first time. All these show that Fosun's outstanding performance in ESG has been recognized by professional institutions around the world.
Looking ahead, Chen Qiyu said that Fosun will adhere to its strategic leadership and leverage the advantages brought by its long-term accumulation of core competencies to stimulate potential, promote faster and better development of the Group, and join hands with customers, partners, investors and all parties in the society to create a happy ecosystem and share happiness and the value of Fosun. Fosun also hopes to extend human's life expectancy to at least 121 years. Here's to the second, third, and even the fourth 30 years with Fosun.
(The article is sourced from Hong Kong Economic Journal's special issue on corporate social responsibility)