Fosun International Attends the "Belt and Road" China-Germany Economic Conference to Promote the Sustainable Development of ESG Globally
Release time:2022-09-09
Author:
Source:
Pageviews:
(9 September 2022) Fosun International Limited (HKEX stock code: 00656, "Fosun International") attended the 9th "Belt and Road" China-Germany Economic Conference in Frankfurt, Germany. The theme of this year's conference centered around "The 50th Anniversary of the Establishment of Diplomatic Ties Between China and Germany: Sino-German Cooperation Promotes Sustainable Economic Development and Healthier Lives". Fosun International was invited to deliver a speech at the "Green Investment" panel discussion session, sharing Fosun's outstanding performance in environmental, social and corporate governance (ESG) as a large-scale enterprise rooted in China and developing globally, as well as its efforts and contributions to promote global sustainable development as a global citizen.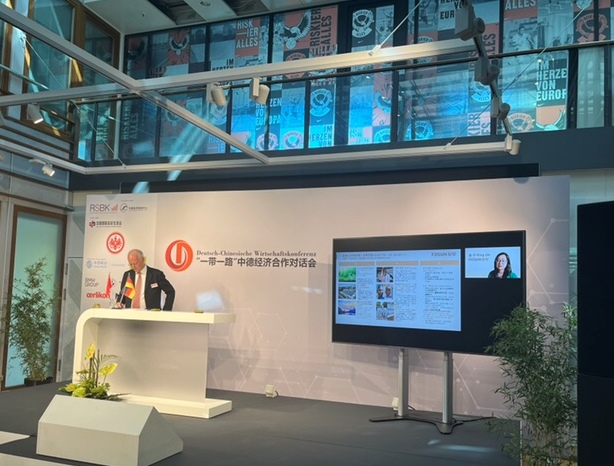 This year's "Belt and Road" China-Germany Economic Conference was co-hosted by Rudolf Scharping Strategie Beratung Kommunikation and China Economic Cooperation Center, and chaired by Rudolf Albert Scharping, former Chairman of the Social Democratic Party of Germany and former Minister of National Defense of Germany. Shen Beili, Vice Minister of the International Department of the Central Committee of the Communist Party of China, Wu Ken, Ambassador Extraordinary and Plenipotentiary of the People's Republic of China to the Federal Republic of Germany, Zhang Haibo, Member of the Standing Committee and Secretary-General of the Shandong Provincial Party Committee, Sigmar Hartmut Gabriel, former Vice Chancellor and former Minister for Foreign Affairs of Germany, Friedrich Merz, Chairman of the German-Chinese Parliamentary Friendship Group of the Bundestag, etc. attended the conference. Jin Ning, Executive Director of Investor Relations and Treasury of Fosun International in the UK and Europe attended the conference on behalf of the company. The conference attracted nearly 100 Chinese and German companies, including BMW, Bosch, Commerzbank, Allianz, China Mobile, Baidu, Nestle; more than 500 Chinese and German political and corporate representatives attended the conference in person and online, respectively.
Fosun's Globalization Strategy Promotes Local Economic Development and Cultural Exchanges
On the occasion of the 50th anniversary of the establishment of diplomatic ties between China and Germany, Fosun International was invited to attend the China-Germany Economic Conference due to its years of business development in Germany and its contributions to the win-win economic and trade cooperation between China and Germany.
In the 30 years of development, Fosun has entered Globalization 3.0 and formed the core competency of "global organization + local operations". Fosun's globalization strategy aims to take the world as a whole, through deepening its global business presence and building a diverse talent pool, use the most suitable resources to deeply cultivate key areas, and achieve mutual empowerment and rapid growth within the ecosystem. It is more about using global resources to create greater value for customers worldwide and foster sustainable development of the world. Currently, Fosun has established profound business presence in over 30 countries and regions. Fosun has continued to deepen its globalization strategy, it started industry operations and investment deployment in Germany years ago. Currently, Fosun has employed nearly 10,000 staff in Germany, more than 90% of whom are local residents.
In September 2016, Fosun acquired a German private bank Hauck & Aufhäuser (H&A). Five years later, under the support of Fosun, H&A completed an acquisition of another German private bank, Bankhaus Lampe. The two have been merged and renamed to HAL. Fosun has also invested in Koller, who develops and produces lightweight components from intelligent composites, and FFT, a fully integrated solution package provider for the automation industry. In the Happiness segment, Yuyuan, as one of Fosun's Happiness flagship, established the Lifestyle Group in 2022, focusing on one of its core assets, Tom Tailor, an international fashion lifestyle group, assisting Tom Tailor in accelerating expansion in the global market.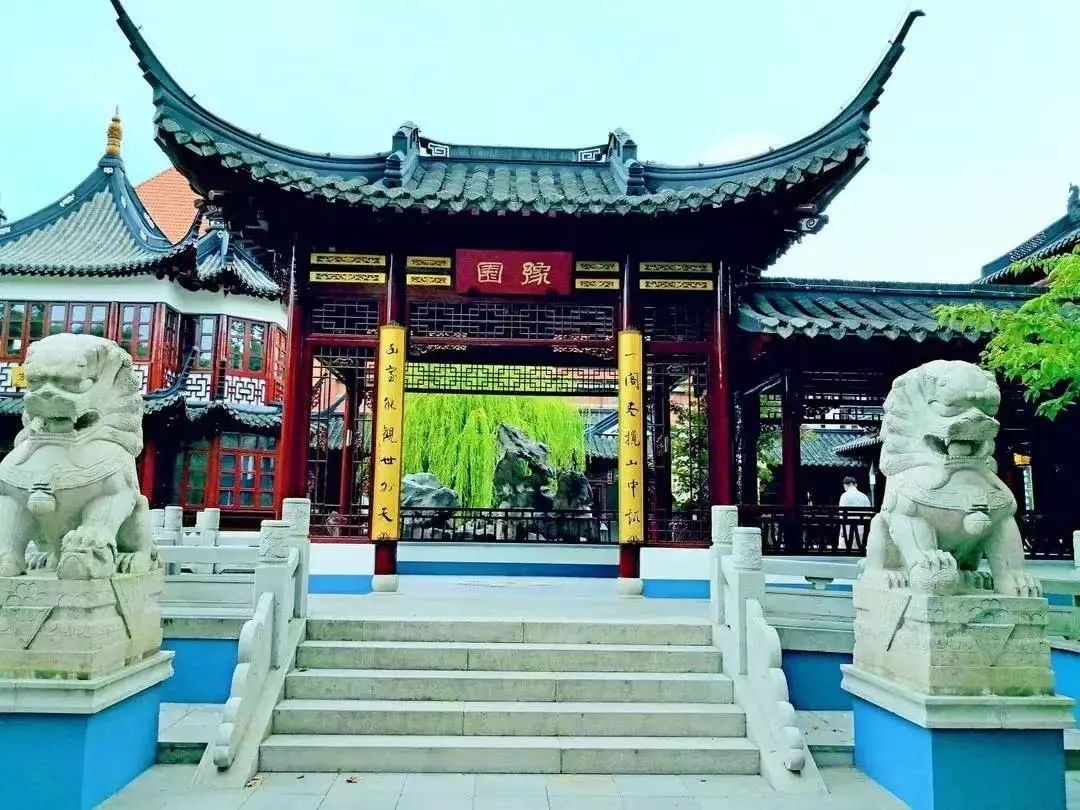 In promoting cultural exchanges between China and Germany, Yuyuan has built a Yuyuan in Hamburg which is based on the blueprint of the original Yuyuan Garden in Shanghai, made in a 1:0.8 scale, including a pavilion in the center of the lake, and the "Zigzag Bridge". In recent years, Yuyuan in Hamburg has become a key venue for the Hamburg municipal government to host China Time events, symbolizing the friendship between Shanghai and Hamburg and demonstrating Chinese history and culture to the local people in Germany.
In the corporate social responsibility aspect, since the COVD-19 outbreak in early 2020 and in the face of the severe pandemic situation in overseas, Fosun has immediately initiated the global deployment of medical supplies to provide strong support for overseas countries and regions including Germany to fight against the pandemic. In addition, Fosun also partnered with BioNTech, a German biotechnology company, to jointly develop the mRNA COVID-19 vaccine (COMIRNATY®), providing a strong support for defeating the pandemic.
Became a Member Company of International Organizations such as the UNGC to Actively Promote the Sustainable Development of China and the World
At the conference, Fosun shared and discussed the journey, and achievements of its sustainable development strategy, and demonstrated how ESG concepts are incorporated into the strategy and operations of Fosun with ESG strategies and case studies. It also benchmarks against international ESG advanced enterprises and actively carries out external communication, so as to continuously promote the sustainable development of Fosun.
In August 2014, Fosun joined the United Nations Global Compact (UNGC) and is devoted to the global commitment to sustainable development, promoting the achievement of the United Nations (UN) Sustainable Development Goals (SDGs) through participating in related activities globally and locally. As a participant in the UNGC, Fosun supports the ten principles of UNGC in the areas of human rights, labor, environment and anti-corruption, relentlessly promoting their close integration with Fosun's ESG strategies and actively engaging its member companies in the implementation of ESG strategies.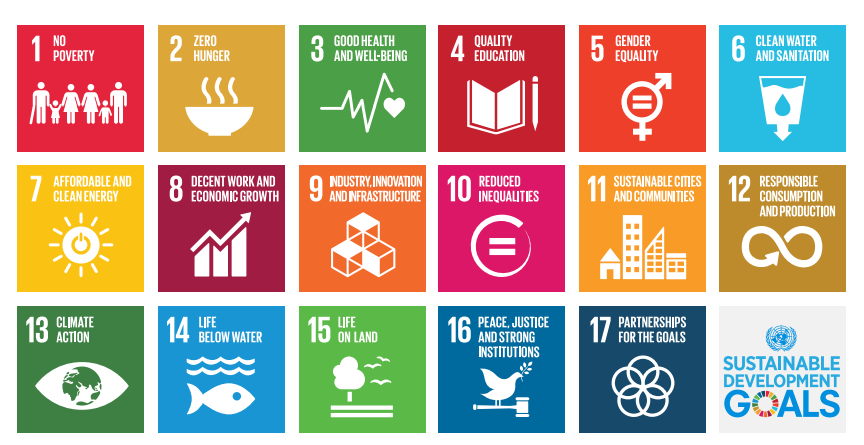 In 2015, the United Nations officially released 17 sustainable development goals, aiming to comprehensively and thoroughly solve the social, economic and environmental development issues from 2015 to 2030, and achieve sustainable development subsequently. The Group actively responds to the UN SDGs and combines its ESG vision and objectives to identify the sustainable development goals relevant to its businesses, assisting the realization of UN SDGs by 2030 from multiple dimensions.
Delivered Outstanding ESG Performance with a Clear Objective and Mission to Make "Contribution to Society" 
Fosun's outstanding performance in ESG has been recognized by global professional institutions. Fosun International's MSCI ESG rating was AA, making it the only conglomerate in Greater China with a MSCI ESG rating of AA, it was also selected as a constituent of the MSCI CHINA ESG LEADERS 10-40 Index; its Hang Seng Sustainability Rating was A, and it was selected as a constituent of the Hang Seng Corporate Sustainability Benchmark Index (HSSUSB) and Hang Seng ESG 50 Index. Fosun International's FTSE Russell ESG rating has improved for two consecutive years, and it became a constituent of the FTSE4Good Index Series for the first time.
In the course of business development, Fosun has been upholding its original aspiration of "Contribution to Society", improving the Group's ESG performance in every aspect of its operations and fulfilling the mission of "creating happier lives for families worldwide". On the environmental front, Fosun has made a commitment to the society to "achieve carbon emission peak by 2028 and carbon neutrality by 2050", and is making steady progress towards these targets.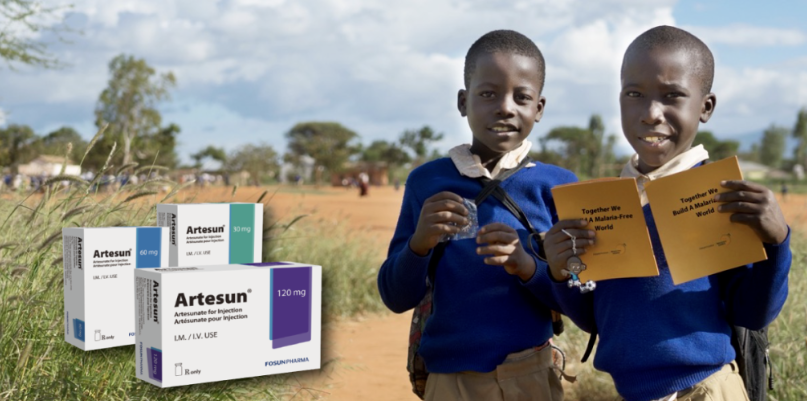 Moreover, Fosun continued to make unremitting efforts on social welfare. The Group and its member companies carried out public welfare projects such as supporting the combat against the pandemic, assisting in the fight against malaria in Africa, disaster relief, Rural Doctors program, fostering education, culture promotion, and entrepreneurial support to actively promote community development and help people's livelihood and improve social well-being.
This year, Fosun enters into the 30 years of establishment. Fosun has been dedicated itself with the values of "Self-improvement, Teamwork, Performance, and Contribution to Society" raised when Fosun established 30 years ago. It has developed into a global innovation-driven consumer group, strengthening its presence in four business segments, namely Health, Happiness, Wealth and Intelligent Manufacturing and is committed to creating happier lives for families worldwide. Looking ahead, with the concept of "Sharing Happiness", Fosun will join hands with customers, partners, investors and all parties in the society to create a happy ecosystem and share happiness and value of Fosun.
About Fosun
Founded in 1992, Fosun is a global innovation-driven consumer group dedicated to providing high-quality products and services for families around the world in Health, Happiness, Wealth, and Intelligent Manufacturing segments. In 2007, Fosun International Limited was listed on the main board of the Hong Kong Stock Exchange (stock code: 00656.HK). As of 30 June 2022, Fosun International's total assets amounted to RMB849.7 billion. Fosun International ranks No.589 on the 2022 Forbes Global 2000 List, with a MSCI ESG rating of AA.